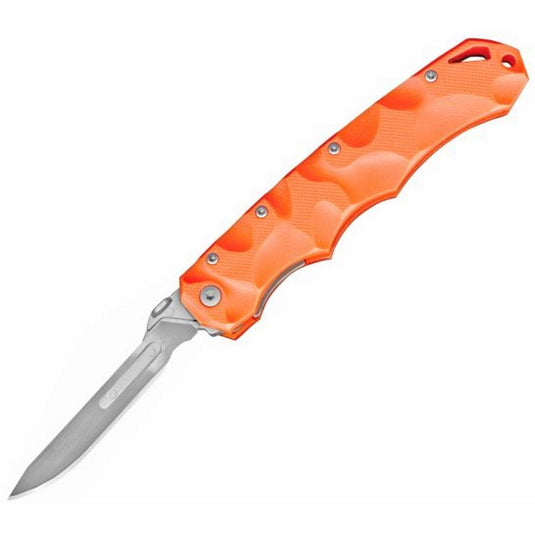 The Havalon Piranta Stag Folding Knife - 2.75", Orange is a versatile and reliable tool designed for outdoor enthusiasts, hunters, and professionals. With its compact size and rugged construction, this folding knife is perfect for a variety of cutting tasks in demanding environments.

The knife features a 2.75-inch stainless steel blade and comes with 6 additional Stainless Steel 60A Blades. The stainless steel material ensures excellent sharpness, durability, and corrosion resistance, allowing for clean and precise cuts. The additional blades provide convenience and versatility, ensuring you always have a sharp edge at your disposal.

The Havalon Stag showcases a rugged blaze orange military-grade polymer handle. This handle material offers durability and a secure grip even in wet or slippery conditions. The vibrant orange color provides high visibility, making it easier to locate and handle the knife in various outdoor settings.

With an overall length of 7 3/8 inches, this folding knife strikes a balance between compactness and functionality. The compact size makes it easy to carry and maneuver, while still providing enough blade length for a range of cutting tasks.

Featuring ambidextrous thumb studs, the knife allows for convenient one-handed opening, ensuring quick and easy access to the blade when needed. The ambidextrous design caters to both right-handed and left-handed users, enhancing versatility and user-friendliness.

The open back design of the knife makes cleaning and maintenance a breeze. It allows for easy access to the inner components, ensuring thorough cleaning and preventing debris buildup. This feature is especially useful in outdoor environments where cleanliness is crucial.

Constructed with a linerlock mechanism, the knife ensures secure blade locking during use, providing safety and stability during cutting tasks. The linerlock construction prevents accidental closures, allowing for confident and uninterrupted use.

The Havalon XTC60ASTAGO comes with a removable holster clip, offering multiple carrying options and easy attachment to gear or belts. The removable clip enhances portability and accessibility, ensuring the knife is always within reach when you need it.

Included with the knife is a nylon holster, providing additional protection and convenient storage when the knife is not in use. The holster keeps the knife securely in place, preventing damage and offering easy access during outdoor activities.

The Havalon XTC60ASTAGO is designed to fit all styles of Piranta Blades, further expanding its versatility and compatibility. Whether you prefer the standard 60A blades or other Piranta blade styles, this knife accommodates them all.

In summary, the Havalon XTC60ASTAGO Piranta Folding Knife in Orange is a compact and reliable tool for outdoor enthusiasts. With its stainless steel blades, rugged polymer handle, ambidextrous thumb studs, open back design, linerlock construction, removable holster clip, and nylon holster, this folding knife offers durability, convenience, and versatility for a variety of cutting tasks.
Features
6 additional Stainless Steel 60A Blades, 23/4 Rugged blaze orange military grade polymer handle
Overall Length 73/8 Ambidextrous thumb studs
Open back for easy cleaning
Linerlock construction
Removable holster clip
Nylon holster included
Fits all styles of Piranta Blades
Specifications
| | |
| --- | --- |
| Type | Knife |
| Colour | Orange |
| Brand | Havalon |
| Folding | Yes |
| Blades | 6 |