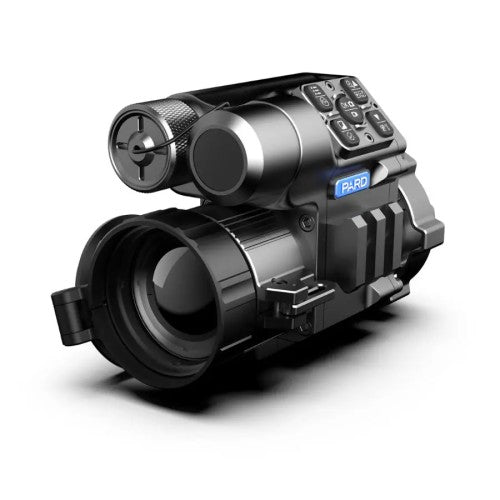 The FT32 is the latest technological innovation from PARD. The multifunctional dual-use design of the FT32 enables it to be used as a handheld device or, with the appropriate adapter, as an attachment on the optics. Equipped with an IR thermal imaging sensor with a resolution of 384×288 pixels at 12 µm pixel size and a 35 mm lens with a 7.5 x 5.6 ° field of view, the user can safely capture targets. With the optionally integrated laser range finder with a range of up to 1000 m, the distance can also be reliably determined. The image is displayed on the 1440×1080 OLED display, which provides a clear thermal signature thanks to its temperature-precise sensor with NETD ≤ 25 mK. The display options include 3 different scene modes (City/Rain/Forest) and 6 different color modes.
The FT32 thermal imager has a memory card slot for SD cards up to 128 GB, which allows the user to save 2592×1944 images and 1024×768 videos captured by the device. Via WiFi connectivity you can start a live broadcast to your PC, tablet, iOS or Android device by using the free PARD Vision app. The thermal imaging device is waterproof according to protection class IP67and also bulletproof up to 6000 joules. All of this extensive functionality is packed into a device that weighs just 370g without battery (410g for the LRF version) and is powered by a standard 18650 rechargeable battery.
The LRF allows hunters to quickly and accurately determine the distance to the target, reducing the risk of missed shots. This is particularly true in unfamiliar areas, where determining distance with thermal imaging alone is often difficult. The PARD FT32 fully utilizes this strength of the LRF. The device uses the latest technology in the sensor and optical area as well as in terms of operation and comfort functions. As a dual-use device, it is not only an attachment that can be mounted on a rifle scope, but also works as a monocular.