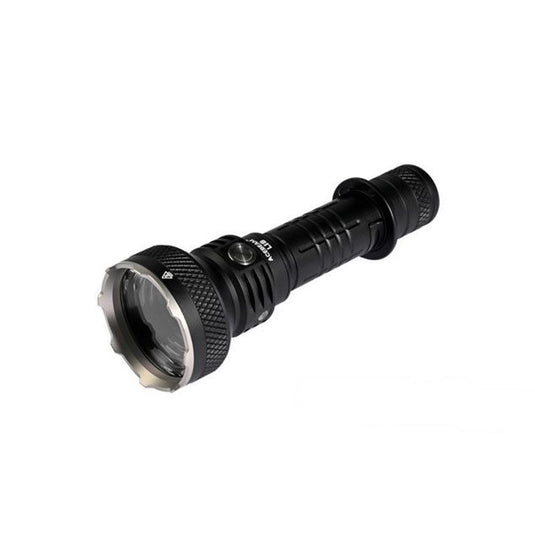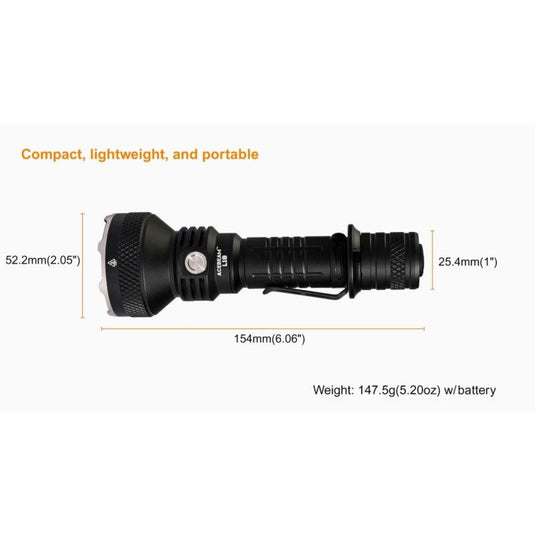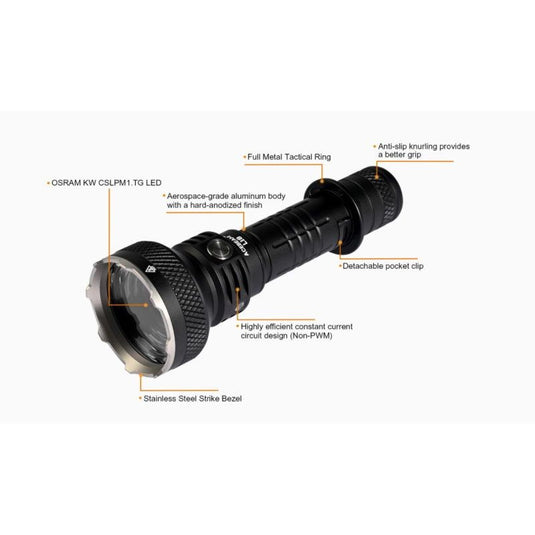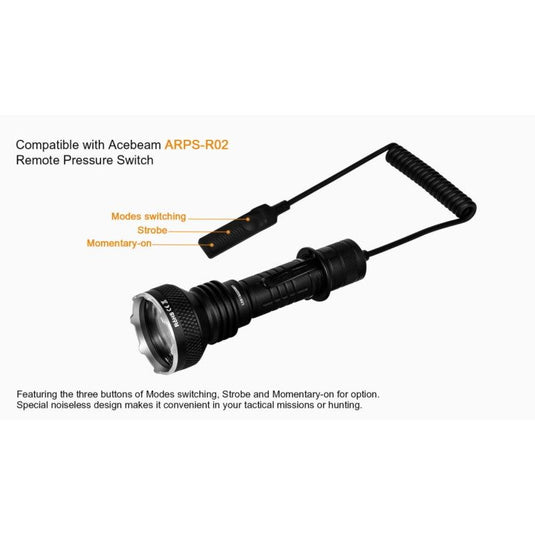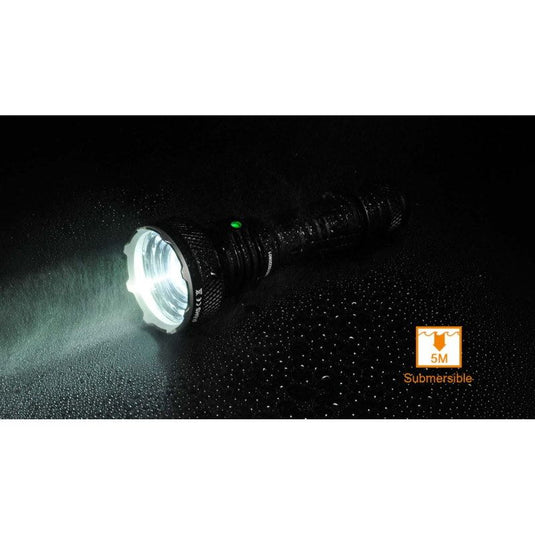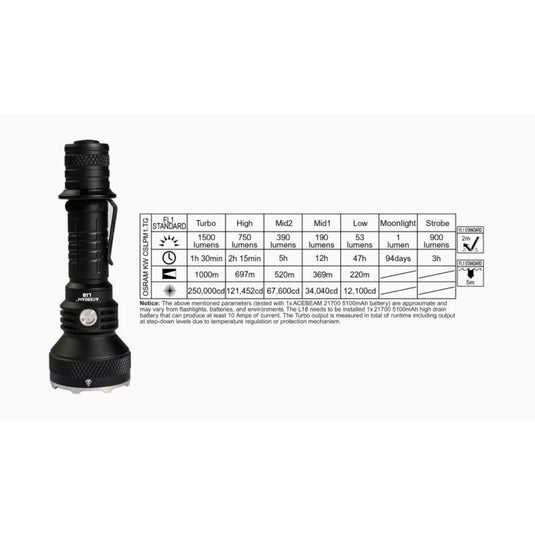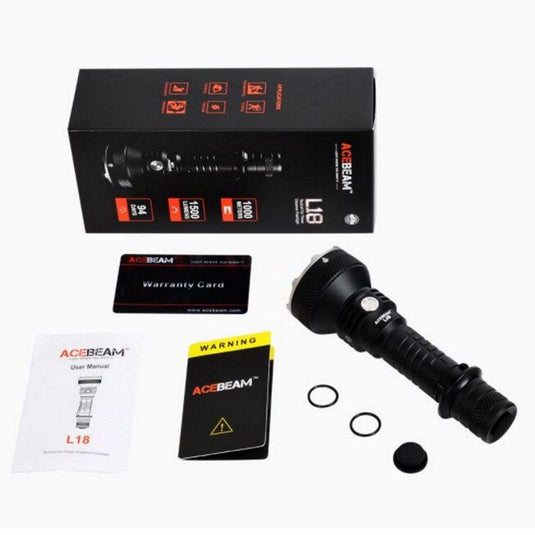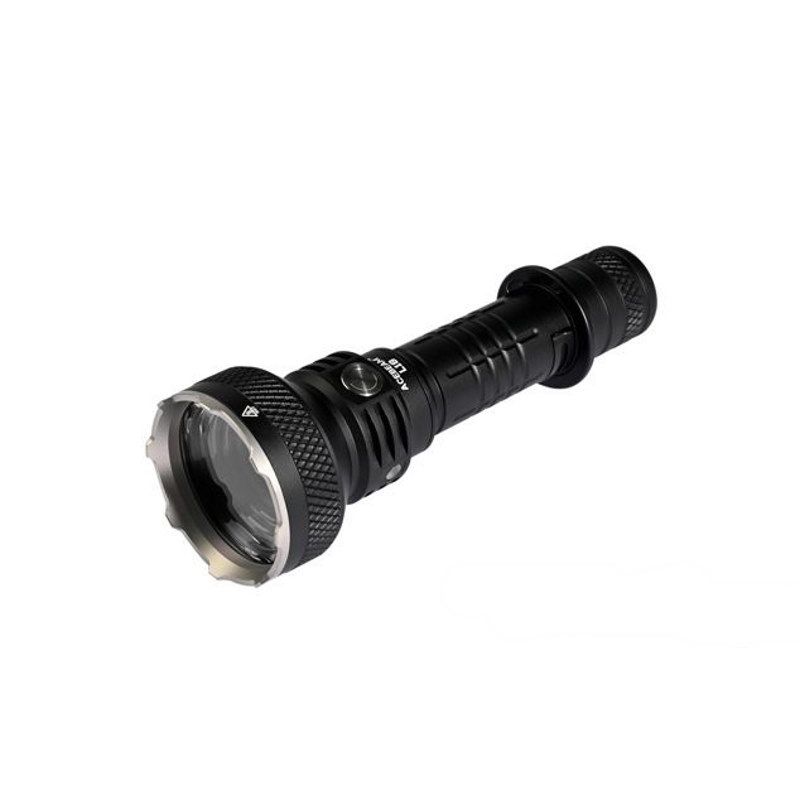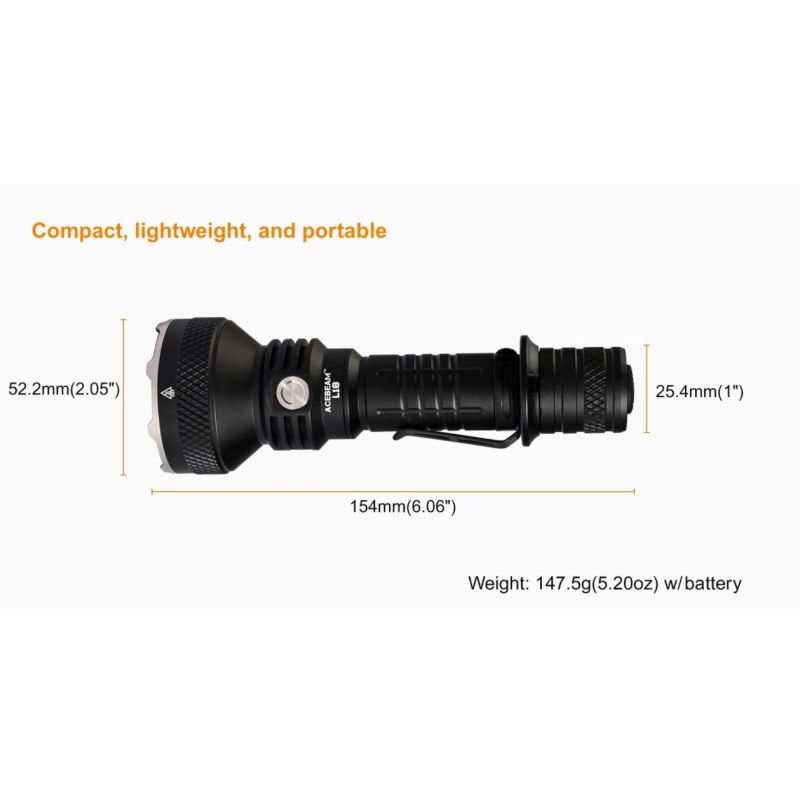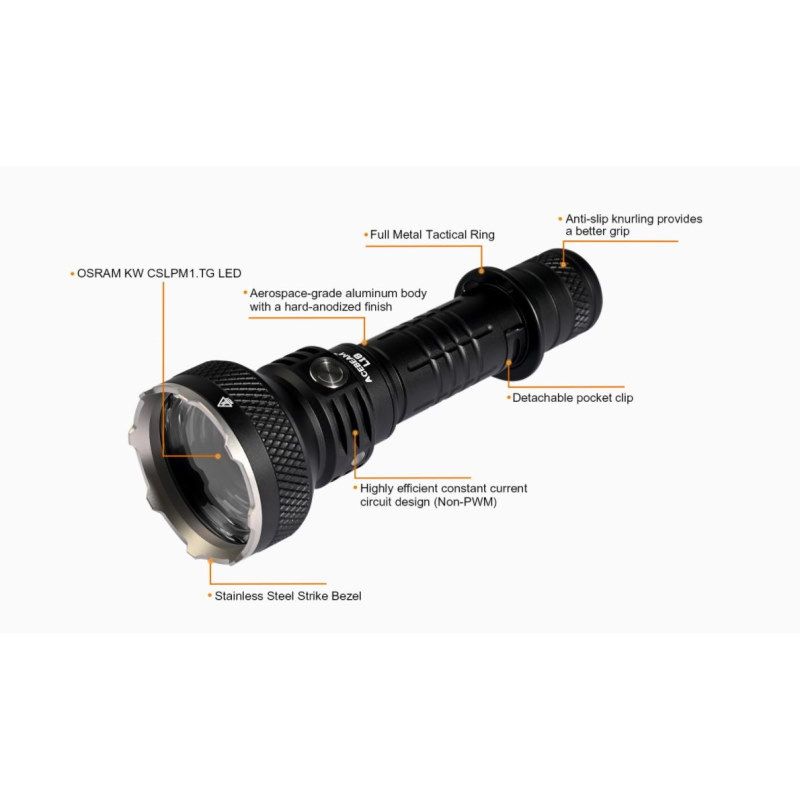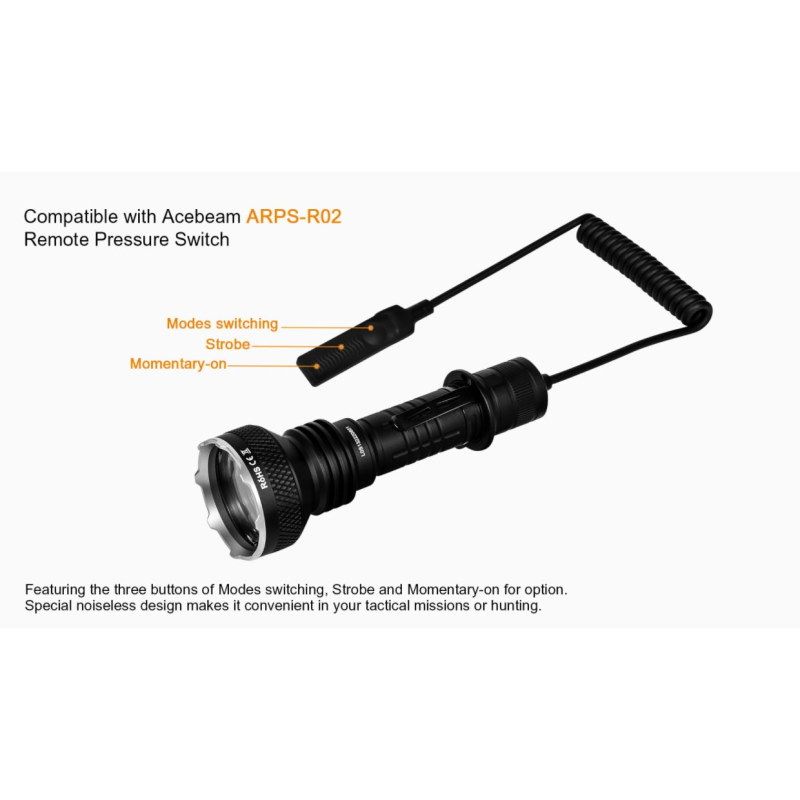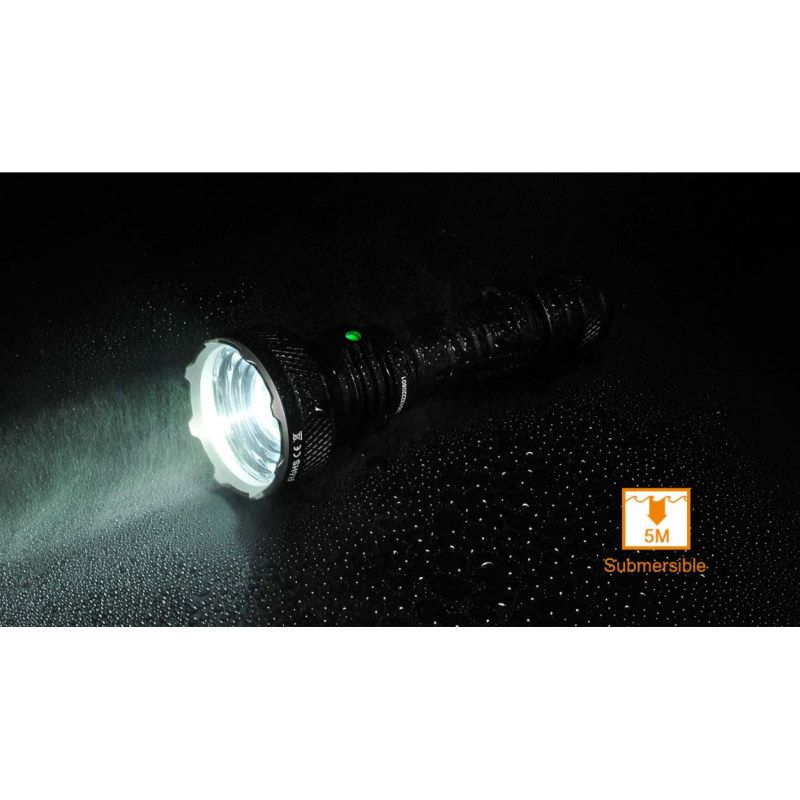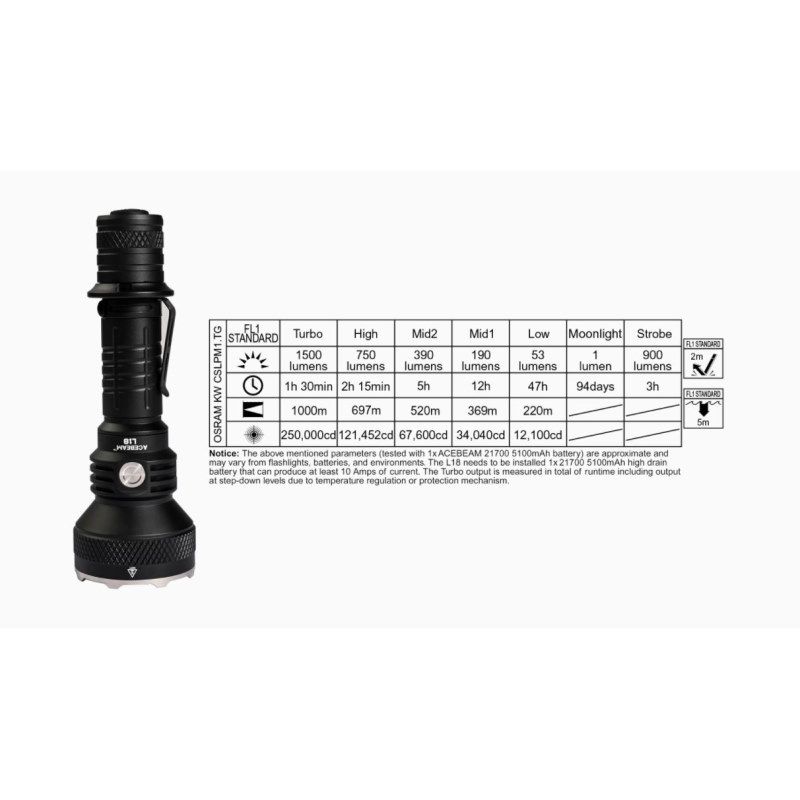 IP68 waterproof (5 meters submersible) A super long-reaching throw of 1,000 meters Lockout mode prevents accidental activation 6 brightness levels option plus special Strobe Toughened ultra-clear glass lens with anti-reflective coating
DESCRIPTION
The Acebeam L18 LED Tactical Flashlight has a longer beam that helps hunters or users spot their prey or target easier. The Acebeam L18 is a new tactical flashlight that throws an impressive far-range light beam. With its compact size, it delivers a max output of 1,500 lumens and a max unbelievable throw of 1,000 meters. Powered by one single 5100mAh 21700 battery, the max runtime reaches 94 days. Designed with TIR optical lens, the L18 creates a soft and balanced beam. This powerful tactical flashlight is ideal for the professional choice of hunting, search and rescue, on duty, law enforcement and outdoor activities.

FEATURE
Pocket tactical flashlight - compact, lightweight, and portable
Be able to deliver maximum 1,500 lumens
A super long-reaching throw of 1,000 meters
Powered by a 5100mah 21700 battery, max runtime of 94 days
Acebeam USB rechargeable 21700 Li-ion battery can be optional
6 brightness levels option plus special strobe
Dual switches for easy and fast operation
Aerospace-grade aluminium body with a hard-anodized finish
An updated TIR lens provides better light quality with a soft and balanced beam
Toughened ultra-clear glass lens with anti-reflective coating
The aggressive strike bezel is used to break windows or defend in an emergency situation
Highly efficient constant current circuit design (non-PWM)
The power indicator indicates the remaining battery power
Intelligent temperature regulation and protection adjusts output performance to prevent overheating
All circuitry contact points are gold-plated, providing better conductivity and superior durability
Lockout mode prevents accidental activation
Strobe mode disorients an attacker without excessive force
Impact resistance to 1 meter
IP68 waterproof (5 meters submersible)
SPECIFICATIONS
| | |
| --- | --- |
| Moonlight | 1 Lumen; 94 Days |
| Low | 53 Lumens; 12100CD; 220 Meters; 47 Hours |
| Mid1 | 190 Lumens; 34040CD; 369 Meters; 12 Hours |
| Mid2 | 390 Lumens; 67600CD; 520 Meters; 5 Hours |
| High | 750 Lumens; 121452CD; 697 Meters; 2 Hours 15 Minutes |
| Turbo | 1500 Lumens; 250000CD; 1000 Meters; 1 Hour 30 Minutes |
| Strobe | 900 Lumens; 3 Hours |
| Max. Output | 1500 Lumens |
| Max. Beam Distance | 1000 Meters |
| Max. Runtime | 94 Days |
| Peak Beam Intensity | 25000CD |
| Size | 154 mm (Length) x 52.2 mm (Head Diameter) x 25.4 mm (Tube Diameter) |
| Weight | 147.5g(5.2oz.) W/O Battery; 220.5g(7.78oz.) W/ Battery |
PACKAGE CONTENTS
1 x L18
1 x holster
1 x pocket clip
1 x lanyard
1 x spare rubber button cap
2 x o-ring
1 x warranty card
1 x user manual
1 x battery warning card
Image Disclaimer: Images are intended for illustrative purposes only and do not form part of any contract or warranty as to what you are purchasing. This transaction/purchase is subject to the confirmation of price and product by Karoo Outdoor Company (Pty) Ltd. See full Terms and Conditions.