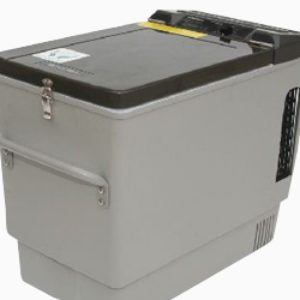 The Engel 15L Fridge Freezer is a compact and lightweight chest fridge that is fully portable. It is ideal for your next camping or 4x4 off road adventure trip. It features a durable plastic casing and handels for easy transportation. It comes with Auto-switching between AC and DC so that you do not need to remember to switch.
Features

Compact and lightweight

Ideal for camping or 4x4 off-road

Durable plastic casing

Comes complete with carry Handles

Auto-switching between AC and DC

Transit Slide Lock secures it closed
 Specifications

Capacity: 15 Litre (21 X 375ml Cans)
External dimensions: H 360; W 548; D 306 mm
Internal dimensions: H 230; W 290; D 200 mm
Net Weight: 17 Kg
DC Power Consumption: Variable from 0.5 to 2.5 AMPS Maximum
Power: Built In 240Volt AC / 12Volt DC / 24Volt DC
Three Year Warranty.  Please note that the external dimensions do not include the Carry Handles if fitted they increase the width by 50 mm each end.
Image Disclaimer: Images are intended for illustrative purposes only and do not form part of any contract or warranty as to what you are purchasing. This transaction/purchase is subject to the confirmation of price and product by Karoo Outdoor Company (Pty) Ltd. See full Terms and Conditions.