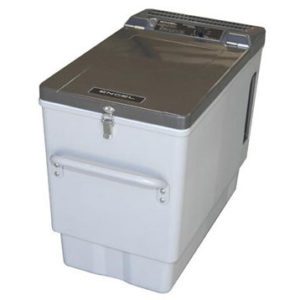 The Engel 21L Fridge Freezer is a chest fridge with more space that is fully portable. It is ideal for your next camping or 4x4 off road adventure trip. It features a durable plastic casing and handels for easy transportation. It comes with Auto-switching between AC and DC so that you do not need to remember to switch.
Compact and lightweight with a tough plastic casing, this model is perfect for one or two people on weekends away.  The 21 litre is great between the seats of a truck or in the floor of the back of a seat in a sedan.  Now comes complete with carry handles.
DC power consumption:  Variable from 0.5 to 2.5 AMPS maximum.  Power:  Built in 240 Volt AC / 12 Volt DC / 24 Volt DC.
Features

Lightweight for its size

Ideal for camping or 4x4 off-road

Durable plastic casing

Comes complete with carry handles

Auto-switching between AC and DC

Transit Slide Lock secures it closed
Specifications

Capacity: 21 Litre (29 X 375ml Cans)
External dimensions: H 462; W 538; D 306 mm
Internal dimensions: H 320; W 290; D 200 mm
Net Weight: 18 Kg
DC Power Consumption: Variable from 0.5 to 2.5 AMPS Maximum
Power: Built In 240Volt AC / 12Volt DC / 24Volt DC