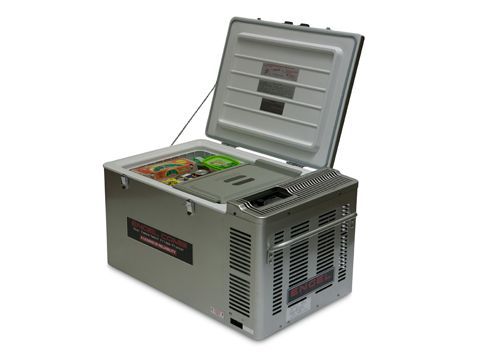 The Engel Platinum 60L Combi Fridge Freezer is a stylish and convenient chest fridge and freezer that is fully portable. It is ideal for your next camping or 4x4 off road adventure trip. It offers the convenience of separate fridge (35 litre) and freezer (25 litre) compartments. It features a durable steel casing, handels for easy transportation. It comes with Auto-switching between AC and DC so that you do not need to remember to switch.
Features

Stylish platinum finish

Separate fridge and freezer compartments

Despite large capacity it is still light enough to carry

Ideal for camping, fishing trips or 4x4 off-road

Durable steel casing

Comes complete with carry handles

Auto-switching between AC and DC

Transit Slide Lock secures it closed
Specifications

Fridge Capacity: 35 Litre
Freezer Capacity: 25 Litre
External dimensions: H 441; W 790; D 490
Internal Dimensions (approx)
Fridge: H 315mm x W 260mm x D 378mm
Freezer: H 315mm x 220mm x D 378mm 
Net Weight: 32 Kg
DC Power Consumption: Variable from 0.5 to 4.2 AMPS Maximum
Power: Built In 240 Volt AC / 12V DC / 24V DC
Three Year Warranty.  Please note that the external dimensions do not include the Carry Handles if fitted they increase the width by 50 mm each end.