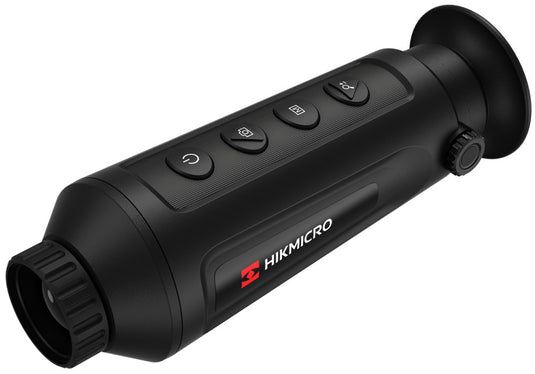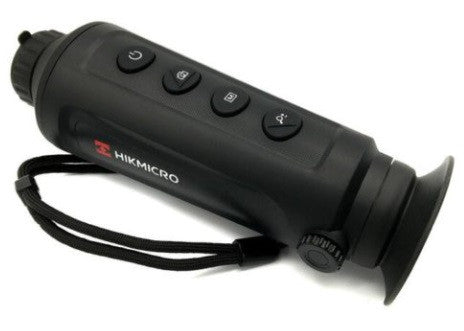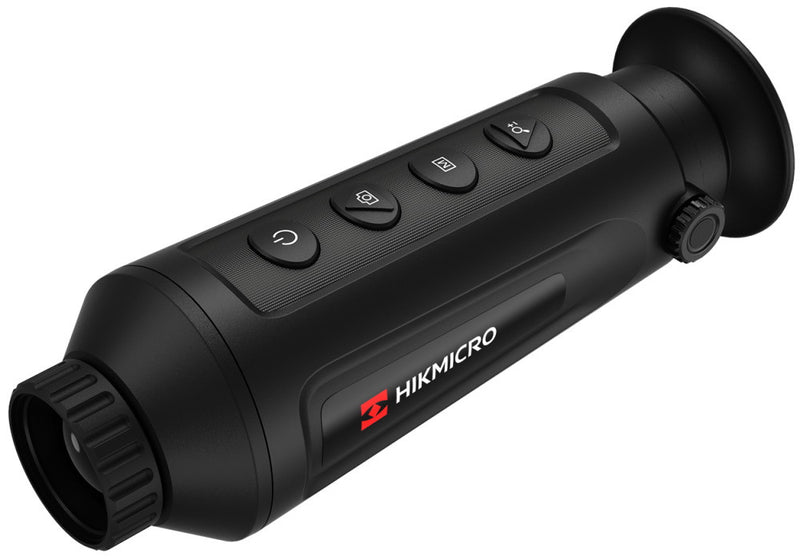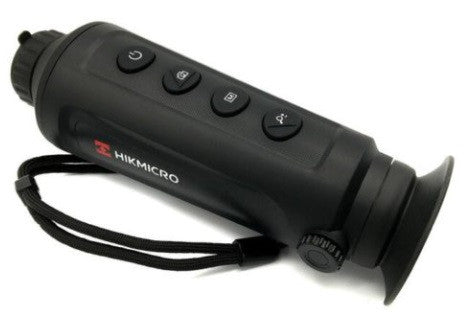 19mm Lens Focal Length
Long 7 Hour Operating Time
Up to 8x Digital Zoom
4 Colour Palettes
Smart Range Measurement
Video & Snapshot
App Capable
The Hikmicro Lynx Pro LH19 Thermal Imaging Monocular is designed to give outdoor enthusiasts a portable way to see more in nature. It provides observation and distance measurement to help them keep track of an animal. It is a camera is equipped with a 384 x 288 infrared detector and a 1280 x 960 LCOS display. It supports functions of observation, distance measurement, Wi-Fi hot spot, and so on. The high-sensitivity built-in thermal detector provides you with a clear view even in total darkness. The monocular is mainly applied to scenarios such as hunting, hiking, law enforcement, searching and rescuing, etc.
Features
384 x 288 resolution, 12 um, high sensitivity detector
Adaptive AGC, DDE, 3D DNR, NETD less than 35 mK (@ 25 C), F#=1.0
1280 x 960 resolution 0.4-inch LCOS display
Built-in rechargeable lithium battery
Up to 7.5 hours continuous running
Wi-Fi hot spot
Type-C Interface
Specifications
| | |
| --- | --- |
| Image Sensor | Vanadium Oxide Uncooled Focal Plane Arrays |
| Max. Resolution | 384 x 288 |
| Pixel Interval | 12 um |
| Response Waveband | 8 um to 14 um |
| NETD | less than 35 mk (25 C), F#=1.0 |
| Lens (Focal Length) | 19 mm |
| Field of View | 13.8 x 10.4 (H x V) |
| Digital Zoom | 1 x, 2 x, 4 x, 8 x |
| Aperture | F1.0 |
| Magnification | 1.86 to 14.88 |
| Monitor | 0.4 inch, LCOS, 1280 x 960 |
| FFC (Flat Field Correction) | Auto, Manual, External Correction> |
| Palettes | Black Hot, White Hot, Red Hot, Fusion |
| Frame Frequency | 50 Hz |
| Wi-Fi Hot Spot | Yes |
| Standby Mode | Yes |
| Detection Range | 897 m |
| Storage | Built-in memory module (8 GB) |
| Record Video | Yes |
| Capture Snapshot | Yes |
| Battery Type | Lithium battery |
| Battery Operating Time | 7.5 hours continuous running with Wi-Fi hot spot function off (25C) |
| Battery Operating Time | 6 hours continuous running with Wi-Fi hot spot function on (25C) |
| Battery Capacity Display | Yes |
| Power | 5 VDC/2 A, 1.5 W, Type-C Interface |
| Working Temperature | -20 C to 55 C (-4 F to 131 F) |
| Protection Level | IP67 |
| Dimension | 171mm x 61 mm x 57 mm (6.73" x 2.40" x 2.24") |
| Weight | 310g (0.68lb) |