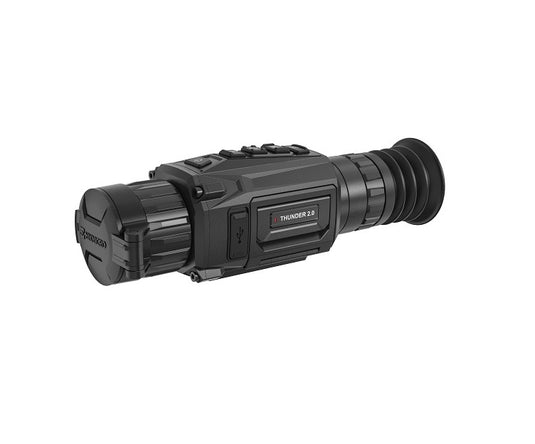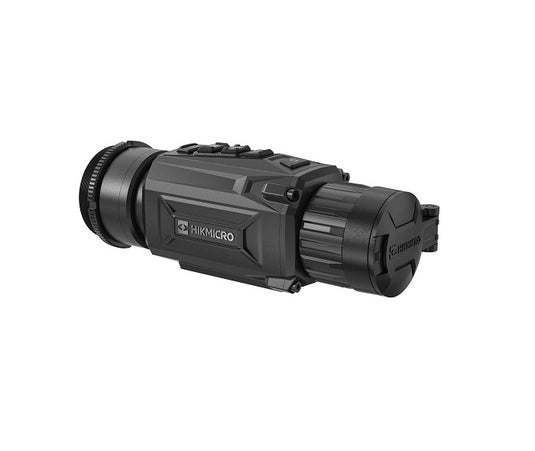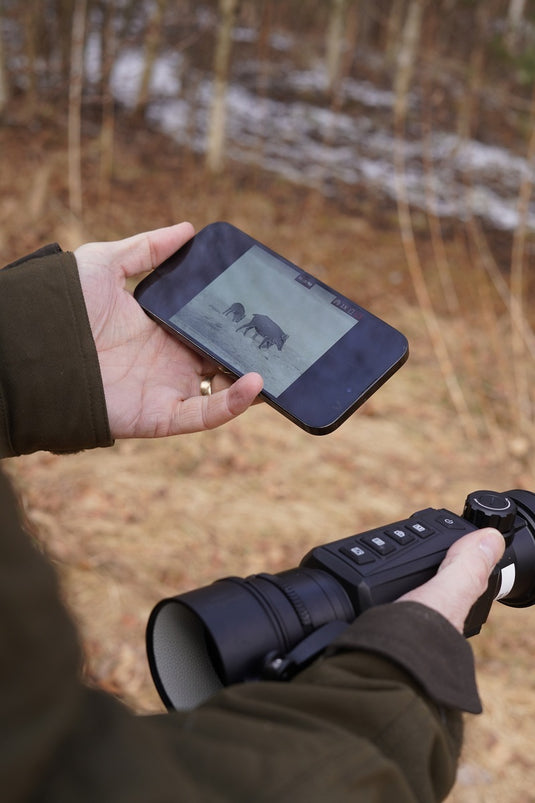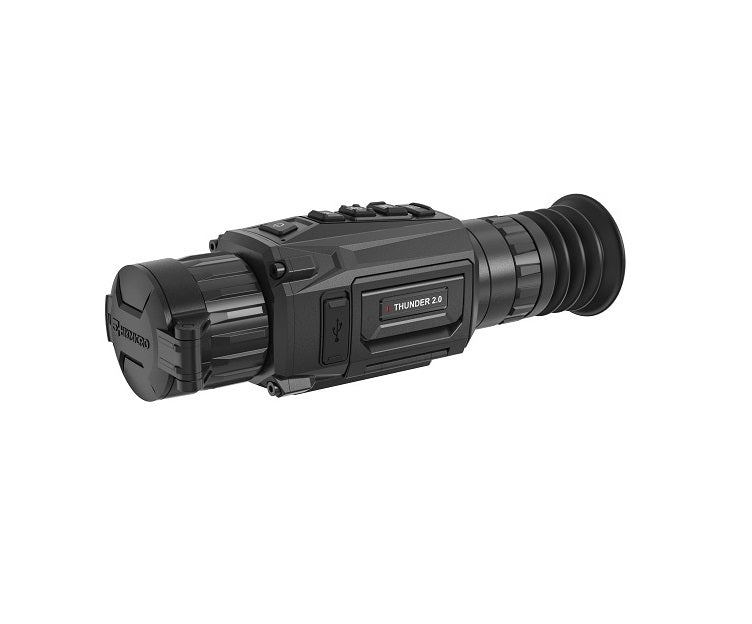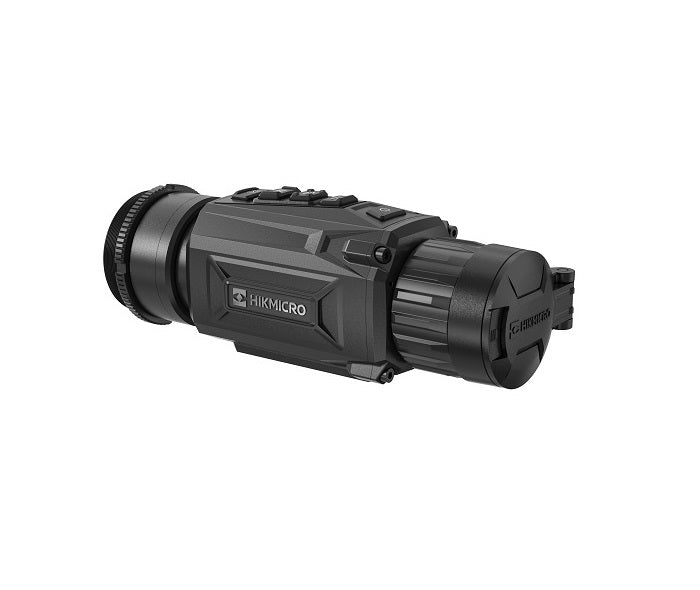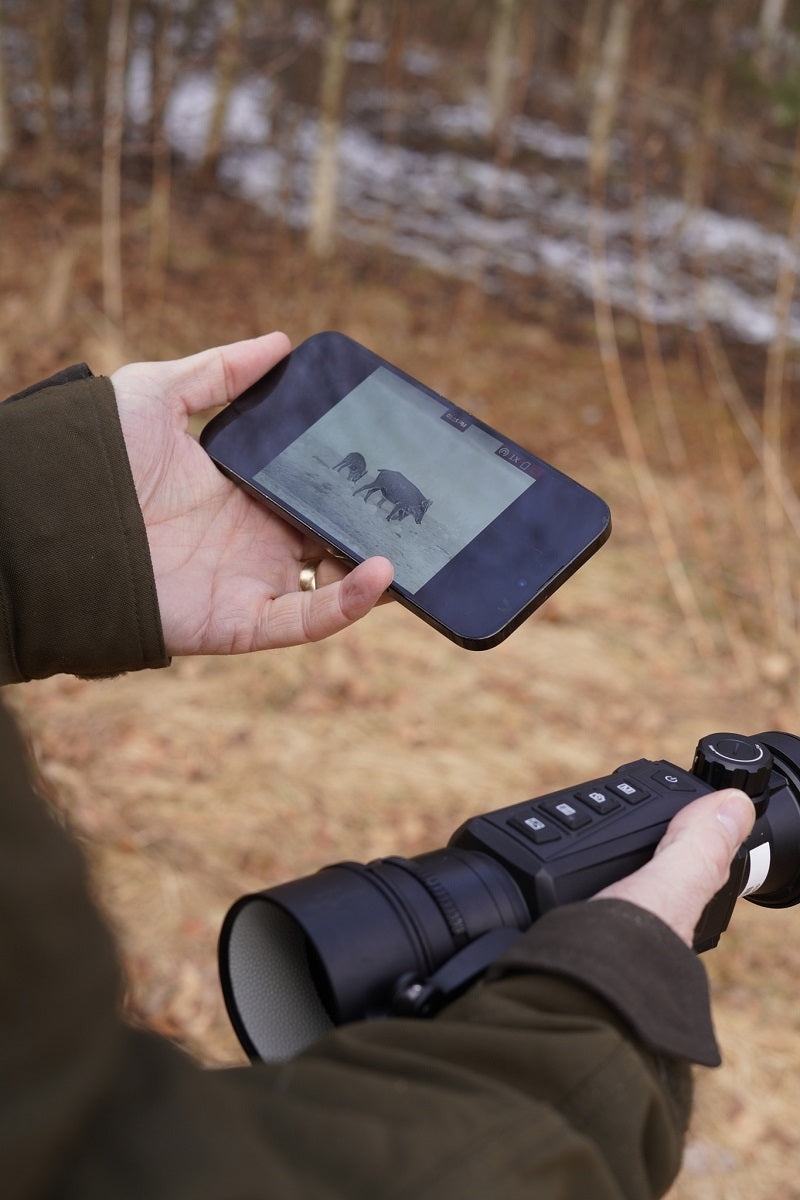 HIKMICRO Thunder TE19CR 2.0 19 mm Thermal Clip-on.
The TE19CR 2.0 has a 256 × 192 thermal detector and a 1,024 × 768 OLED display, which provides clear images under harsh environment conditions like darkness, fog, smoke, dust, rain, snow, wood, camouflage, etc. With an extended operation time, the scope is mainly applied to hunting problem animals.
Key Features
256 × 192 resolution with 12 μm sensor
1,024 × 768 resolution 0.39-inch OLED display
Supports image brightness and tone adjustment
Up to 10 hours of continuous operation
Replaceable and rechargeable Li-ion battery
Supports audio and recoil-activated recording
High shock resistance up to 1,000 g/0.4 ms
Technical Specifications
Thermal Module
Image Sensor: Uncooled Focal Plane Arrays
Resolution: 256 × 192
Frame Rate: 50 Hz
Pixel Interval: 12 mm
NETD: Less than 35 Mk (25°C, F# = 1.0)
Lens (Focal Length): 19 mm
Focus Knob: No
Detection Range: 1,000 m
Focusing Distance: 0.5 m
Aperture: F1.0
Magnification: 1 ×
Field of View (H × V): 9.24° × 6.94°/16.17 m × 12.13 m
Image Display
Display: 1,024 × 768, 0.39″, OLED
Palettes: Black hot, white hot, red hot, fusion
FFC (Flat Field Correction) Mode: Auto, Manual, External Correction
Exit Pupil: 22 mm
Eye Relief: 10 mm
Brightness Adjustment: Yes
Tone Adjustment: Cold, Warm
System
Record Video: On-Board Video Recording
Capture Snapshot: Yes
Standby Mode: Yes
Storage: Built-In EMMC (16 GB)
DPC: Yes
Hotspot: Yes
Hot Track: Yes
Reticle: Yes
Distance Measurement: Yes
Recoil-Activation Recording: Yes
Audio Recording: Yes
Recoil: 1,000 g/0.4 ms
Image Calibration: Yes
Power Supply
Battery Type: Replaceable and Rechargeable Li-Ion Battery
Battery Operating Time: ≥ 10 h (25°C, with Hotspot Off)
Type-C Power Supply: 5 VDC, 2 A; Supports external power supply
General
Protection Level: IP67
Dimension: 184.09 mm × 67.14 mm × 68.04 mm
Weight: 499 g without Battery
Working Temperature: -30°C to +55°C
Whats in the box?
HIKMICRO Thunder TE19CR 2.0 19 mm Thermal Clip-on
Battery Charger
Battery x2
Type-C Cable
Quick Start Guide
Bag
Wrench