Roll over image to zoom in
Description


1300 meters range
Image boost technology
Rugged, reliable all-metal housing
IPX7 waterproof
DESCRIPTION
The Pulsar Thermion XM30 Thermal Imaging Riflescope features state-of-the-art design and the latest advanced technological innovations. The Pulsar Thermion delivers the premium thermal imaging you have come to expect, but on a traditional-style aircraft-grade 30 mm-tube. This cutting-edge thermal imaging riflescope is for professional hunters who value traditions and seek technological superiority. The high-quality germanium optics coupled with an advanced thermal imaging sensor ensure an unprecedented detection range of up to 1300 meters, even in complete darkness.

Thanks to the new revolutionary electronics, this sight can be started up almost instantly. The quick start-up helps to save energy and thus prolongs the time of operation. The unit can be kept switched off and then rapidly activated when the right time comes. Designed from the ground up for ease of use, Thermion riflescopes mount to standard 30 mm scope rings. No specialized tools or equipment are required. Designed for rugged reliability, Thermion riflescopes boast full, reinforced yet lightweight metal construction. Precision-fabrication of housing elements ensures flawless field performance.

Integrated video and still image recording in MPEG-4 and .jpg makes sharing the thermal action quick and easy. The onboard 16-GB internal memory handles recoil flawlessly and stores hours of video or thousands of photos. The Thermion riflescopes have a dual battery system which consists of two batteries, internal and external. The external battery ensures additional operation time and can be replaced in a matter of seconds. The colour palettes offer customized display options. While white-hot and black hot is most popular, Red Hot, Rainbow and Ultramarine highlight a heat signature's more intense hot spots. Violet, Red Monochrome and Sepia are optimal palettes for reduced eye fatigue over long periods of observation.
FEATURES
Extreme detection range 1300 meters
Instant start-up
Image boost technology
Mounts on standard 30mm scope rings
Recoil rated up to .375 H&H, 12-gauge and 9.3x64
Video and still-photo recording
Stream vision app supported
Colour palettes
B-pack mini combined power system
Rugged, reliable all-metal housing
Variable digital zoom
User-friendly controls
Ipx7 waterproof rated
Zeroing profiles management
Full-colour, HD AMOLED display
High definition image
Customizable reticle options
Picture-in-picture
SPECIFICATIONS
Main
Sensor
320x240 pix. @ 12 micrometres
Objective Lens
F30/1.2
Magnification
3.5 - 14 (x4 zoom)
Field Of View (Hxv), Degrees / M100M
7.3x5.5 / 12.8x9.6
Detection Range
1300m
Sensor
Type
Uncooled
Resolution
320x240 pixels
Pixel Pitch
12 micrometers
NETD, mK
<50 mK
Frame Rate
50Hz
Optics
Objective Lens
F30/1.2
Magnification
3.5-14x
Field Of View (HxV), Degrees / M @ 100 M
7.3x5.5 / 12.8x9.6
Eye Relief
50mm
Display
Type
AMOLED HD
Resolution
1024x768 pixels
Range Performance
Detection Range
1300m
Reticle
Click Value
12H/V / 12mm At 100m (On Minimum Magnification)
Click Range
2400H/V / 2400mm At 100m
Number Of Preloaded Reticles
10
Video Recorder
Video / Photo Resolution
1024x768 pixels
Video / Photo Format
.mp4 / .jpg
Built-In Memory
16GB
Wi-Fi
Wireless Protocol
Wi-Fi
Wireless Standard
802,11 b/g
Frequency, GHz
2.4
Environmental Characteristics
Degree Of Protection
IPX7 (IEC60529)
Operating Temperature Range
-25°С - +50°С
Connections And Compatibilities
Max. Recoil Power On Rifled Weapon (Eo)
6000 Joules
Shock Resistance On The Smooth-Bore Rifles
12 caliber
Mounting Brackets On Weapon
Standard 30 mm rings
Power Supply
Output Voltage
3.0V - 4.2V
Battery Type
Dual Li-Ion B-Pack Mini Power System: 2 Ah Changeable Battery (external) / 3.2 Ah Battery (internal)
Capacity
2000mAh (external) + 3200mAh (internal)
Operating Time On Battery Pack (At t=22°С)
7 hours
External Power Supply
5V (Micro USB Type B)
Weight & Size
Body Material
Metal
Dimensions
387x78x74mm
Weight
0.75kg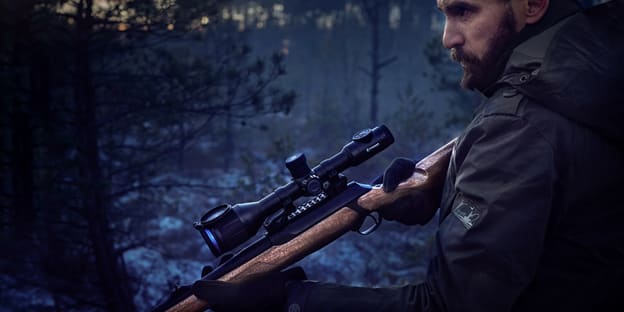 Image Disclaimer: Images are intended for illustrative purposes only and do not form part of any contract or warranty as to what you are purchasing. This transaction/purchase is subject to the confirmation of price and product by Karoo Outdoor Company (Pty) Ltd. See full Terms and Conditions.