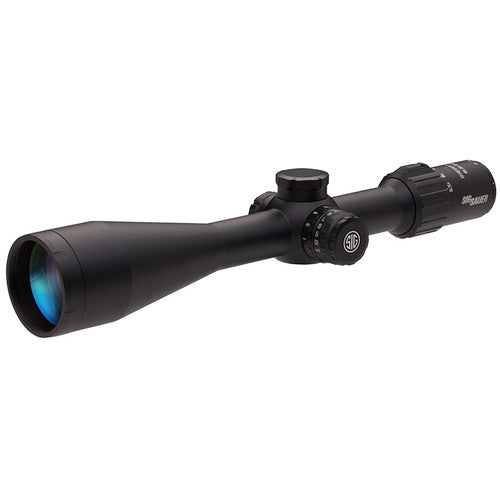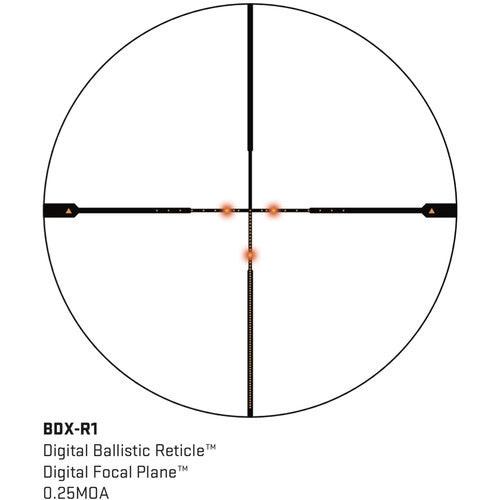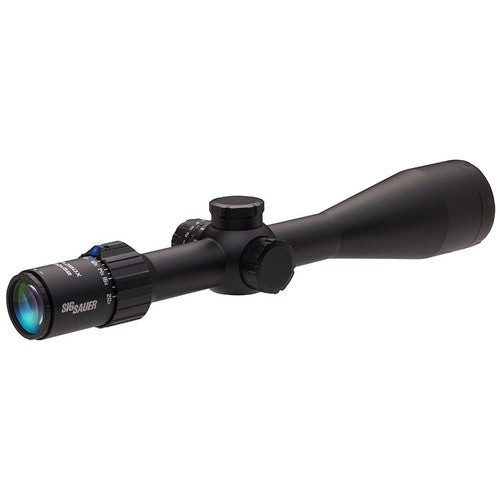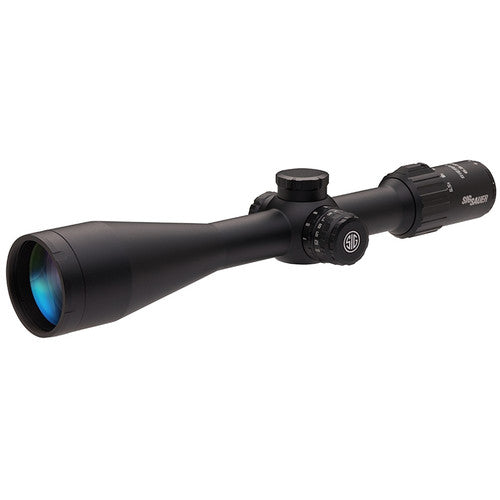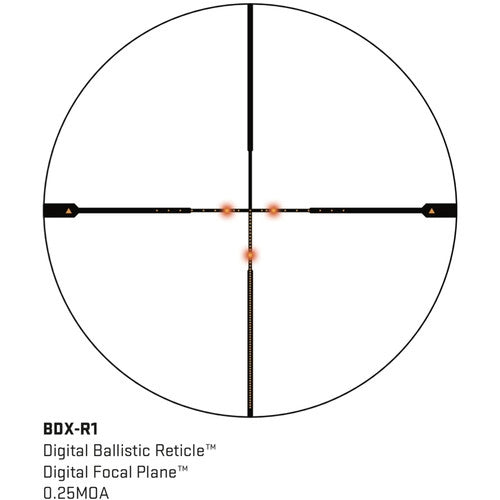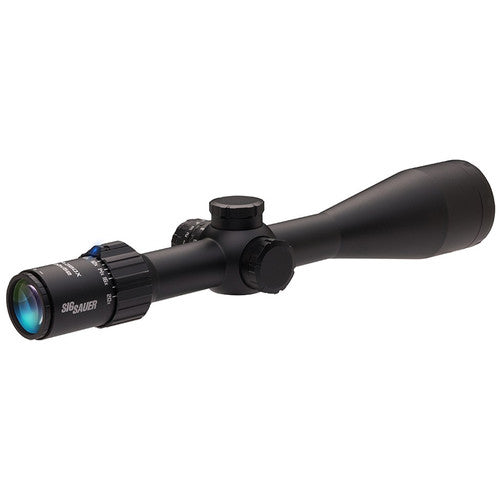 Don't let its ubiquitous form factor fool you, because hidden inside the Sig Sauer 6.5-20x52 SIERRA3BDX Riflescope are technological innovations that use Bluetooth connectivity to compatible devices that will give you the cool confidence to make a precise shot and ensure an ethical kill—even at long range and in challenging light.
Anchored on a free app for iOS and Android smartphones, Sig's Ballistic Data Xchange (BDX) system allows you to bond your mobile device with the scope and one of their KILO laser rangefinders and then pool a slew of information to plot a firing solution that is updated and displayed on the BDX-R1 digital ballistic reticle. The rangefinder gives you range and angle to the target while the app allows you to input the ballistic profile of your round as well as critical environmental data such as temperature and wind direction and speed. All the information is used to calculate an accurate elevation holdover and/or windage adjustment, which is sent to the riflescope. A dot is projected onto the reticle's crosshairs and all you need to do is place it on the target and fire. The scope can also be used without a rangefinder, utilizing the ballistic profile and environmental data to plot multiple aiming points at various distances. Since the dot is projected onto the reticle, the app adjusts the subtensions to the selected magnifications so they remain accurate through the entire zoom range.
Optically, the SIERRA benefits from an exceptional zoom range and a massive objective lens that enables you to precisely send shots at long range while enjoying bright and clear views even in low light or if you have the scope set on max magnification. Extra-low dispersion glass and broadband anti-reflection coatings maximize light transmission with virtually zero distortion across the whole field of view with enhanced color fidelity, contrast, and resolution. Capped low-profile turrets adjust at a precise 1/4 MOA per click with 20 MOA of travel per rotation and an adjustment range of 40 MOA. To withstand the repeated recoil of regular use and to provide the adjustment room required for the windage and elevation turrets, the one-piece maintube is made of lightweight but strong aluminum and is robust at 30mm in diameter. The housing is nitrogen filled and O-ring sealed to an IPX7 rating to make it waterproof, submersible, and resistant to internal fogging.
Features
BDX-R1 Digital Ballistic Reticle
Ballistic Data Xchange (BDX) System
Illuminated Aiming Points Set by BDX
Bluetooth Connectivity to Smartphones
1/4 MOA/Click Impact Point Correction
40 MOA Windage and Elevation Adjustment
ED Glass with Broad Spectrum Coatings
Nitrogen Filled & IPX7-Rated
MOTAC Motion Sensor & LevelPlex System
Runs on Two CR2032 Batteries
Optical Performance
Powerful 6.5-20x zoom magnification is ideally suited for mid ranges on lower power with the ability to place accurate shots at extreme ranges
Massive 52mm objective provides the light gathering required to ensure views remain bright in challenging light or when viewing targets at long range on high magnification
Extra-low dispersion (ED) and high-transmittance (HT) glass provides enhanced light transmission to produce bright and clear high-contrast views with accurate color
Highly efficient, ultra-wide broadband, anti-reflection SpectraCoat lens coatings reduce surface reflections across the entire visible spectrum, improving light transmission
14-foot field of view at 100 yards on 6.5x power, 3.5-foot on 20x
Second focal plane placement maintains a consistent reticle size regardless of the magnification selected
Digital aiming point placement remains accurate at all magnifications
10 adjustable brightness settings ensure clear aiming point visibility in all light conditions
Non-illuminated duplex crosshair design leaves most of the field of view open, clear, and uncluttered
BDX information is automatically transferred to the riflescope and clear aiming points are placed on the hairs to indicate an adjusted elevation holdover and windage adjustment
Place the dot on the target and fire for precise first-shot accuracy
Ability to configure multiple holdover points that are all displayed to eliminate turret adjustments or other distance calculations
Use without rangefinder to configure ballistic information and set a reticle profile with multiple holdover distances out to 800 yards
Blue LED on the magnification ring blinks each time the reticle is updated
Technology
Ballistic Data Xchange System
Designed to provide hunters with the ability to take the most accurate and ethical shot
Requires compatible rangefinder
Riflescope connects to a smartphone running the Sig BDX app for Android or iOS
Receives and makes automatic adjustments to the reticle aiming point placement to improve shot accuracy
Through app, user can input round, load, muzzle velocity, and other ballistic information that is used to calculate aiming point placement
User can choose to input environmental conditions, including temperature, wind speed and direction, and humidity that are used to adjust aiming point and improve accuracy
Wireless Bluetooth connectivity with secure PIN accessibility to eliminate the possibility of interference with other Sig BDX apps and rangefinders being used by other hunters in the field or at the range
KinETHIC System
Calculates the maximum effective hunting range
Indicates when the round's energy may not be sufficient to ensure an ethical kill
Helps to ensure an ethical hunt by indicating when a given round's energy drops below a threshold
Threshold is set by the user in the BDX app
Based on the ballistic profile provided and distance of the shot
Auto LevelPlex System
Can be activated in the field during a hunt
Ensures the user is holding the rifle level to improve shot accuracy
When activated, the system automatically increases digital level sensitivity for longer shots
LevelPlex Digital Anti-Cant System
Utilizes an internal digital level that is more accurate than conventional bubble levels
In-view indicators enable the user to precisely optically align the scope to their rifle and remove unwanted cant from the system
±0.5° of accuracy ensures the horizontal and vertical axes of the reticle are perfectly parallel to the rifle
MOTAC Motion-Sensor System
Immediately powers up reticle illumination when it senses motion
Powers reticle down when it does not detect movement for 2 minutes to extend battery life
Use and Handling
Capped low-profile turrets reduce snag and ensure dirt, dust, and water won't foul the adjustment mechanism
Precise 1/4 MOA per click impact point correction
Wide 40 MOA windage and elevation adjustment range with 20 MOA of travel per turret rotation
Fast-focus eyepiece
Objective lens filter thread allows the use of front filters, like polarizing or neutral density, to enhance the view
Long 4.2" eye relief on low power and 3.4" on high provides a generous eye box to ease eyestrain and improve comfort
Comfortable exit pupil at low to medium magnifications enables easy use in low or challenging light
Construction Details
Large 30mm maintube maximizes light throughput to keep views bright and provides the room required for the windage and elevation adjustment range
Lightweight and durable aluminum housing
Reflection-limiting matte black anodized finish
Nitrogen filled and O-ring sealed to an IPX7 rating, making it waterproof and submersible to 3.3' (1m) for up to 30 minutes and resistant to internal fogging when moving through extreme changes in environmental conditions and temperature
26-ounce weight
Runs on two included CR2032 batteries