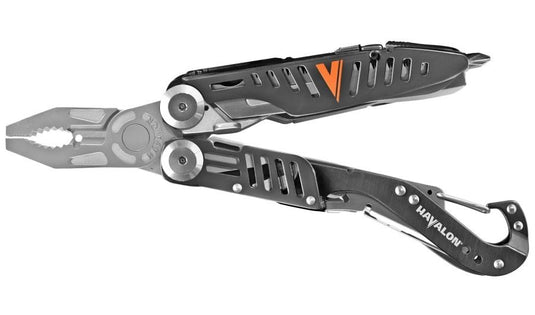 The Havalon XTC60AMT1 Piranta 60A Blade Evolve Multi-tool - Black was created with only one thing in mind. To create a more efficient hunting experience, no longer will hunters have to go into the woods with an entire toolbox full of items.

The multi-tool includes 6 standard 60A Blades, renowned for their sharpness and durability. Additionally, it comes with 2 new Piranta replaceable saw Blades, expanding the tool's cutting capabilities and making it suitable for various tasks in the field. Featuring a fixed gut hook, the Havalon XTC60AMT1 allows for precise and efficient field dressing and skinning. The gut hook design ensures clean and controlled cuts, minimizing the risk of puncturing internal organs or damaging the hide.

Equipped with a universal bit driver, the multi-tool comes with a flathead and Phillips bit, ready for immediate use. It also accommodates any standard-sized bit, allowing for versatility and customization to meet specific needs. The tool includes storage for two additional bits, ensuring you have the right tool at hand when required. The Havalon XTC60AMT1 incorporates pliers and wire cutters, providing additional functionality for various tasks. The pliers allow for gripping, twisting, and manipulating objects, while the wire cutters provide convenient wire cutting capabilities in outdoor situations.

With its carabiner clip, the multi-tool offers easy and secure attachment to gear, belts, or backpacks, ensuring quick access and preventing loss during outdoor activities. The carabiner clip enhances portability and convenience, keeping the tool within reach whenever it's needed.

Included with the multi-tool is a Havalon Zipper Holster. This holster is specifically designed to securely hold the tool and provides easy access during outdoor excursions. The holster keeps the multi-tool protected and readily available for use in demanding conditions. The Havalon XTC60AMT1 Piranta 60A Blade Evolve Multi-tool is compatible with all styles of Piranta Blades. This versatility allows you to switch between different blade types, including standard 60A blades and Piranta replaceable saw blades, providing the right tool for the job.
Features
6 standard 60A Blades and 2 new Piranta replaceable saw Blades
Fixed Gut Hook
Universal Bit Driver (comes with a flathead and Phillips bit, but will fit any standard Sized bit)
Storage for two additional bits
Pliers/wire cutters
Carabineer clip
Havalon Zipper Holster
Fits all styles of Piranta Blades
Specifications
| | |
| --- | --- |
| Type | Multi-Tool |
| Brand | Mavalon |
| Colour | Black |
| Model | Evolve |