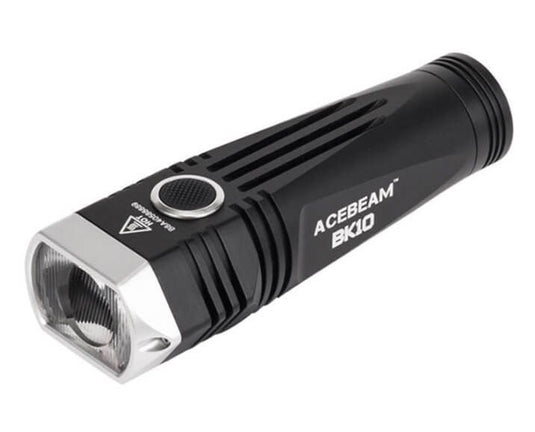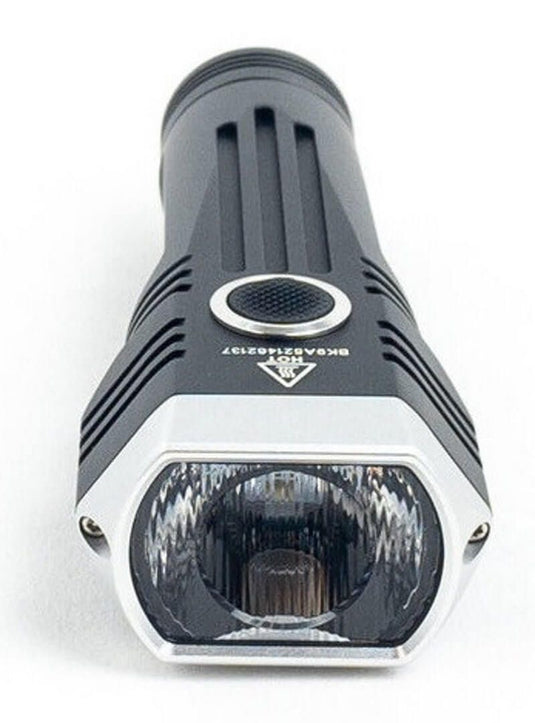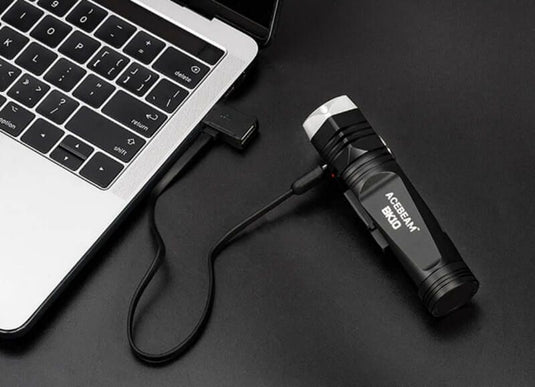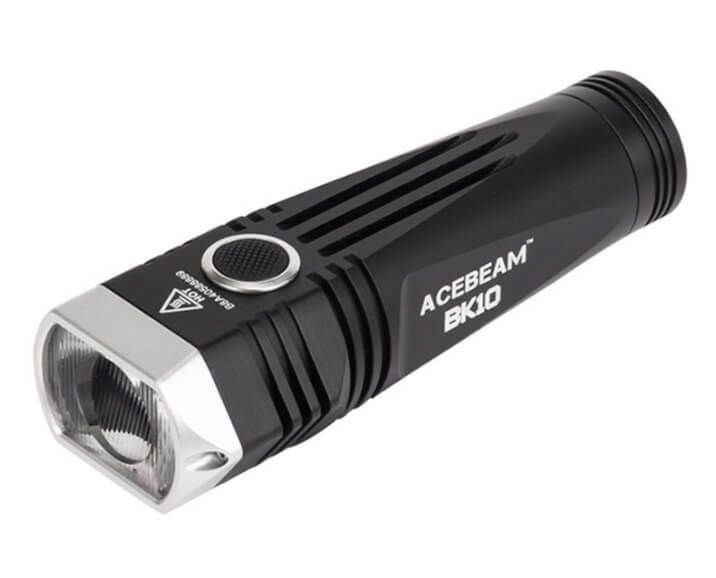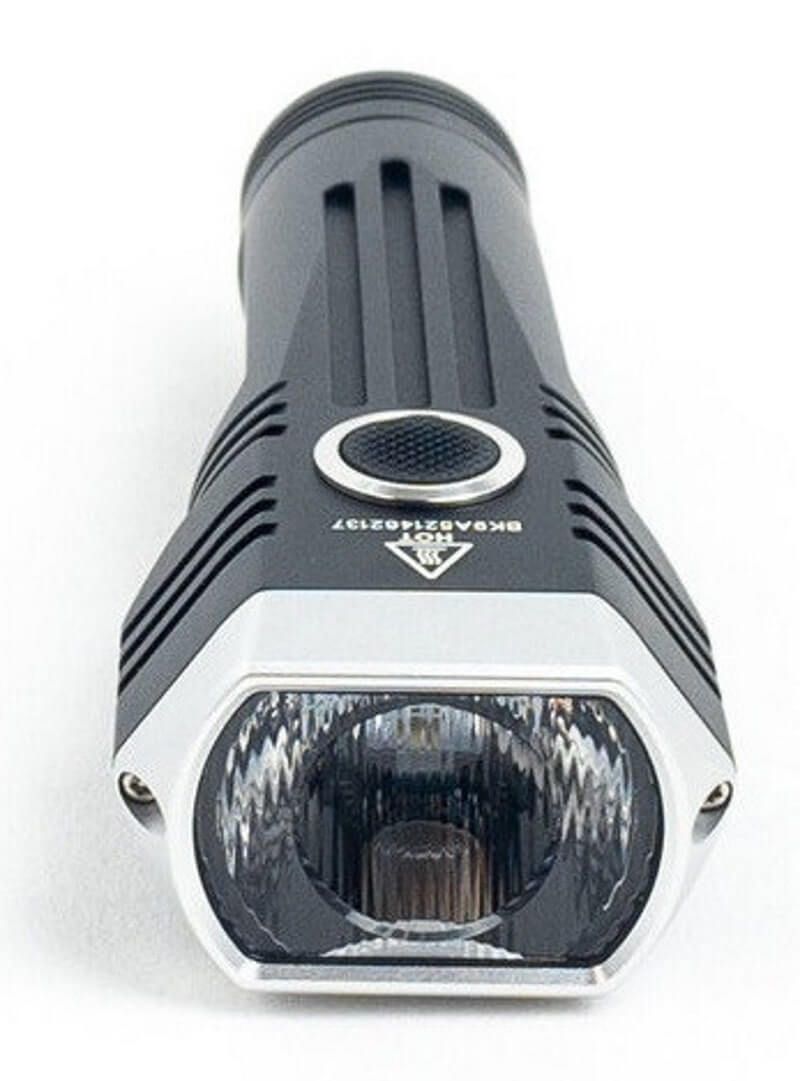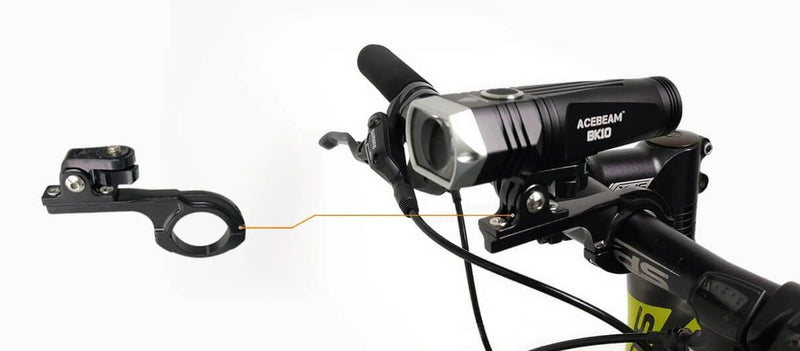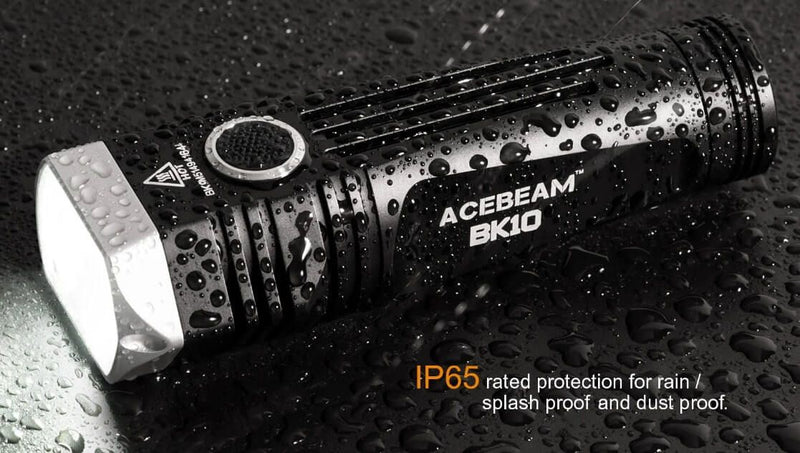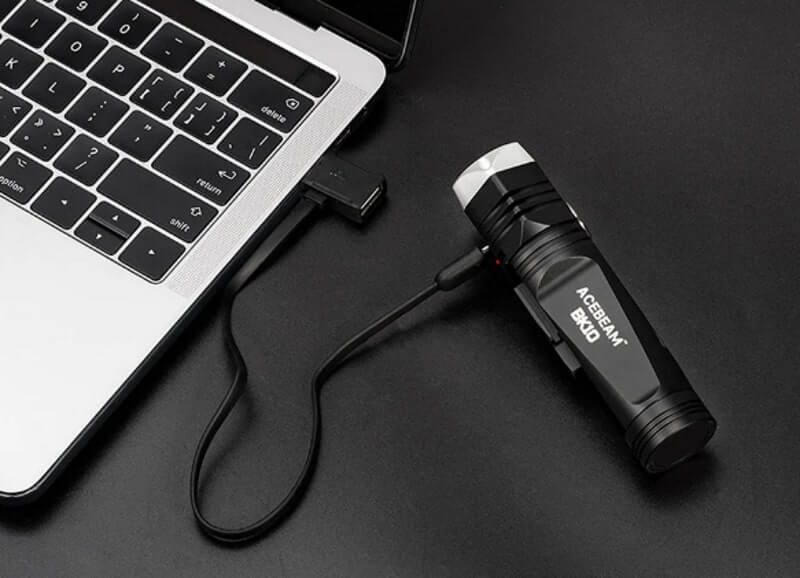 BK10 is designed in accordance with STVZO standard 90% light transmittance Optical PMMA lens to deliver homogenous spotlight Rectangular beam spot focus the beam without dazzling for safety 85°wide-angle uniform beam Dual distance beam distance
DESCRIPTION
The Acebeam BK10 LED Bike Light is specially designed to be the brightest safety light in accordance with STVZO standards. Being equipped with XHP35 HI LED, powered by the latest 21700 cells with a super high capacity of 5100mAh, this impressive illuminator can emit up to a whopping 2000 lumens brightness. The optical PMMA lens makes the beam spot with high light efficiency, eligible for the latest international spot requirement. The rectangular speckle does not only illuminate the entire ride, but also focuses the beam on the road without dazzling the oncoming pedestrians and drivers for safety. The single button allows the easy and intuitive operation to cycle through any outputs, the Micro-USB function at the backside is for quick and convenient recharging. IP65 rated protection assures BK10 with rain resistance and dustproof. ACEBEAM BK10 provides you with a professional and complete bicycle lighting solution.
FEATURE
BK10 is designed in accordance with STVZO standard
90% light transmittance Optical PMMA lens to deliver homogenous spotlight
Rectangular beam spot focus the beam without dazzling for safety
85wide-angle uniform beam
Dual distance beam distance
High-quality detachable rubber mat included for improved shock resistance
Aircraft grade aluminum body structure with Premium Type III Hard Anodized Anti-abrasive finish
5 brightness levels plus SOS special function
SOS setting serves as a distress signal
One switch for all easy operation
Convenient and fast micro-USB charging function
Compact size for easy carry
IP65 rated protection for rain resistance and dustproof
Impact resistance 1 meter
Intelligent highly efficient circuit board design for max. performance and long run time
Intelligent temperature controlled light output for user safety
SPECIFICATIONS
| | |
| --- | --- |
| LED | 1xCree XHP35 HI LED with a lifespan of 50,000 hours |
| Ultra-Low | 30 lms; 37 hours; 370cd 38m |
| Low | 150 lms; 15 hours; 45 mins; 1720cd; 82m |
| Med | 350 lms; 6 hours; 3770cd; 122m |
| High | 1050 lms; 1 hour; 45 min;s 10350cd; 220m |
| Turbo | 2000 lms; 1 hour; 30mins; 21000cd; 289m |
| SOS | 350 lms; 15 hours |
| Max. runtime | 37 hours |
| Max. beam distance | 289 meters |
| Peak beam intensity | 21000cd |
| Size | 117.2mm (length) x 45mm (head diameter) x 28.4mm (tube diameter) |
| Weight | 110g w/o battery 182g w/ battery |
Image Disclaimer: Images are intended for illustrative purposes only and do not form part of any contract or warranty as to what you are purchasing. This transaction/purchase is subject to the confirmation of price and product by Karoo Outdoor Company (Pty) Ltd. See full Terms and Conditions.