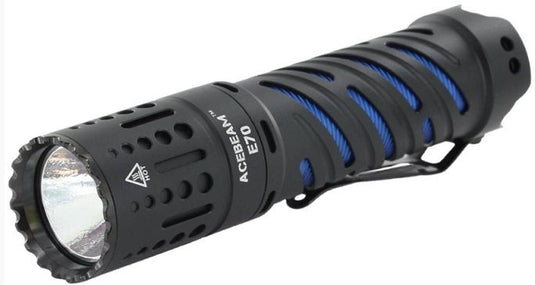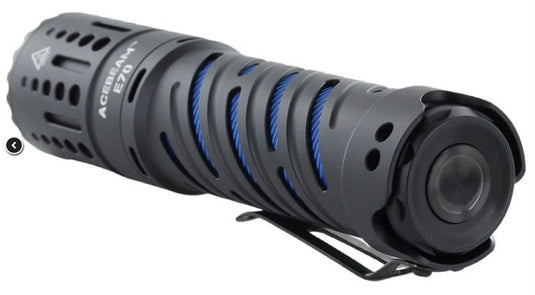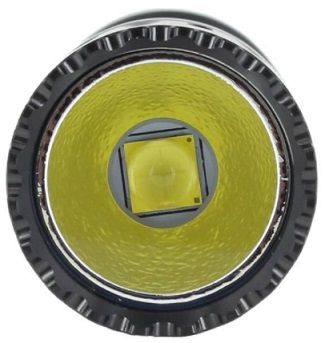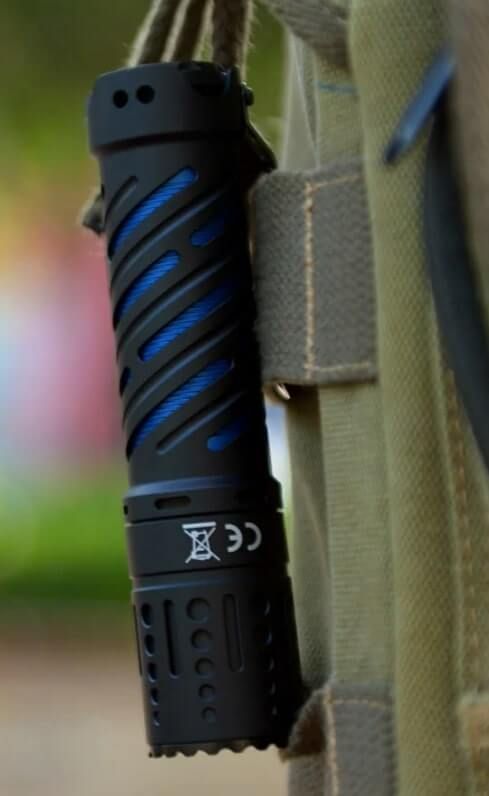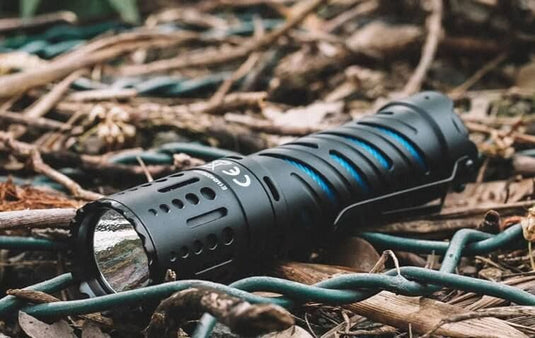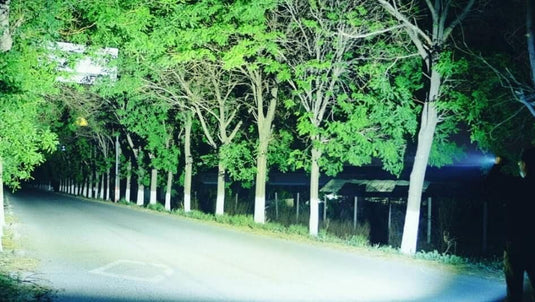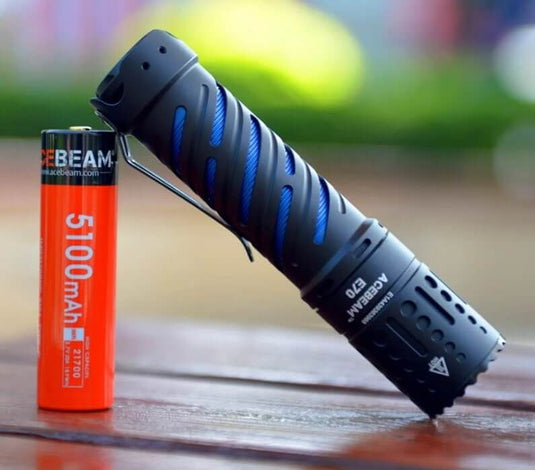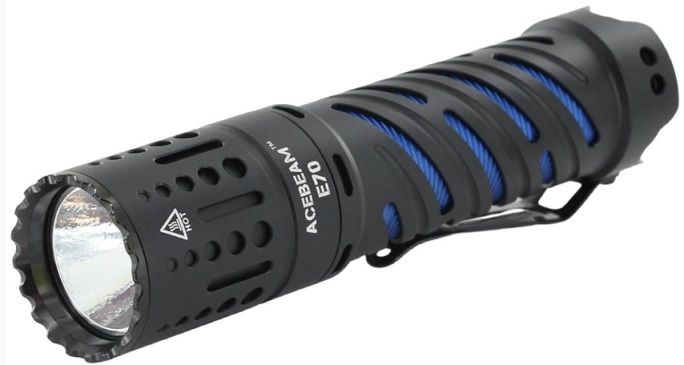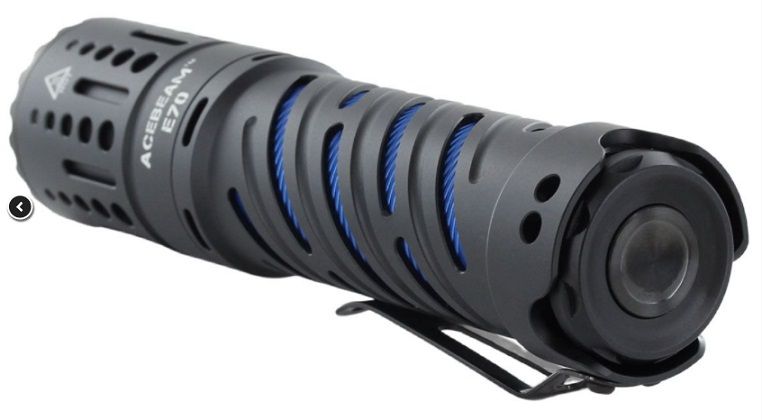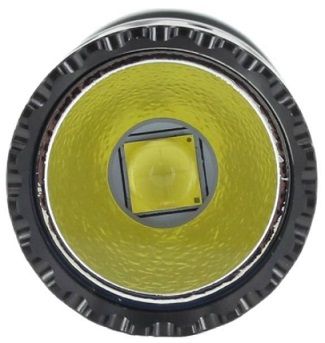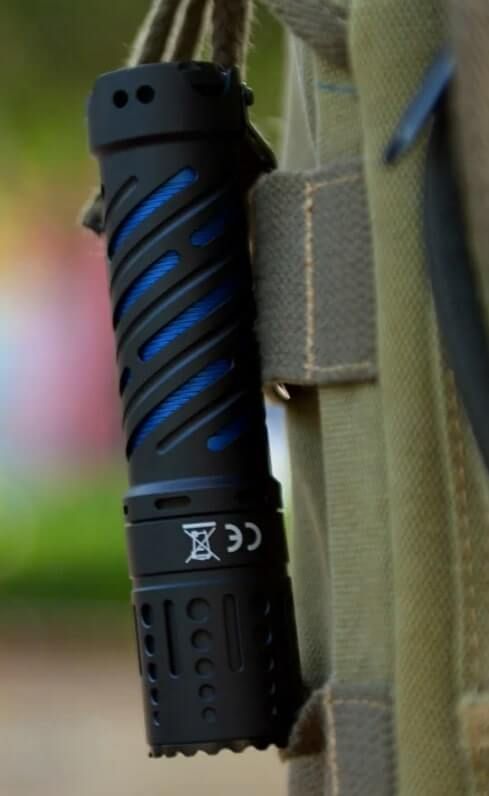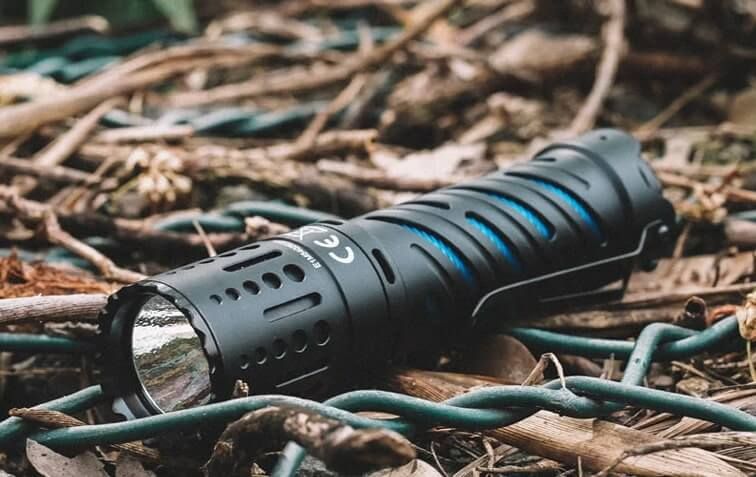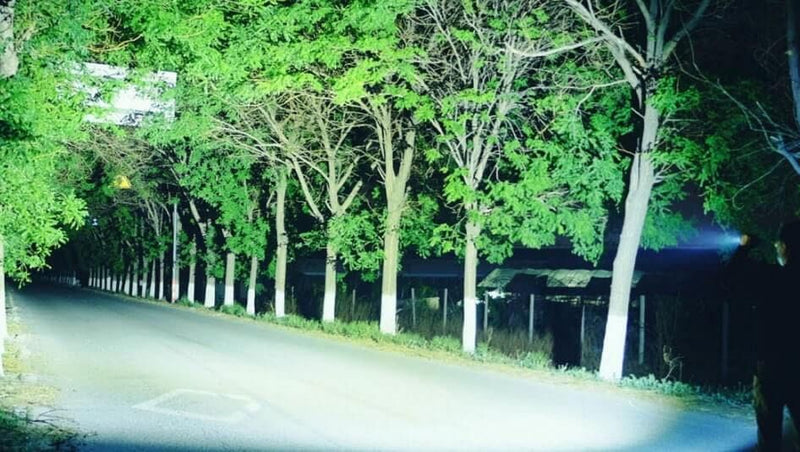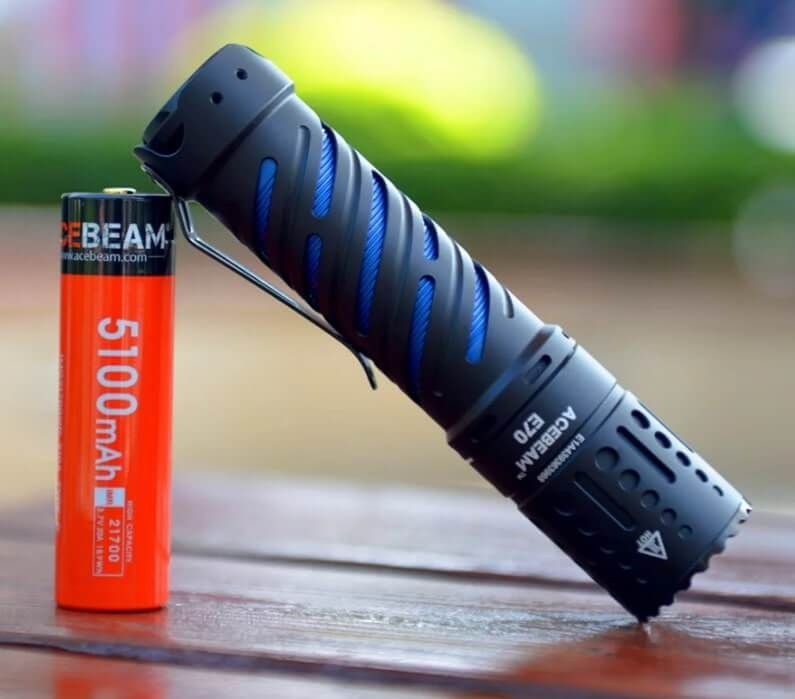 Pocket-size 4600 lumens output Advanced LED

DESCRIPTION
The Acebeam E70-AL EDC Flashlight - 4600 Lumens has a coexistence of beauty and strength and is the perfect EDC lamp. As an everyday carry light with the power of a searchlight in such a small body (only 5.05 inches long), it is not only an ideal choice for camping, and adventure but also an ideal choice for daily city life.
The Acebeam E70-AL EDC Flashlight - 4600 Lumens is the perfect go-to EDC for a variety of users and applications. This 5.05-inch flashlight is powered by one high-capacity 21700 li-ion battery which ensures extended runtimes and some powerful outputs. On max, the E70-AL can put out up to 4,600 lumens and on moonlight mode, it can run for 11 days. Five different brightness settings plus strobe and moonlight modes make it to be perfect for a wide range of uses and environments.
Now, you get to pick from two LED tints: cool or neutral white. The traditional cool white tint is 6500K while neutral white is warmer at a 5000K colour temperature. The E70-AL is powered by one li-ion 21700 battery, one of the most sought-after power sources for high-performance flashlights. To make it convenient for users, this light also accepts a high-capacity 18650 for more power options. Equipped with a lockout mode, accidental activation is a thing of the past - never accidentally drain a battery again.
FEATURE
Pocket-size
4600 lumens output
Advanced LED
Great light efficiency
Conveniently rechargeable
Maintains constant brightness
5 Brightness levels
2 Special modes
Lockout mode
Temperature control
Convenient operation
Ultra clear tempered glass
Impact resistance
Waterproof to 2 meters
SPECIFICATIONS
| | |
| --- | --- |
| Brand | Acebeam |
| Size | 128.3mm (Length) x 30mm (Head Diameter) x 27mm (Tube Diameter) |
| Weight | 102g / 3.59oz. without battery |
| LED | XHP70.2 LED with a lifespan of 50,000 hours |
| Moonlight | 1 lumen 11 days |
| Low | 50 lumens 50 hours |
| Mid1 | 180 lumens 625cd 50m 12 hours 45 minutes |
| Mid2 | 650 lumens 1,600cd 80m 4 hours |
| High | 1,300 lumens 3,600cd 120m 1 hour 45 minutes |
| Turbo | 4,600 lumens 14,400cd 240m 1 hour 30 minutes |
| Strobe | 1,650 lumens 2 hours 30 minutes |
| Max. Output | 4,600 lumens |
| Max. Beam Distance | 240m / 787ft |
| Max. Runtime | 11 days |
| Peak Beam Intensity | 14,400cd |
| Colour Temperature | 6500K Cool White |


WARNING
Unauthorized disassembly may damage the flashlight and void the warranty.
It is normal if the surface heat is increased during use due to the excellent thermal conductivity technology. It is suggested to use in a well-ventilated area with ambient temperature.
Caution hot when used continuously for a long time. Do not put it on flammable materials for a long time, any fire or any safety problems caused by this will not be related
to the manufacturer and distributors.
Please check and replace the O-ring regularly to maintain the waterproof rating.
Please check and lubricate the threads regularly with professional lubricant.
Clean the contact surfaces regularly to keep the flashlight normal operation. If an irregular strobe or failure to turn on occurs, the contact surfaces may be dirty and require cleaning by using alcohol cotton swabs.
Remove the battery from the flashlight during long-term storage.
This flashlight is not intended to be used as a diving light.
Do not aim the flashlight directly at the eyes. Users must be over 18 years of age. Keep out of the reach of children.
Image Disclaimer: Images are intended for illustrative purposes only and do not form part of any contract or warranty as to what you are purchasing. This transaction/purchase is subject to the confirmation of price and product by Karoo Outdoor Company (Pty) Ltd. See full Terms and Conditions.