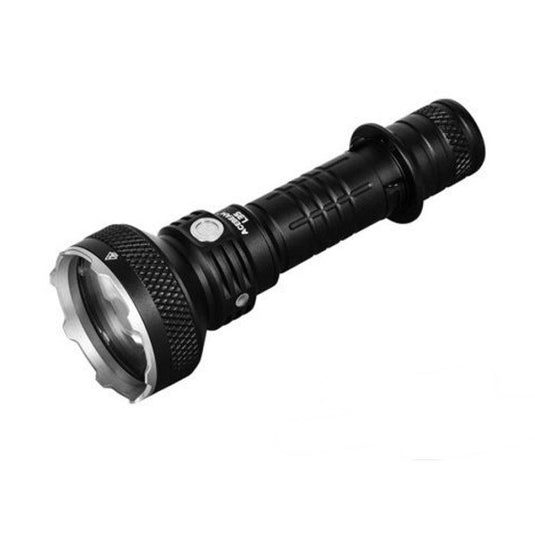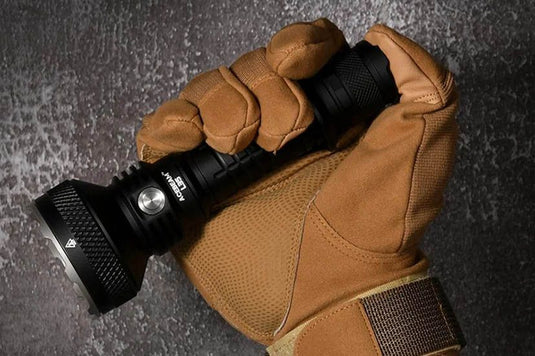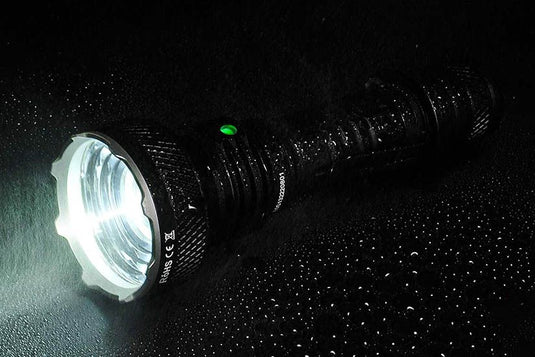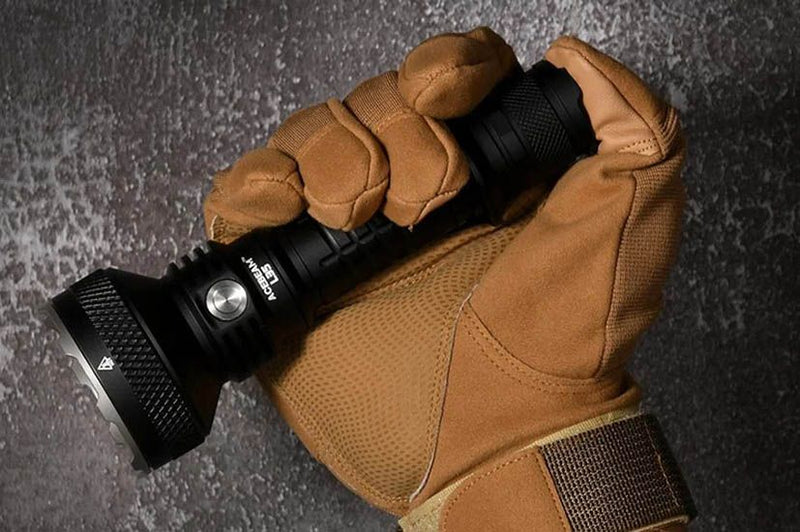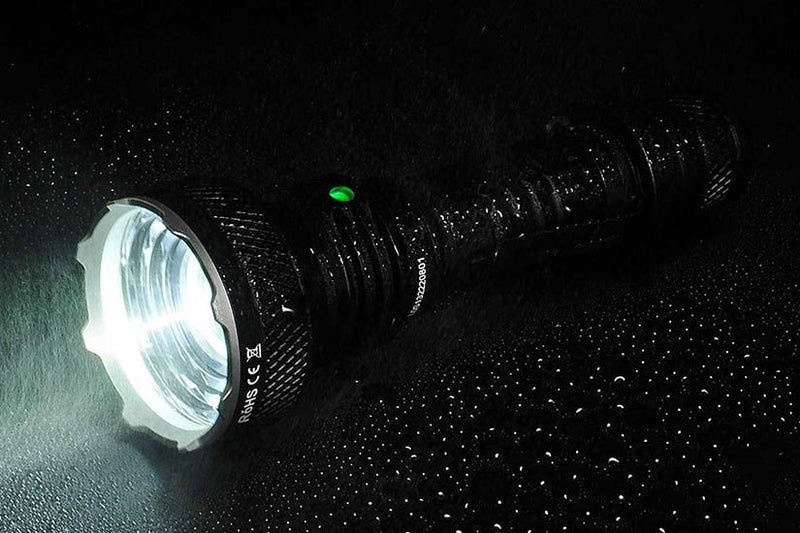 Maximum output 5000 lumens Maximum beam distance 570 meters IP68 Waterproof 6 brightness levels

DESCRIPTION
The Acebeam L35 LED Tactical Flashlight is a super bright tactical flashlight that blasts a max output of 5000 lumens and a max beam distance of 480 meters (CREE XHP70). The L35 also offers a new LED option with the LatticePower P70 for a more long beam distance. Powered by a single high capacity 21700 battery, the L35 has impressive outputs and beam distance. The light itself has a body diameter of 1" so it is compatible with most weapon mounts. The side switch is for everyday activation and the tail switch can be used for tactical purposes or remote pressure switch attachment. The L35 was designed for tactical, hunting, duty, law-enforcement, search and outdoor use.

FEATURE
Brightness reaches 5,000 lumens by one single CREE XHP70.2 LED and one single 21700 battery
Maximum beam intensity of 57,600cd and maximum throw of 480 meters
Powered by a 21700 battery, recommend Acebeam USB-C rechargeable 21700 Li-ion battery (5100mAh)
6 brightness levels option plus special strobe
An updated homogeneous optical lens provides better light quality with a soft and balanced beam
The aggressive strike bezel is used to break windows or defend in an emergency situation
Toughened ultra-clear glass lens with anti-reflective coating
Dual switches for easy and fast operation
The power indicator indicates the remaining battery power
Lockout mode prevents accidental activation
Highly efficient constant current circuit design (non-PWM)
Intelligent temperature regulation and protection adjusts output performance to prevent overheating
All circuitry contact points are gold-plated, providing better conductivity and superior durability
Strobe mode disorients an attacker without excessive force
Impact resistance to 1 meter
IP68 waterproof (5 meters submersible)
SPECIFICATIONS
| | |
| --- | --- |
| Moonlight | 1 Lumen; 12 Days |
| Low | 70 Lumens; 784CD; 56 Meters; 33 Hours 30 Minutes |
| Mid1 | 200 Lumens; 3,249CD; 114 Meters; 12 Hours 45 Minutes |
| Mid2 | 600 Lumens; 11,449CD; 214 Meters; 4 Hours |
| High | 1,350 Lumens; 24,964CD; 316 Meters; 1 Hour 30 Minutes |
| Turbo | 4,300 Lumens; 81,225CD; 570 Meters; 1 Hour 15 Minutes |
| Strobe | 1,500 Lumens; 2 Hours 30 Minutes |
| Max. Output | 4,300 Lumens |
| Max. Beam Distance | 570 Meters |
| Max. Runtime | 12 Days |
| Peak Beam Intensity | 81,225CD |
| Size | 152 mm (Length) x 54.2 mm (Head Diameter) x 25.4 mm (Tube Diameter) |
| Weight | 161g(5.68oz.) W/O Battery |


Image Disclaimer: Images are intended for illustrative purposes only and do not form part of any contract or warranty as to what you are purchasing. This transaction/purchase is subject to the confirmation of price and product by Karoo Outdoor Company (Pty) Ltd. See full Terms and Conditions.