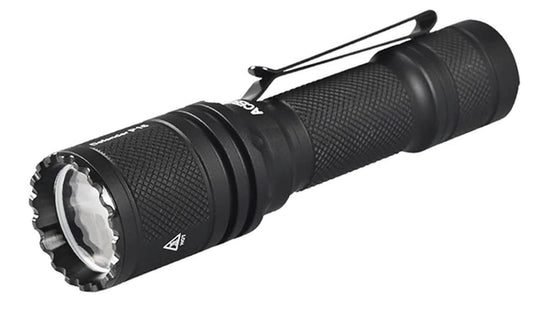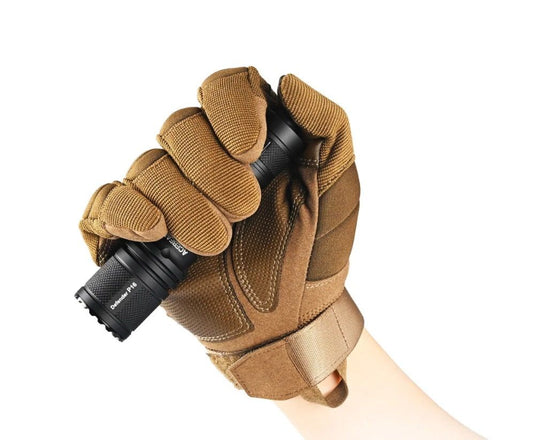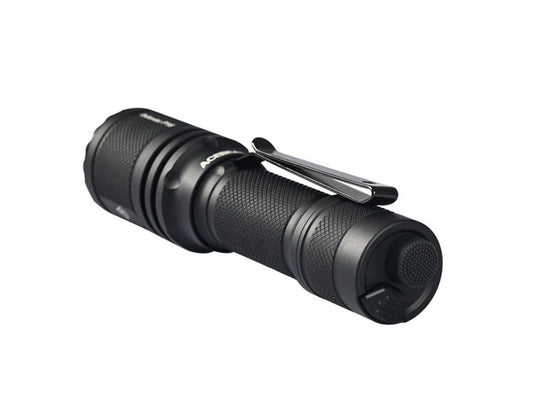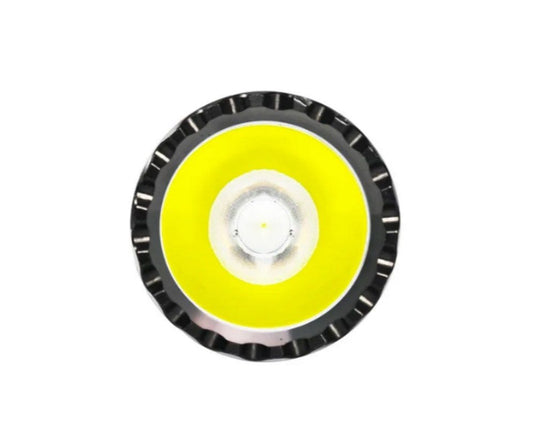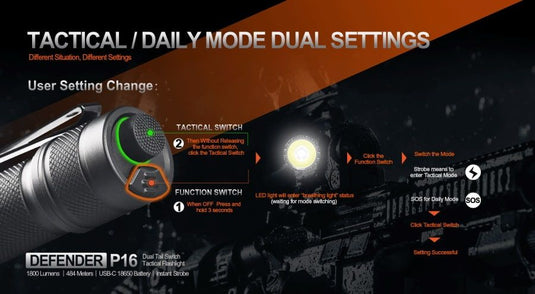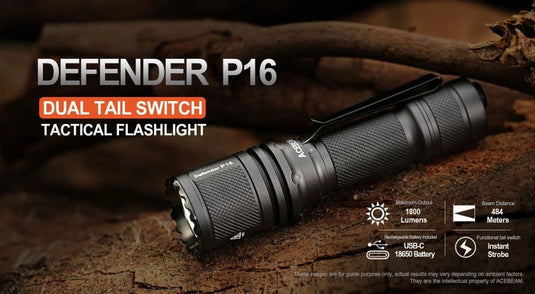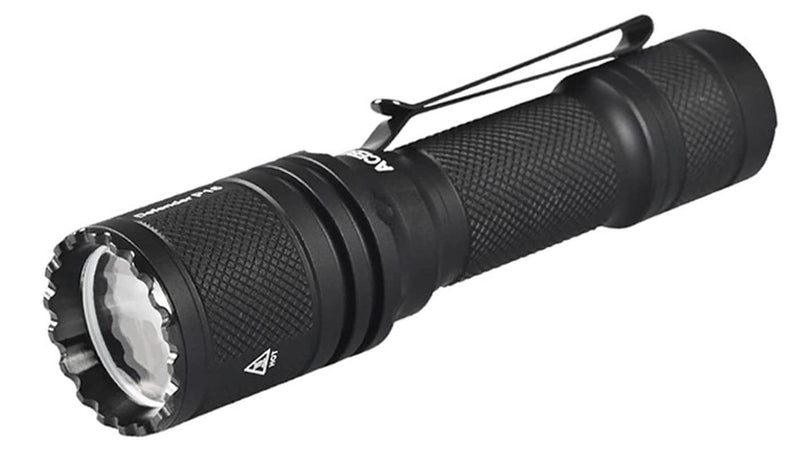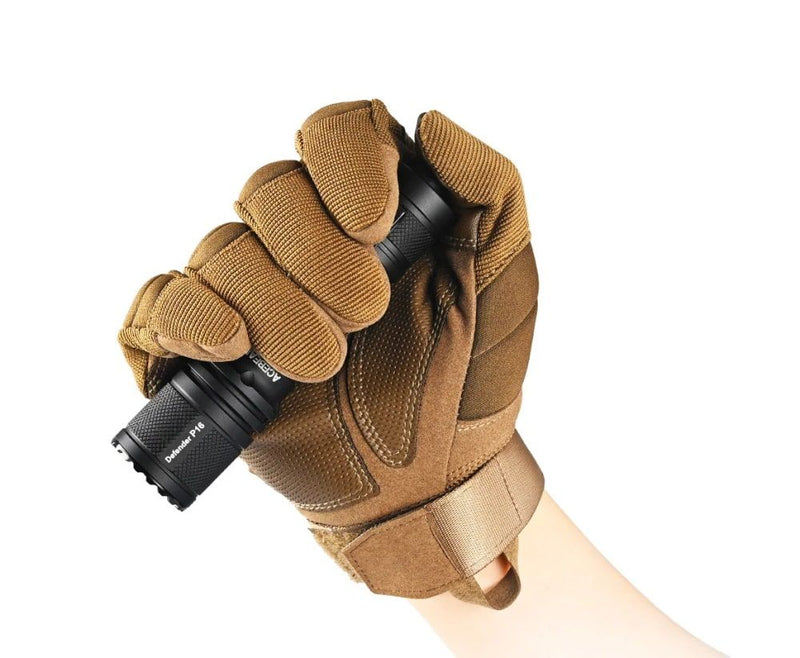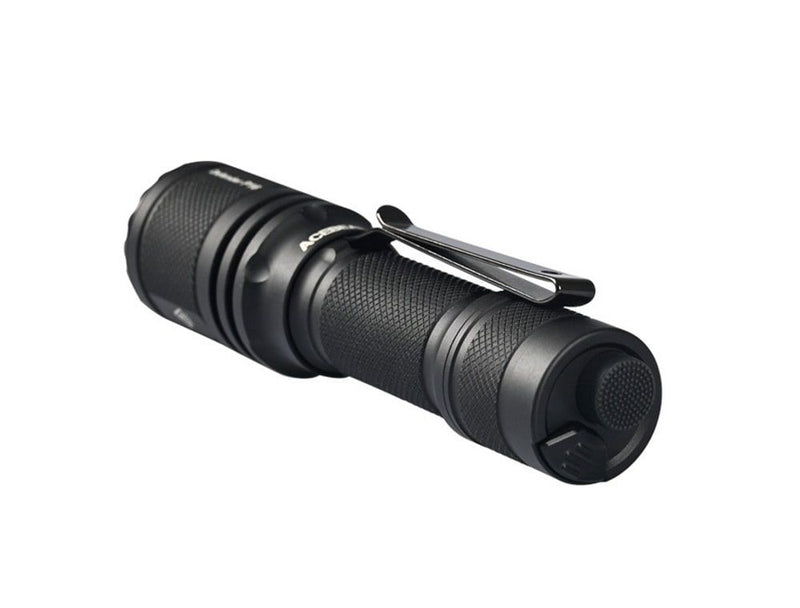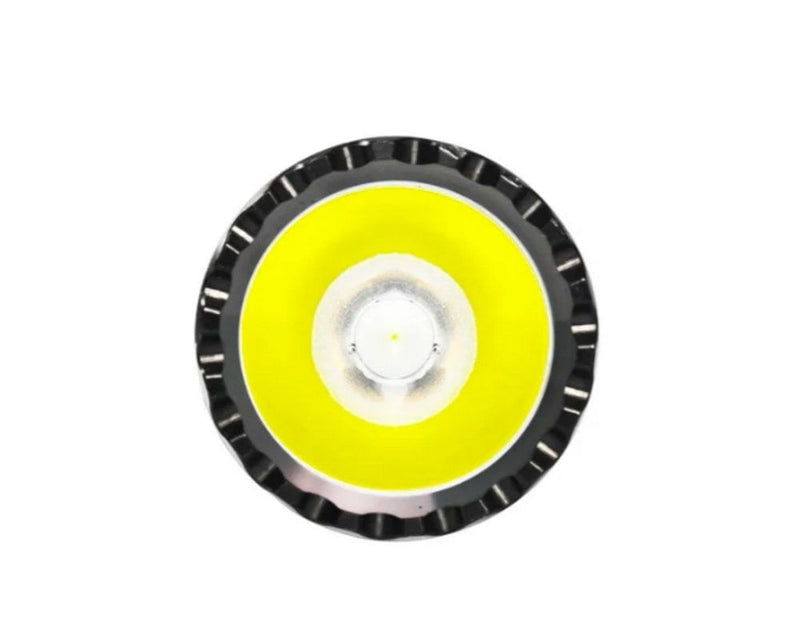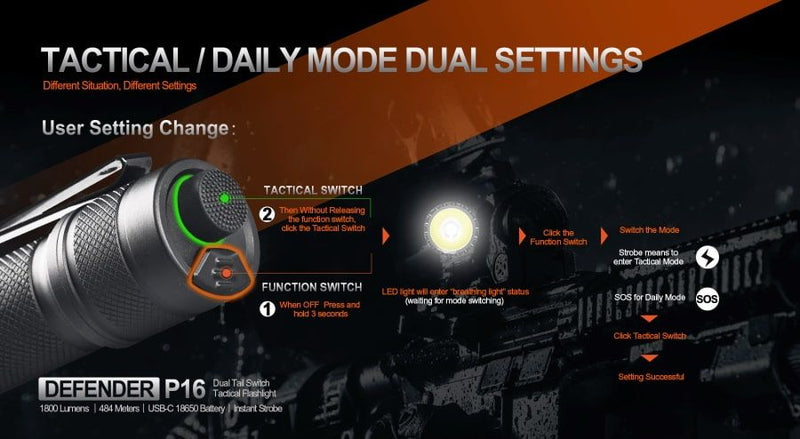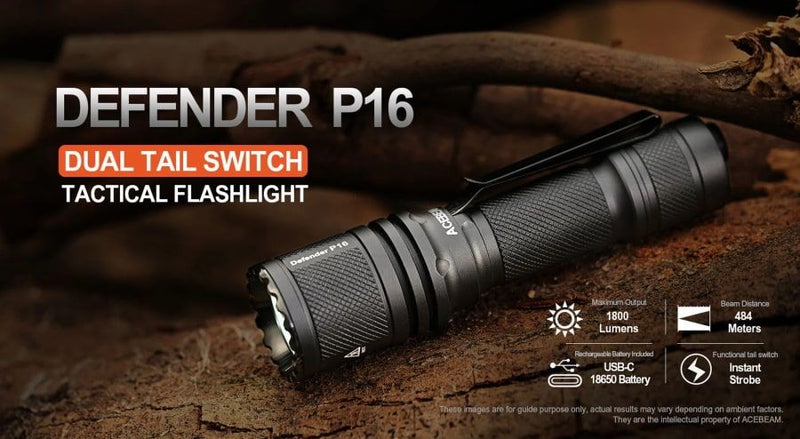 Premium type Ⅲ hard-anodized anti-abrasive finish
Beam distance of 484m
Impact resistant to 1.5m
DESCRIPTION
The Acebeam P16 Defender Dual Tail Switch Tactical Flashlight - 1800 Lumens, Black is Acebeam's first Tail-dual Switch Tactical Flashlight with One-Touch Strobe, Turbo and Low activation. Quickly and easily operate the light to choose between four lighting modes and strobe mode. Included Acebeam 18650 Li-ion battery can be conveniently charged through the USB Type-C port on the battery.

The Defender is durable and rugged with IP68 waterproof ratings and 1.5m impact resistance. The compact body with stainless steel strike bezel is ideal for emergencies, self-defence, assault operation, outdoor activities, maintenance checks, patrols, and more.

FEATURE
Utilizes a Luminus SFT40 LED, blazing 1800 Lumens max output, 484 meters max throw
Dual tail switches enable intuitive operations for tactical applications
Highly efficient constant current circuit provides a stable output for up to 22 hours
Compatible with 2 x CR123 / RCR123 batteries
Four brightness levels and Strobe mode for a wide variety of tasks
Low-voltage warning reminds when battery replacement is needed
Made of durable aircraft-grade aluminium
Premium type hard-anodized anti-abrasive finish
Customized TIR optic lens provides efficient light transmission for a smooth, throw heavy beam
Toughened ultra-clear glass lens with anti-reflective coating
Waterproof and dustproof rating in accordance with IP68 (2 meters submersible)
Impact resistant to 1.5m
SPECIFICATIONS

Max. Output
1800 lumens
Max. Beam Distance
484m / 1587.9ft / 529yards
Max. Runtime
22 Hours
Peak Beam Intensity
58,564cd
Size
5.17'' x 1.26'' x 0.91'' / 131.2mm x 32mm x 23.2mm
Weight
108.7g (3.83oz) (Excluding battery), 156.2g (5.51oz) (Including battery)
Powered by 1 x 18650 Battery (Acebeam ARC18650H-310A)
Low
50 Lumens 22 hours 105m 2756CD
Medium
260 - 50 Lumens 5 hours - 8min 184m 8464CD
High
900 - 700 - 260 - 50 Lumens 3min - 1 hour + 45min - 4min - 8min 321m 25,760CD
Turbo
1800 - 700 - 260 - 50 Lumens 50sec - 1 hour + 23min - 4min - 8min 484m 58,564CD
Strobe
1800 - 700 Lumens 3 hour + 40min 484m 58,564CD Frequency Range: 6Hz - 10Hz
Image Disclaimer: Images are intended for illustrative purposes only and do not form part of any contract or warranty as to what you are purchasing. This transaction/purchase is subject to the confirmation of price and product by Karoo Outdoor Company (Pty) Ltd. See full Terms and Conditions.