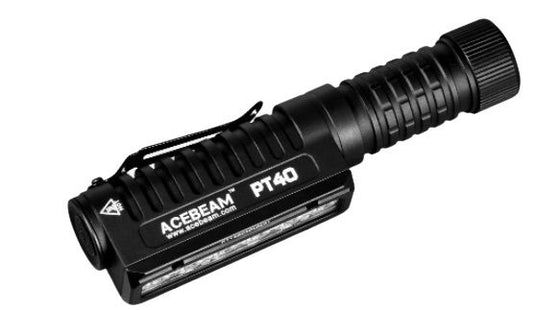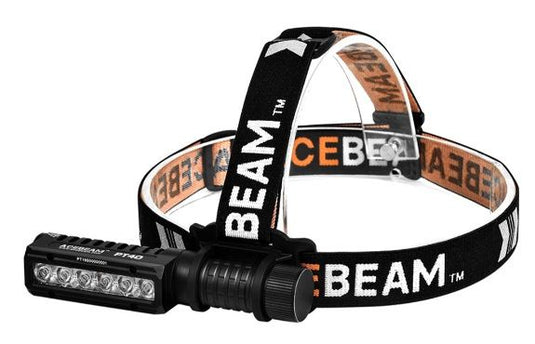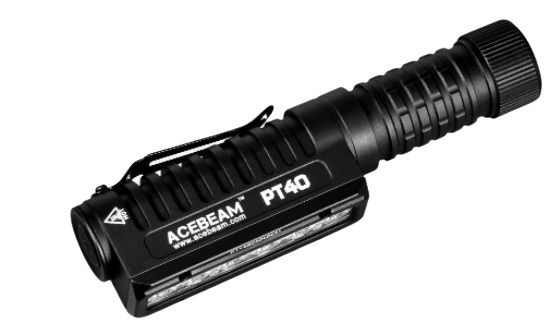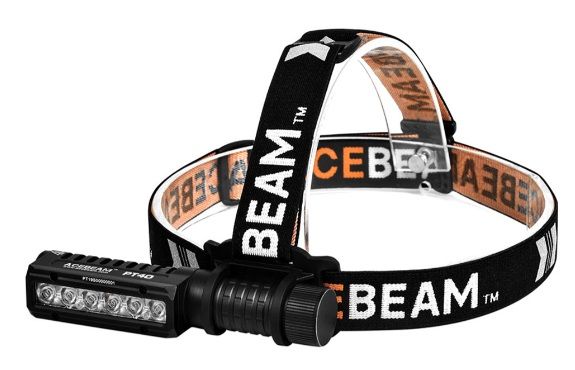 Utilizes a line of six pieces LEDs, the PT40 is ideal light for industrial work and vehicle repair An ultra-high performance of 3000 lumens (Samsung LH351D LED) and a variety of lighting modes Six output selection plus special Strobe
DESCRIPTION
The Acebeam PT40 Multipurpose Work Flashlight is multi-functional, usable as an L-shaped headlight, as a compact EDC flashlight and as an angled work light that offers all the versatility you need to tackle almost any task. The PT40 works as a hands-free light and is great for engineers, mechanics, home inspectors and other professions. Equipped with a headlight belt, side clips and a tail cap with a magnetic function, providing you with multiple options for freeing your hands.
FEATURE
Utilizes a line of six pieces LEDs, the PT40 is ideal light for industrial work and vehicle repair
An ultra-high performance of 3000 lumens (Samsung LH351D LED) and a variety of lighting modes
Six output selection plus special Strobe
High Color Rendering Index (CRI90) preventing eye fatigue and revealing detail of an object
With firmed pocket clip and angle shaped, can be clipped in the pocket or backpack while working
Can be firmly attached to metal surfaces with magnetic tail, free your hands
A high performance Acebeam USB rechargeable 18650 Li-ion battery is optional
Offering an ergonomic grip that allows you to use the flashlight without straining your wrist
110 wide range flood optic system ideally covers the field of view of human eyes
Simple operation with one single side switch
Small angle concentrated TIR(Total Internal Reflection) optic facilitates efficient light transmission
Aircraft grade aluminum body structure
Reverse polarity protection to guard against improper battery insertion
Intelligent highly efficient constant circuit (Non-PWM) runs for maximum 80 hours
All circuitry contact points are gold-plated, providing better conductivity and superior durability
Intelligent temperature controlled light output for user safety
Sweat-channeling, reflective headband
Impact resistance to 1 meter
IP68 waterproof (2 meters submersible)
SPECIFICATIONS
| | |
| --- | --- |
| LED Color Option | SAMSUNG LH351D LED CRI90, maximum output of 3,000 lumens |
| Ultra-Low | 15lumens; 80 hours |
| Low | 80 lumens; 158cd; 25 meters; 17 hours |
| Mid1 | 220 lumens; 289cd; 34 meters; 6 hours 15 minutes |
| Mid2 | 580 lumens; 810cd; 57 meters; 2 hours 30 minutes |
| High | 1100 lumens; 1,460cd; 76 meters 2 hours |
| Turbo | 3000 lumens; 3,680cd; 121 meters; 1 hour 30 minutes |
| Strobe | 1500 lumens; 2 hours |
| Max. output | 3,000 lumens |
| Max. beam distance | 121 meters |
| Max. runtime | 80 hours |
| Peak beam intensity | 3,680cd |
| Size | 126.8mm (Length) x 32.8mm (Head Diameter) x 24mm (Tube Diameter) |
| Weight | 95g(3.35oz.) w/o battery 145g(5.11oz.) with battery |
Image Disclaimer: Images are intended for illustrative purposes only and do not form part of any contract or warranty as to what you are purchasing. This transaction/purchase is subject to the confirmation of price and product by Karoo Outdoor Company (Pty) Ltd. See full Terms and Conditions.