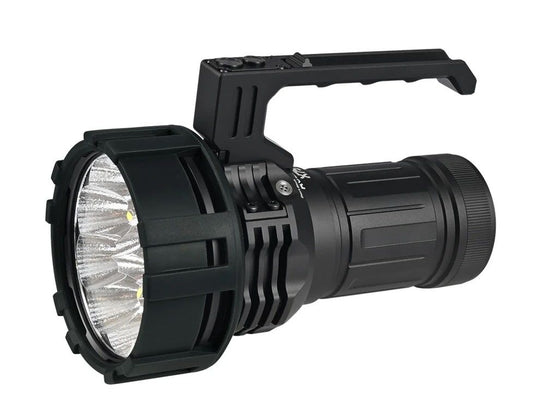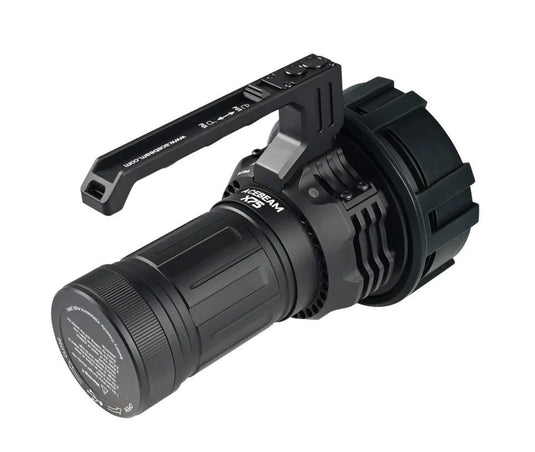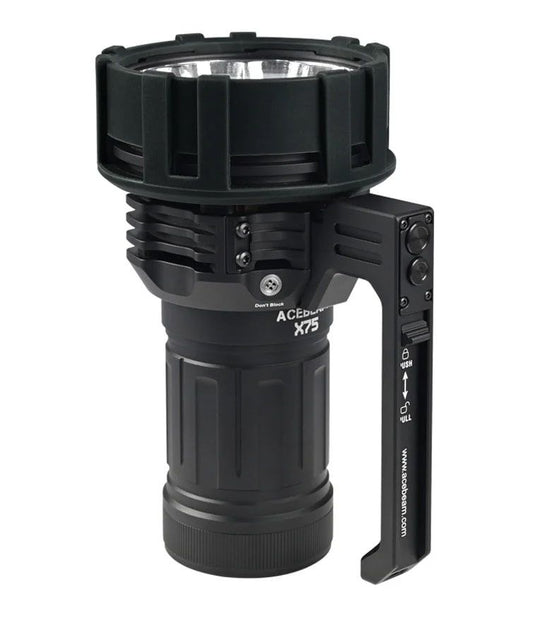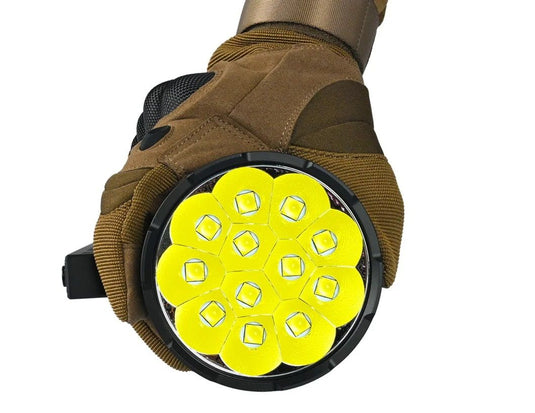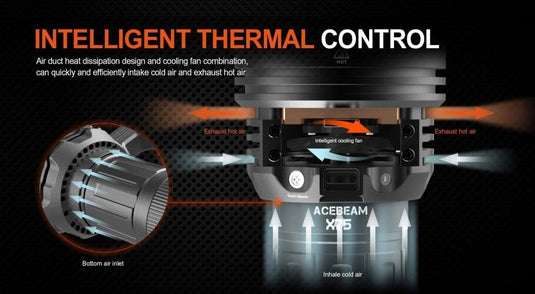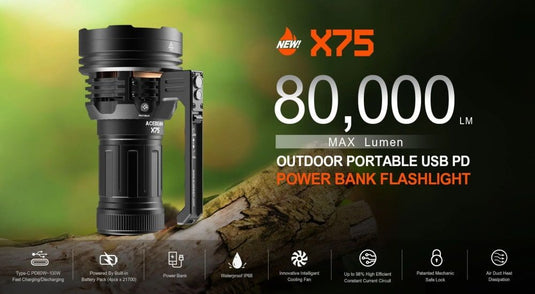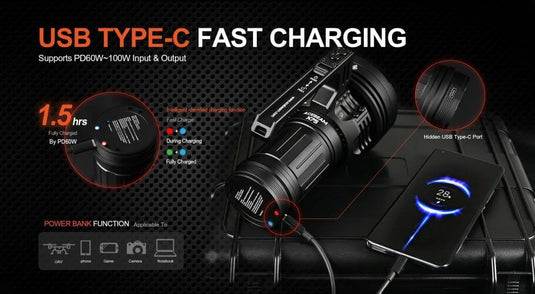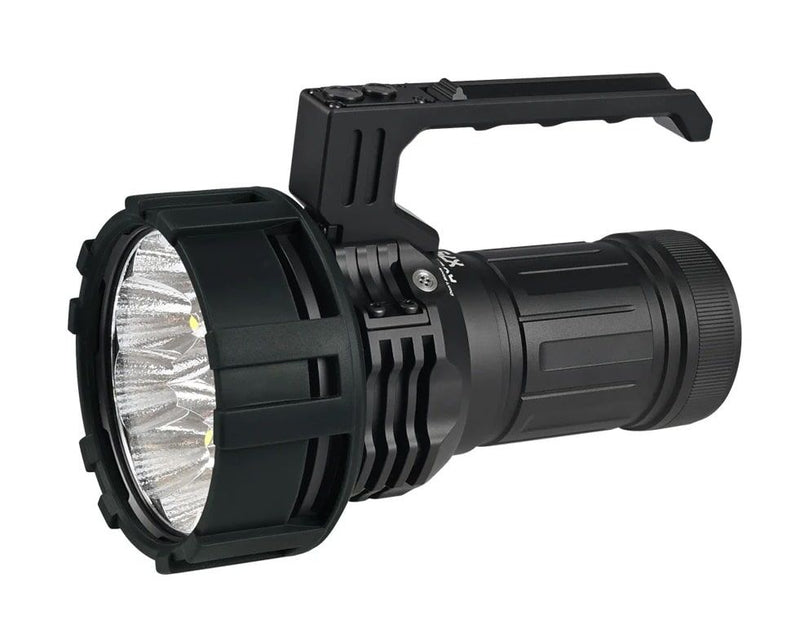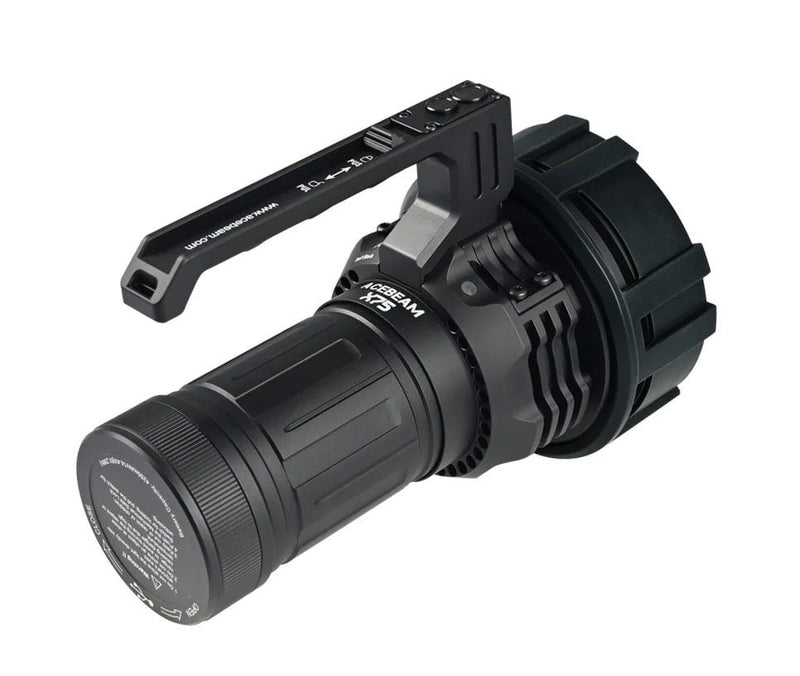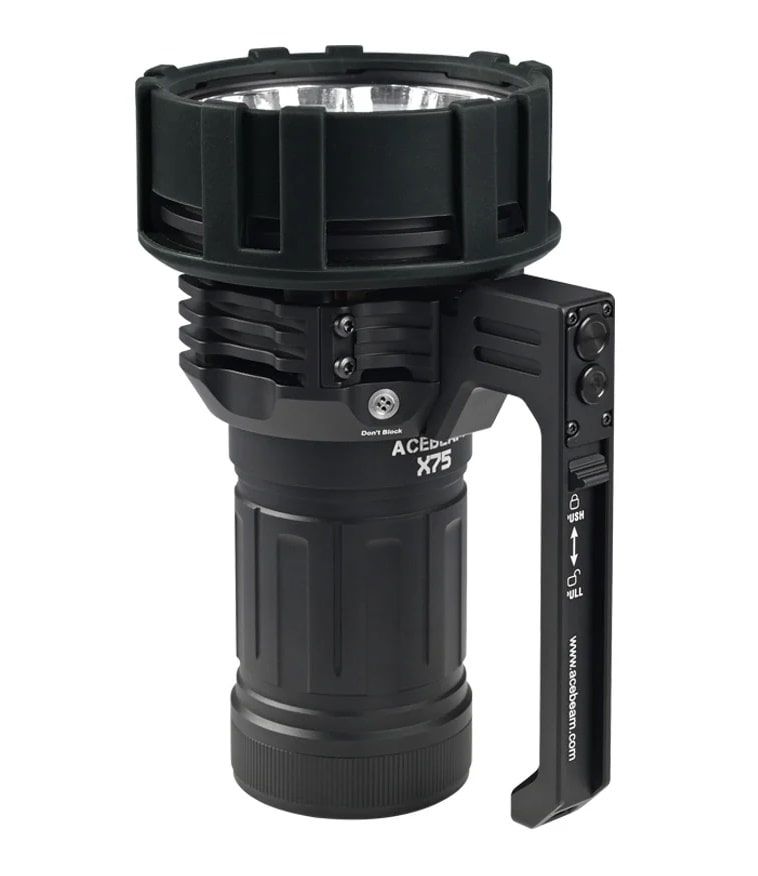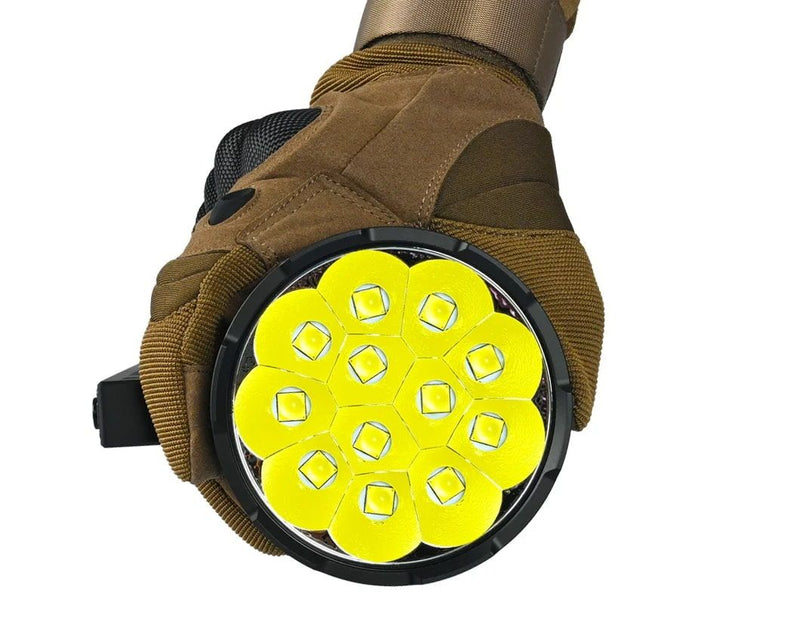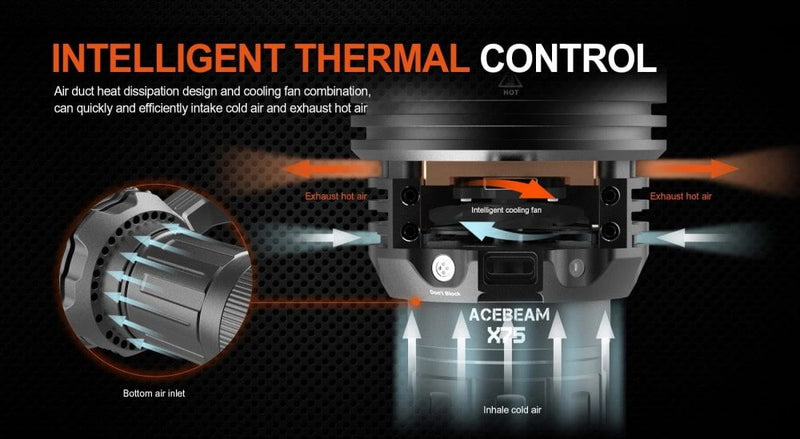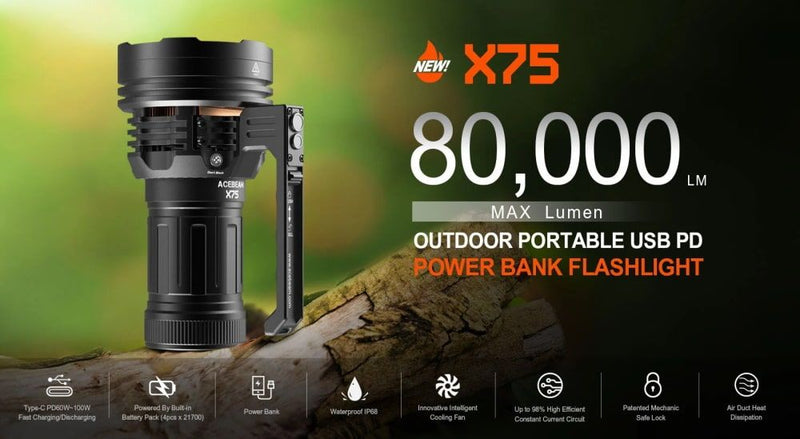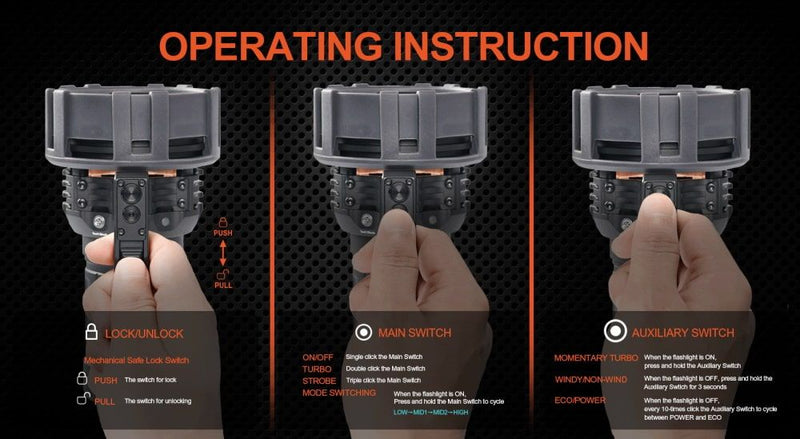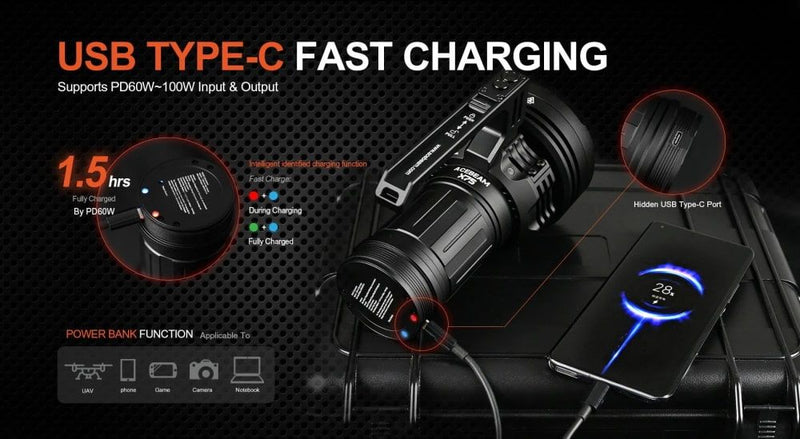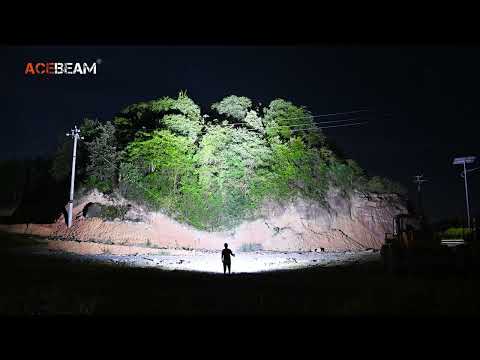 Why stare into the abyss when you can just light it up with the AceBeam X75 Brightest LED Power Bank Flashlight - 80,000 Lumens. The X75 is known as the world's brightest power bank flashlight sitting at 80,000 lumens now thats bright. This is the equivalent light output of over 25 sets of car headlights on a high beam, now with the light featuring 67,000 lumens you are given a spotting distance of 1,306m. To run this beast a built-in 4pcs x 21700 battery pack is built-in. The light itself comes in 2 light options, Cool White Light and Warm White.

Now I know what you are thinking, a light like this is going to overheat within a matter of seconds well AceBeam has it covered. An innovative intelligent cooling fan has been built-in to help you tame this beast. The dual switch design allows you to activate and cycle through the general 5 brightness levels at each Power or Eco mode and functional modes, which include momentary turbo and strobe.

In most situations, we all seem to have functioning lights, but never have a phone charged enough to make calls in those stressful situations. To help combat this a USB Type-C fast charging port has been added to the light allowing you to make the call and still shine the way. To sweeten the deal the X75 is fully protected against dust and foreign objects and can be submerged under 2 meters of water.
Features
IP rating of 68
Patented mechanical safe lock
Colour changing sleeve
80,000 lumens max output
USB Type-C PD60W fast charging
Built-in dual intelligent temperature regulation systems
Intelligent cooling fan and Intelligent thermal control module
User-replaceable, user replaceable and waterproof cooling fan (IP68)
Can set the Windy mode or Non-wind mode
Up to 98% high efficient constant current circuit
Momentary Turbo activation rapidly responds to emergency situations
Specifications

General
Lumens
80,000
Max Beam Throw
1,150m
Dimensions
176mm x 92mm x 127mm / 6.93" x 3.62" x 5" (L x D x H)
Power Mode and Windy / Non-Windy Mode
Ultra-Low
900lms 8 hours 20 minutes 147m 5,402cd
Low
2,000lms 5 hours 30 minutes 207m 10,712cd
Med1
5,000lms to 900lms 2 hours 23 minutes + 8 minutes 300m 22,500cd
Med2
11,000lms to 900lms 63 minutes + 8 minutes 415m 43,056cd
High
23,000lms to 17,500lms to 900lms 7 minutes + 25 minutes + 8 minutes 622m 96,721cd
Turbo
80,000lms to 23,000lms to 900lms 30 seconds + 20 minutes + 8 minutes 1,150m 330,625cd
Strobe
60,000lms to 10,000lms 50 minutes, 995m, 247,506cd
ECO Mode and Windy / Non-Windy Mode
Ultra-Low
900lms 8 hours 20 minutes 147m 5,402cd
Low
2,000lms 5 hours 30 minutes 207m 10,712cd
Med1
5,000lms to 900lms 2 hours 23 minutes + 8 minutes 300m 22,500cd
Med2
11,000lms to 900lms 63 minutes + 8 minutes 415m 43,056cd
High
23,000lms to 12,000lms to 900lms 30 seconds + 40 minutes + 8 minutes 622m 96,721cd
Turbo
80,000lms to 12,000lms to 900lms 30 seconds + 42 minutes + 8 minutes 1,150m 330,625cd
Strobe
60,000lms to 10,000lms 50 minutes 995m 247,506cd