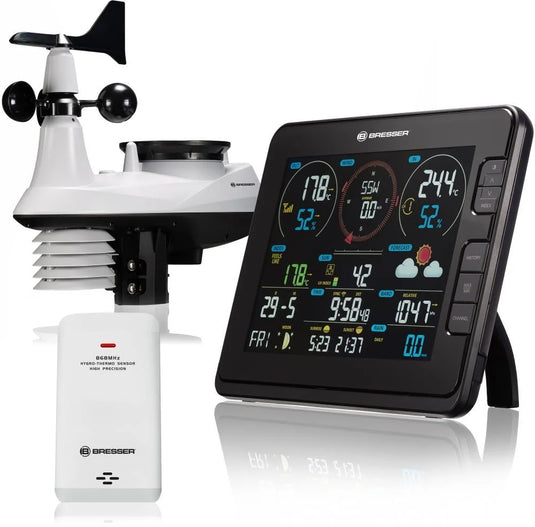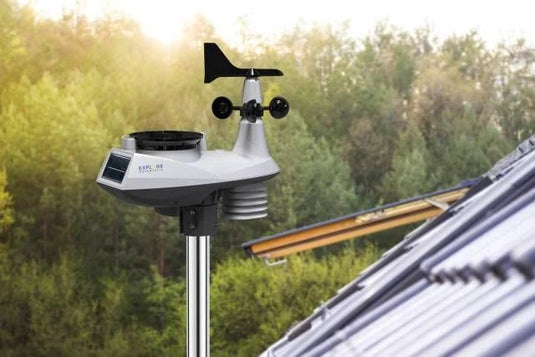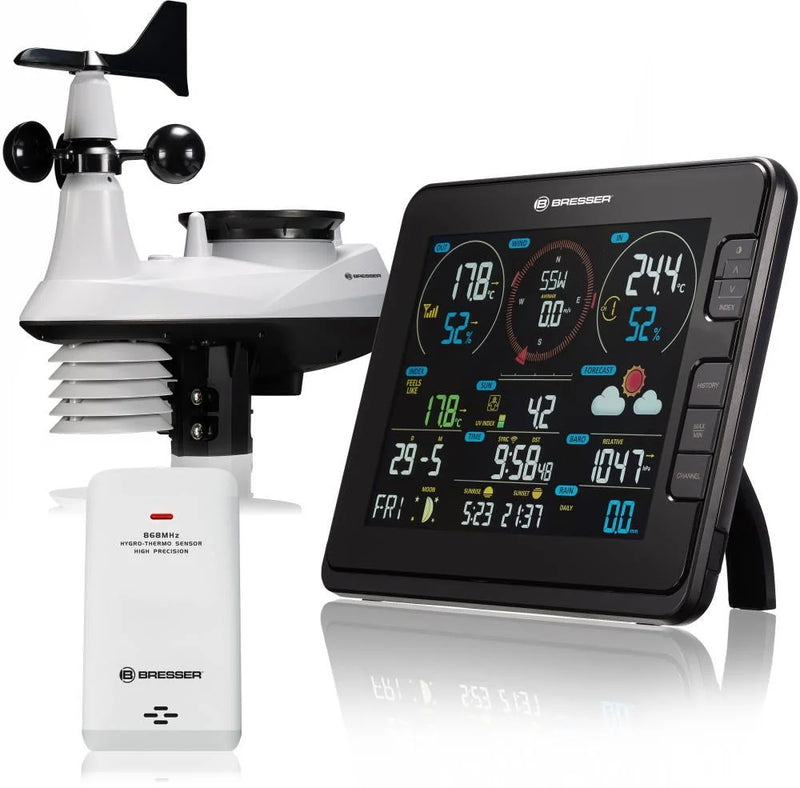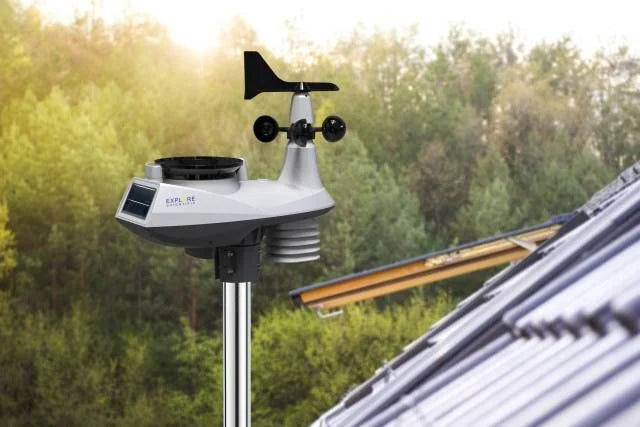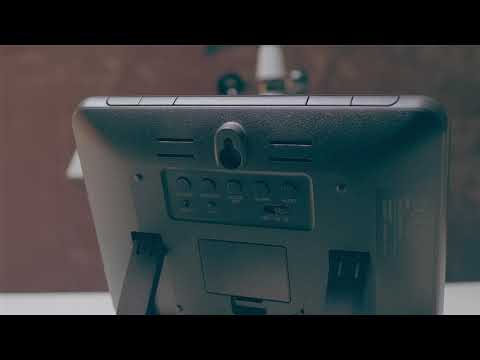 Description
Wireless weather station with 7-in-1 multi-sensor and Wi-Fi function Measures temperature, humidity, air pressure, light intensity and UV Measures wind speed and rain fall with historical memory.
Compared with the Professional 6-in-1 Wi-Fi weather centre (item no. 7002540000000), the new Bresser Professional 7in1 WIFI Weather Centre has a new light intensity measurement function.

The 7-in-1 weather centre measures a wide range of meteorological data directly in your vicinity, which can be viewed remotely via an app. If you require additional functions, the weather centre can be expanded with a range of optional sensors.

Features of base station
Wi-fi connection with internet time synchronization and support for firmware updates
Automatic or manual time setting
Publish your weather data on wunderground or weathercloud
Indoor temperature (c/ f) and humidity (%)
Outdoor temperature (c/ f) and humidity (%)
Light intensity (klux / kfc / w/m)
Displays the current uv index, exposure level and recommended protection
Displays sunburn time (mins) based on current uv level
Wind direction and speed (m/s km/h knoten mph)
Beaufort index (scale for measuring wind speed)
Air pressure with 24-hour history (hpa/inhg/mmhg)
Graphical weather forecast for next 12-24 hours
Weather index (feels like function, dew point, heat index, wind chill factor)
Trend indicator shows the weather trends for the next few minutes
Visual comfort level indicator for room temperature and humidity
Phases of the moon
Sunrise and sunset times
Alarm with snooze function (5 minutes)
Weekday alarm
Min/max memory (up to 24 hours)
Ice/frost warning
Led backlight, amber-coloured
Wall bracket and table stand
Supports a 7-in-1 sensor and up to 7 indoor sensors (includes 1x 7-in-1 sensor and 1x indoor sensor)
Dimensions: 215 x 172 x 29 mm and weight: 639 g
Power supply: power adapter and 3x aaa batteries as backup batteries (batteries are not included)
Security type: supports wpa3 encryption as of firmware 1.09
Features of 7-in-1 multi-sensor
Measures the wind speed, wind direction and rainfall
Measures the uv and light intensity
Measures the temperature and humidity
Transmission range: up to 150 m
Rf frequency: 868 mhz
Transmission interval: 12 seconds for uv, light intensity, wind speed and wind direction, and 24 seconds for temperature, humidity and rain data
Can be mounted on masts (diameter approx. 25-33 mm) or placed on level surface with stand
Includes mounting materials for the outdoor sensor
Power supply: 3x aa batteries (not included)
Dimensions: 370.5 x 334 x 144.5 mm and weight: 1096 g
Features of indoor sensor
Measures the indoor temperature and humidity
Transmission range: up to 150 m
Rf frequency: 868 mhz
Transmission interval: 60 seconds
Wall bracket and table stand
Power supply: 2x aa batteries (not included)
Dimensions: 60 x 113 x 39.5 mm and weight: 144 g
Specifications
Field Of Application
Field Of Application
Air pressure measuring, Rainfall measurement, Temperature alarm, wake-up alarm, Time information, Weather forecast, Temperature measurement, Wind measurement
Product Family
Product Family
Weather Center
Type
Type
Weather station
Display Options
Display Type
Digital
Season
Spring, Summer, Winter, Fall
Time/Date Display
24/12 hours, current date, weekday display
Temperature Display
inside or outside (C/F selectable)
Inside Temperature
Yes
Outside Temperature
Yes
Humidity
Yes
Humidity
Yes
Humidity Measuring Range (%) From
20
Humidity Measuring Range (%) To
90
Storm And Extreme Weather Warning
yes
Wind Measurement
Wind speed and direction
Wind Directions Displayable
16
Weather Trend
Yes
Weather Forecast
12-hour forecast
Electronics, Hardware & Software
Main Features
Outdoor temperature (C), DCF time signal (RC clock CET), Clear and simple controls, High/Low value alert, Indoor temperature (C/F), Compatible with Web Services for weather data exchange, Air pressure (hPa/bar), History data memory, Humidity (%), Multi-colour display, Moon phases, Precipitation (mm/m2), Supports Smartphone/Tablet/PC, Time and date, Wi-Fi function, Wind speed, Wind direction, Outdoor temperature (C/F)
Display Size
20 cm
Power Supply
1.5V Batteries
Batteries Needed2
6x AA (Mignon), 1.5V
Transmission Frequency
868 MHz
Transmission Range
30 m
Lighting
Backlight
Backlighting
Yes
Supported Time Signal
DCF (CET)
General Technical Data
Inside Temperature (C) From
-40
Inside Temperature (C) Up To
70
Outside Temparature (C) From
-40
Outside Temparature (C) Up To
80
Rainfall Measuring Range (Mm) From
0
Rainfall Measuring Range (Mm) To
9999
Barometric Air Pressure Range (Mbar) From
850
Barometric Air Pressure Range (Mbar) Up To
1050
Wind Speed Measuring Range (Km/H) From
0
Wind Speed Measuring Range (Km/H) To
180
Colour
grey / black
Body Material
Plastic
Type Of Mounting
Stand
Dimensions & Weights
Total Length
215 mm
Total Width
172 mm
Total Height
30 mm
Net Weight (Without Access.)
610 g
Net Weight Total (Incl. Accessories)
1840 g
Package Contents

Base station with stand
7-in-1 multi-sensor with mounting materials
Thermometer/hygrometer
Power adapter
Instruction manual