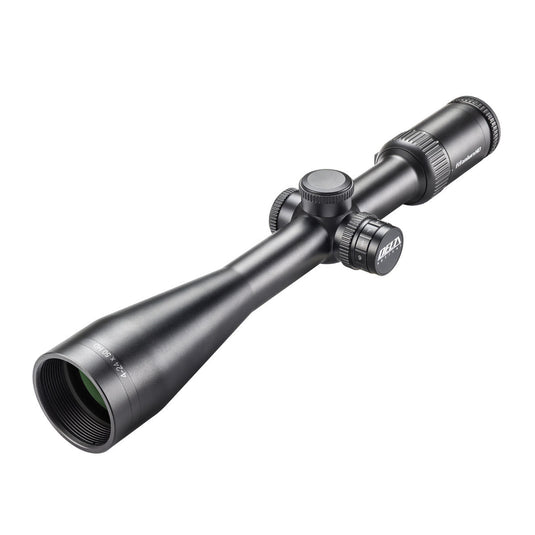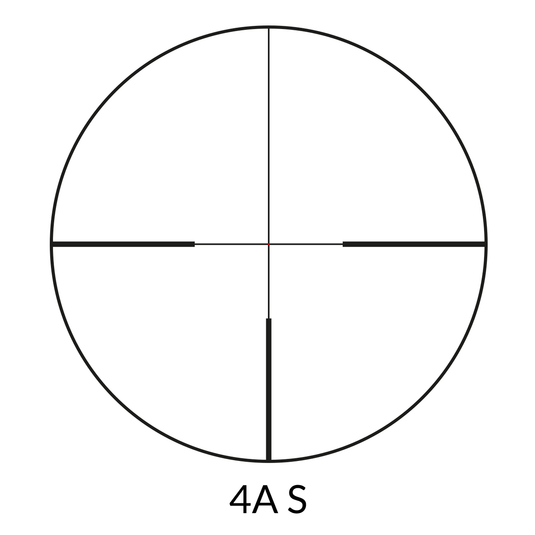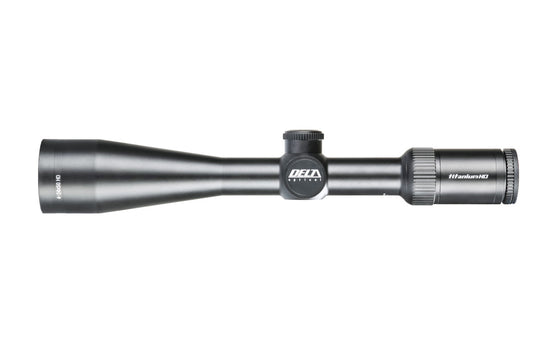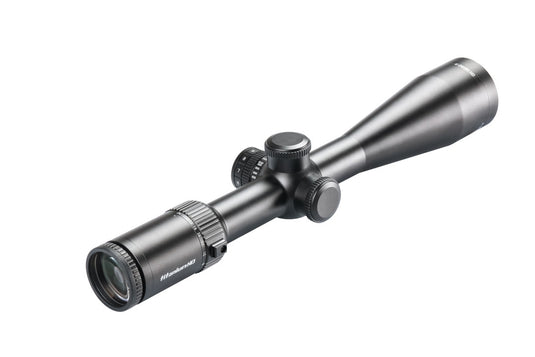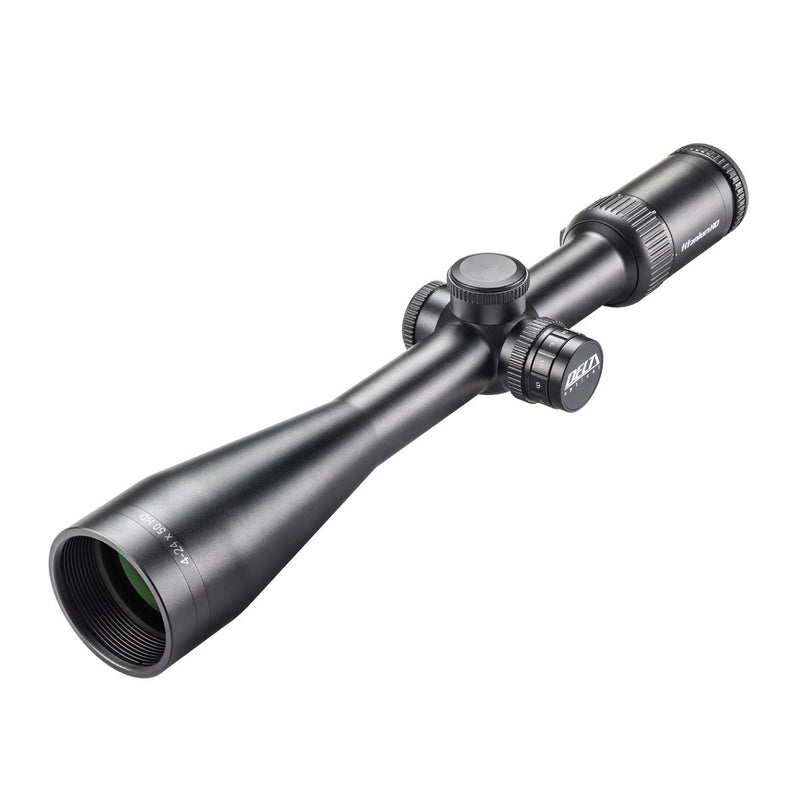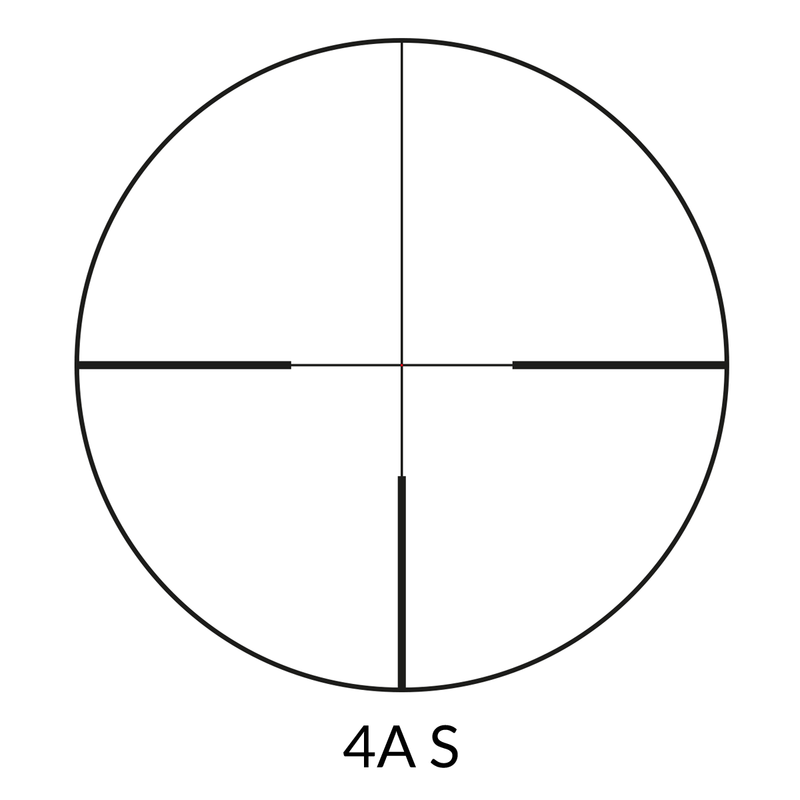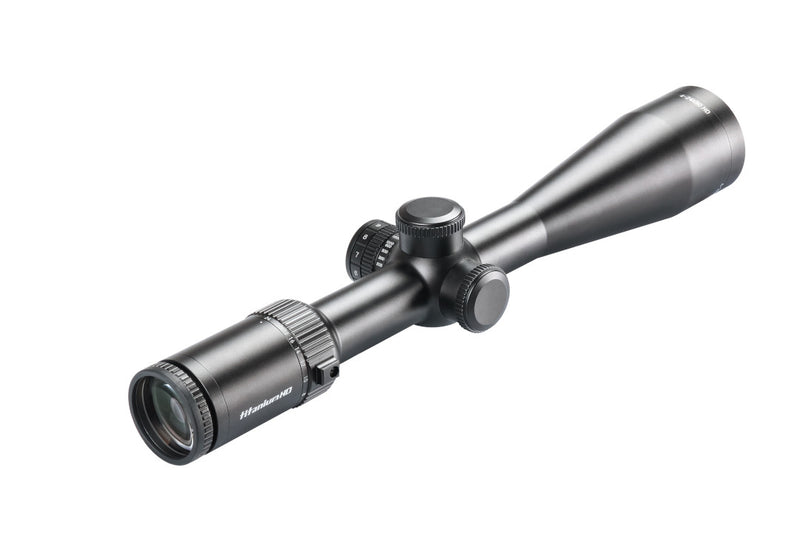 Multi-purpose riflescope for both long-distance shooters and hunters alike.
Sufficient magnification range makes this riflescope prac tical for many hunters across all continents. The parallax adjustment side-knob with the range from 10m to infinit will be greatly appreciated by sports shooters. There are three reticles available, all with an illuminated central dot: 4A S, 4A SB and Di MD.
The 4A SB reticle is based on the classic Delta Optical 4AS reticle with specially designed ballistic markers. The reticle is calibrated for the mag nification of 12x and a distance of 100m.
The markers are located under the central illuminated dot, the distance between each marker is 7cm. They allow making quick and fine adjust ments when shooting at distances from 150 to 300m with initial velocity of 800-900 m/s. For example, with a weapon (308 WIN, a 10.7 g bullet, 820 m/s) zeroed at a distance of 100m, one would need to use the second marker below the aiming point (14cm compensation) in order to shoot at a distance of 200m.
Other bullets with an initial velocity of about 900 m/s will fall about 1-3 cm above the aiming point, while slower projectiles (initial speed of about 800 m/s) will hit about 1-3 cm below the target.
The ends of the horizontal markers can be used for wind corrections. The first marker located 7cm below the central illuminated dot is 9cm long, while the remaining are each 18cm long.
At an 8x magnification, the reticle becomes practically a MIL cross (calibrated in milliradians) with markers placed every 10cm (1 MIL/100 m), whereas at a 17x magnification, the markers are placed every 5cm.
Top advantages
Wideangle HD eyepiece
High image quality
Specifications
Series: 

Titanium HD

Magnification [x]: 

4-24

Minimum magnification[x]: 

4

Maximum magnification[x]: 

24

Objective lens diameter [mm]: 

50

Reticle: 

4A-S,

 

4A-SB

Illuminated reticle: 

Yes

Calibrated Ranging Power: 

12x

Linear field of view at 100 m [m]: 

9.3 – 1.5

Exit pupil [mm]: 

7.6 – 2.1

Eye relief [mm]: 

80 - 98

Water resistance: 

0.3kg/cm2

Length [mm]: 

371

One click: 

1/4 MOA

Max. elevation / windage adjustment range : 

100/100 MOA

Tube: 

30 mm

Shock resistance [J]: 

6500

Parallax adjustment: 

Side focus (10 m - ∞)

Diopter adjustment range: 

-3D / +2D

Reticle position: 

Second focal plane(SFP)

Functional temperature range [°C]: 

-20 — +71

Nitrogen filling: 

Yes