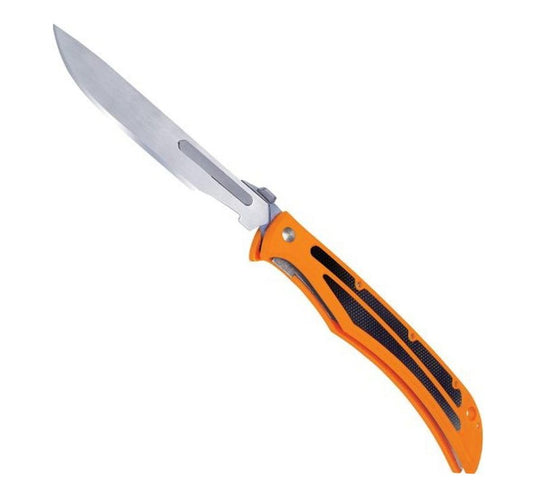 The Havalon Baracuta-Blaze Skinning and Deboning Knife - 4.5" is a top-tier cutting tool designed for hunters and outdoor enthusiasts who demand high performance and precision. With its superior craftsmanship and innovative features, this knife is built to tackle the toughest hunting tasks with ease.

Featuring a vibrant Blaze Orange handle, the Havalon Baracuta stands out with its eye-catching design. The bright color ensures easy visibility, making it highly suitable for hunting situations where visibility is crucial. The knife is equipped with a highly durable 4.375-inch stainless steel blade, capable of handling a wide range of cutting needs. The blade material ensures exceptional sharpness, edge retention, and corrosion resistance, allowing for precise and efficient cutting performance. Whether you need to field dress game, skin animals, or perform other hunting-related tasks, this knife is up to the challenge.

One of the standout features of the Havalon Baracuta is its quick-change blade system. The knife comes with removable and replaceable blades, providing versatility and convenience in the field. The Quik-Change system allows for swift and effortless blade swaps, ensuring uninterrupted cutting action when you need it most. This feature makes blade maintenance and replacement a breeze, maximizing your efficiency during hunting expeditions.

The knife boasts an ergonomic handle design, offering a comfortable and secure grip. The textured handle material enhances grip even in wet conditions, allowing for precise control and reducing the risk of slippage. This ensures safe and confident handling, even during demanding hunting situations. The Havalon Baracuta Blaze Hunting Knife is designed with a folding mechanism, offering portability and safety. When folded, it measures a compact size, making it easy to carry in your gear bag or pocket. The folding design also protects the blade and reduces the risk of accidental injuries when not in use.

The Havalon Baracuta Blaze Hunting Knife combines exceptional craftsmanship, innovative features, and high-performance capabilities. With its vibrant Blaze Orange handle, durable stainless steel blade, quick-change blade system, ergonomic design, and folding mechanism, this knife is an excellent choice for hunters seeking a reliable and versatile cutting tool for their outdoor adventures.
Features
Overall length of 10.50"
Blade length of 3.375"
Drop point blade style
Plain edge type
Manual opening
Liner lock type
0.03" blade thickness
3.25" cutting edge
Specifications
| | |
| --- | --- |
| Overall Length | 10.50" |
| Blade Length | 3.375" |
| Cutting Edge | 3.25" |
| Blade Thickness | 0.03" |
| Blade Material | Stainless Steel |
| Blade Style | Drop Point |
| Blade Grind | Flat |
| Edge Type | Plain |
| Handle Length | 6.00" |
| Closed Length | 6.00" |
| Handle Thickness | 0.57" |
| Handle Material | Polymer, Rubber |
| Colour | Black, Orange |
| Frame/Liner | Steel |
| Weight | 2.68 oz. |
| Sheath | Nylon |
| Knife Type | Manual |
| Opener | Thumb Disc |
| Lock Type | Liner Lock |
| Brand | Havalon |