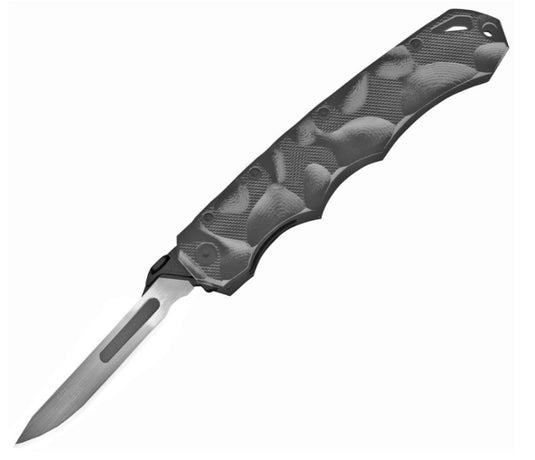 The Havalon Piranta Stag Folding Knife - 2.75" is a high-quality and versatile cutting tool designed for outdoor enthusiasts, hunters, and professionals alike. With its durable construction and compact folding design, this knife offers convenience and reliability in a compact package.

The knife features a 2.75-inch stainless steel blade, providing a sharp and precise cutting edge. The stainless steel material ensures excellent corrosion resistance and durability, making it suitable for various cutting tasks. Whether you need to field dress game, prepare food, or handle general cutting needs, this knife is up to the task. The folding design of the Havalon Piranta knife adds to its portability and safety. When folded, it measures a compact size, making it easy to carry in your pocket or backpack. The folding mechanism allows for quick and effortless deployment of the blade when needed, providing convenience and easy access during outdoor adventures or everyday use.

The black XT-C60ASTAGBLK handle of the knife offers a secure and comfortable grip. It is ergonomically designed to fit comfortably in your hand, allowing for precise control and reducing the risk of slippage during use. The textured handle provides added grip, even in wet or challenging conditions, ensuring your safety and enhancing overall cutting performance.

This Havalon Piranta knife is built to withstand rugged outdoor environments. It is designed for durability and reliability, ensuring it can handle demanding tasks without compromising its performance. Whether you are skinning game, slicing through tough materials, or performing delicate tasks, this knife delivers consistent cutting power. The Havalon Piranta 2.75" Folding Knife in Black (XT-C60ASTAGBLK) is a versatile and reliable cutting tool suitable for outdoor enthusiasts, hunters, and professionals. With its durable construction, compact folding design, and sharp stainless steel blade, this knife offers convenience, portability, and exceptional cutting performance for a variety of tasks.

Features
Linerlock construction
Removable holster clip
Nylon holster included
Fits all styles of Piranta Blades
Specifications
| | |
| --- | --- |
| Type | Knife |
| Brand | Havalon |
| Colour | Black |