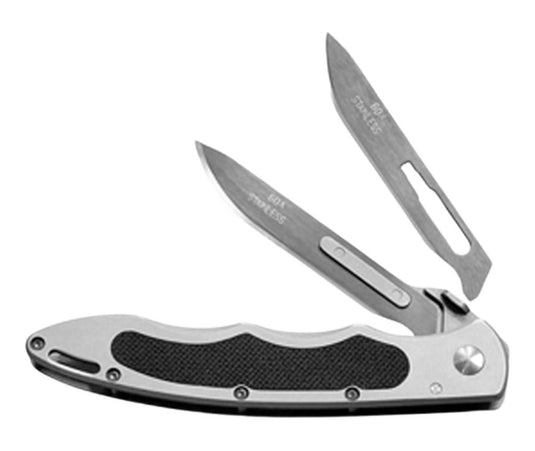 The Havalon XTC-60AKNP Original Piranta Folding Knife - Black/Silver is a versatile and durable cutting tool designed for outdoor enthusiasts, hunters, and professionals. With its sleek design, quality construction, and exceptional blade performance, this knife is a reliable companion for a wide range of tasks.

Featuring an overall length of 6.75 inches, the Havalon XTC-60AKNP provides a compact and portable design. Its convenient size makes it easy to carry in your pocket or gear bag, ensuring it's readily accessible whenever you need it. The knife boasts a 60A stainless steel blade material, known for its sharpness, durability, and resistance to corrosion. This blade is specifically designed for precision cutting tasks, offering excellent control and versatility. Whether you need to skin game, perform intricate work, or handle general cutting needs, the Havalon XTC-60AKNP delivers reliable and precise performance.

The stainless steel frame of the knife provides robustness and stability during use. It ensures long-lasting durability, allowing the knife to withstand rugged conditions without compromising its performance. This sturdy frame construction enhances the overall reliability of the knife.

The Havalon XTC-60AKNP is a folding knife, offering convenience and safety in its design. The folding mechanism allows for easy and secure storage when the knife is not in use. This feature also ensures that the blade is safely tucked away, minimizing the risk of accidents during transport or storage. As part of the Original series, this knife upholds Havalon's reputation for high-quality craftsmanship and cutting-edge technology. It combines innovation and functionality, making it a preferred choice for outdoor enthusiasts and professionals alike.

The skinner blade type of the Havalon XTC-60AKNP is specifically designed for field dressing game. Its unique shape and sharp edge facilitate precise and efficient skinning, making it an ideal tool for hunters and those involved in game processing. The Havalon XTC-60AKNP Original Piranta Folding Knife in Black/Silver with a plain edge type offers a compact and reliable cutting tool. With its 60A stainless steel blade, stainless steel frame, folding design, and skinner blade type, this knife provides exceptional performance, durability, and versatility for a variety of outdoor and hunting tasks.

Features
Plain edge type
Overall length of 6.75"
60A stainless steel blade material
Stainless steel frame
Folding knife
Original series
Skinner blade type
Specifications
| | |
| --- | --- |
| Overall Length | 6.75" |
| Type | Field |
| Frame | Stainless Steel |
| Series | Original |
| Sheath | Nylon |
| Weight | 3 oz |
| Edge Type | Plain |
| Open Type | Thumb Stud |
| Blade Type | Skinner |
| Blade Length | 2.75" |
| Blade Material | 60A Stainless Steel |
| Handle Description | Black/SS |