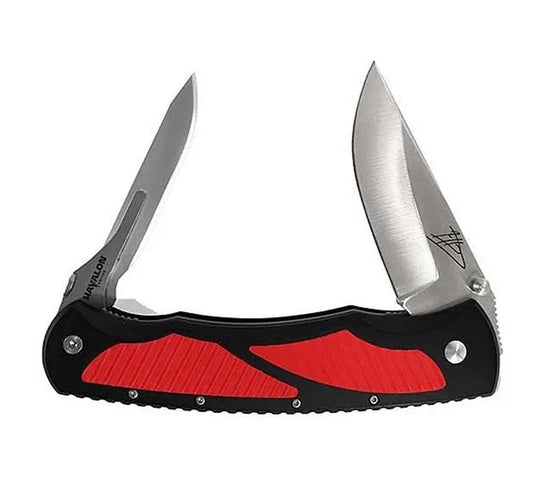 The Havalon XTC-TRED Titan Double Blade Folding Knife - Red/Black is a robust and versatile cutting tool designed for outdoor enthusiasts, hunters, and professionals. With its durable construction and interchangeable blades, this knife is well-suited for a variety of cutting tasks in demanding environments.

Featuring rugged military-grade polymer handles, the Havalon XTC-TRED Titan offers durability and a secure grip. The handles are designed to withstand rugged conditions and provide a comfortable and reliable grip, ensuring optimal control and stability during use. The knife is equipped with an AUS-8 cryo-hardened straight back blade, measuring an overall length of 8 inches. This blade material ensures exceptional sharpness, edge retention, and corrosion resistance. The straight back blade design provides versatility for various cutting needs, making it suitable for a wide range of outdoor applications.

The Havalon XTC-TRED Titan features Piranta fitment with a 60A blade length of 7 3/4 inches. This Piranta fitment allows for easy blade replacement and compatibility with all Piranta style blades. With the additional stainless steel 60A and 70A blades included, you have a variety of cutting options to tackle different tasks. Constructed with a liner-lock mechanism, the knife offers secure blade locking during use. This liner-lock construction ensures that the blade remains securely in place, enhancing safety and preventing accidental closures while you work.

The Havalon XTC-TRED Titan comes with a removable pocket clip, allowing for convenient and secure storage when the knife is not in use. The pocket clip offers easy access and ensures the knife is within reach whenever you need it.

For added safety, the knife features a Piranta safety lock. This safety lock provides an extra layer of protection when the blade is folded, preventing unintentional opening and reducing the risk of accidents. Included with the Havalon XTC-TRED Titan is the Jim Shockey Signature Series holster. This holster is specifically designed to hold the knife securely and provides easy access while keeping it protected during outdoor activities.

The Havalon XTC-TRED Titan Double Blade Folding Knife in Red/Black is a reliable and versatile cutting tool. With its rugged polymer handles, AUS-8 cryo-hardened straight back blade, Piranta fitment, liner-lock construction, removable pocket clip, Piranta safety lock, and Jim Shockey Signature Series holster, this knife offers durability, convenience, and safety for a variety of outdoor cutting tasks.

Features
6 Additional Stainless steel 60A and 70A blades
Rugged Military grade polymer handles
AUS-8 Cryo hardened straight back blade, overall length 8"
Piranta fitement with 60A blade length 7 3/4"
Liner-lock construction
Removable pocket clip
Piranta Safety lock
Jim Shockey Signature Series holster
Fits all Piranta style blades
Specifications
| | |
| --- | --- |
| Manufacturer | Havalon |
| Blade Length | 2.75" |
| Closed Length | 5" |
| Blade Material | AUS |
| Knife Application | Folding Blade |
| Overall Length | 10.75" |
| Included Accessories | 2 Blades |
| Blade Shape | Drop Point |
| Blade Finish | Satin |
| Sheath Material | Nylon |
| Handle Colour | Black |
| Weight | 4 oz |