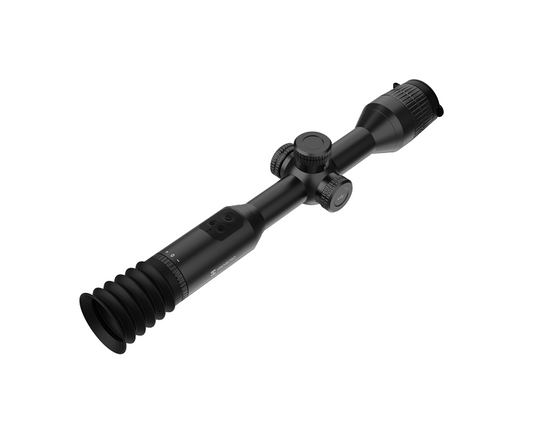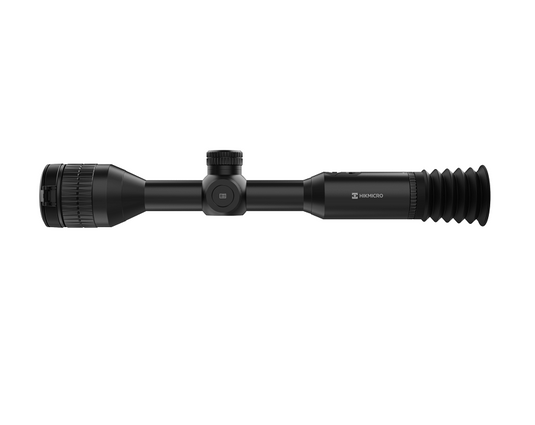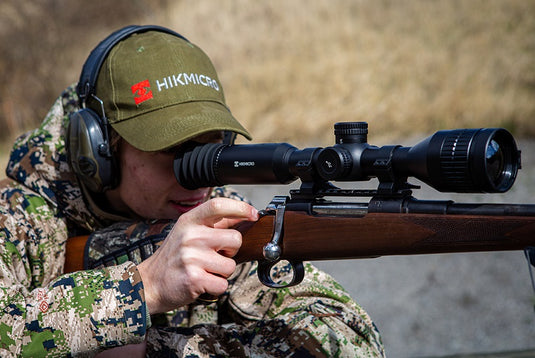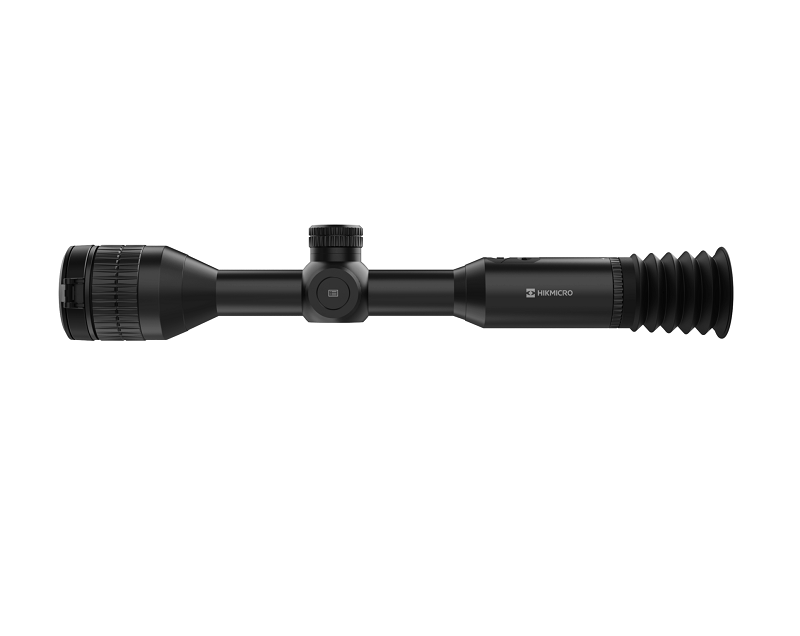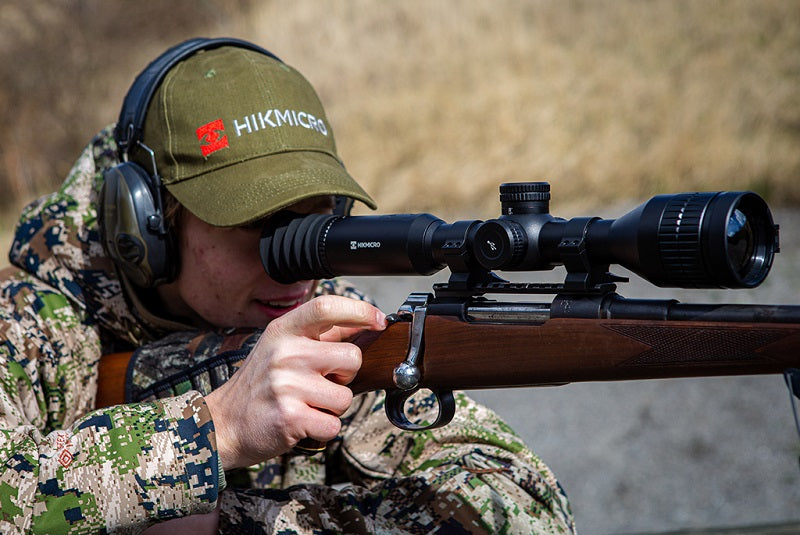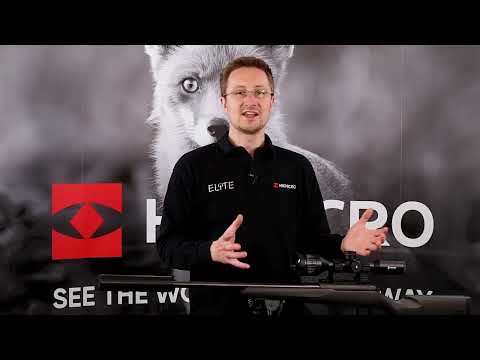 HikMicro Stellar SH35 Thermal Image Scope
. The SH35 Thermal Image Scope has 384 x 288 thermal detector and 1024 x 768 OLED display, which provides clear image under harsh environment conditions like darkness, fog, smoke, dust, rain, snow, wood, camouflage, etc. The traditional-style 35 mm Tube meets the needs of professional hunters who value traditions and seek technological superiority, ensure an extreme detection range of up to 1,800 meters.
The Stellar SH35 thermal vision sight is the latest product on the market from HikMicro. Excellent quality of the displayed image and a high detection range, all enclosed in a housing based on a traditional telescope. An excellent combination that allows you to maintain the traditional aesthetics of the telescope on the rifle, using the latest available technology.
The HikMicro Stellar SH35 thermal imaging sight is based on an advanced 384 × 288 sensor with a pixel size of 12 μm and a sensitivity of less than 35 mK. The high-quality OLED display with a resolution of 1024×768 used in the viewfinder guarantees a very clear, contrasting and clear image. The spotting scope has a lens with a diameter of 35 mm and a constant magnification of 2.7x which is fully useful when shooting at medium distances and a detection range of up to 1,800 meters. The digital zoom has a maximum value of 8x and, in addition, the Picture to Picture mode thanks to which an approximate image in a separate area of ​​the display and at the same time preserves the possibility of observing the terrain. The sight is closed in a shock-resistant up to 1,000 G body made of anodized aluminium, modelled on a classic telescope with a 30 mm tube diameter, which allows for trouble-free mounting on a weapon.
HikMicro Stellar SH35 has advanced and user-friendly software installed. Navigating the interface is intuitive thanks to the use of large, comfortable and silent buttons on the housing. Among the interesting functions, it is worth mentioning a wide range of crosses that can be adjusted to each other in terms of shape and colour. Zeroing has also been simplified by enabling Freeze Frame and Zoom when setting up with a rifle. The software provides the ability to save up to 5 zero profiles so that you can use the Stellar SH35 on multiple rifles.
The HikMicro Stellar SH35 can boast an extremely long working time. The viewfinder has an integrated battery but also uses replaceable CR123A batteries. The external battery has priority for energy consumption and after its discharge, the device automatically switches to the integrated battery. This allows you to quickly replace the battery without having to turn the device off. Under the top cover, there is a USB-C port that allows you to transfer data, charge the battery and, if necessary, you can also connect a power bank, which further increases the working time.
The SH35 viewfinder also introduces a recoil-activated recording function so you can automatically capture the most important moments while hunting. The video is recorded with sound and saved with snapshots on the built-in 64 GB memory. The device also has a Wi-Fi hotspot function, thanks to which we can update the software and pair with a smartphone, tablet or any mobile device using the dedicated HikMicro Sight application. The application allows real-time image streaming to the screen of e.g. a smartphone. It also allows you to manually configure the viewfinder and all the main elements such as the colour palette, magnification, brightness, contrast etc.
Key Features
384 x 288 thermal resolution, high sensitivity detector, NETD< 35 mK (25°C, F# = 1.0)
Supports audio recording
Supports recoil-activation recording
Supports video recording and snapshot, built-in EMMC (64 GB)
1024 x 768 resolution 0.39-inch OLED display
Observation Distance up to 1,800 m
Very high range of detection of a human figure, amounting to 1800 meters
Classic shape of the bezel with a 30mm tube diameter for easy installation
Excellent image quality thanks to the HIKMICRO sub 35NETD sensor and F1.0 lens system
OLED display with a resolution of 1024 × 768 for a clear image
IP67 protection grade – waterproof and dustproof
Ability to save images and video recording on the integrated 64 GB memory
Easy and intuitive operation thanks to silent buttons on the housing
Sound recording function with option to activate by detecting kickback
Wi-Fi module with HIKMICRO Sight application support
Lens with adjustable focus
Unique power system using 2 types of batteries
Possibility of powering the sight from an external power source via the USB-C port
One-shot zero.
Technical Specifications
Thermal Module
Image Sensor: Uncooled Focal Plane Array
Resolution: 384 × 288
Frame Rate: 50 Hz
Pixel Interval: 12 μm
Response Waveband: 8 μm to 14 μm
NETD: < 35 mK (25°C, F# = 1.0)
Lens (Focal Length): 35 mm
Detection Range: 1,800 m
Field of View: 7.53° × 5.65°
Focusing Distance: 2 m
Aperture: F1.0
Magnification: 2.7×
Image Display
Display: 1024 × 768, 0.39 inch, OLED
Image Mode: Black Hot, White Hot, Red Hot, Fusion
FFC (Flat Field Correction) Mode: Auto, Manual, External Correction
Exit Pupil: 5 mm
Eye Relief: 60 mm
Diopter (Range): -5 D to 5 D
System
Digital Zoom: 1×, 2×, 4×, 8×
Capture Snapshot: Yes
Record Video: On-board video recording
Standby Mode: Yes
Storage: Built-in EMMC (64 GB)
PIP: Yes
DPC: Yes
Hotspot: Yes
Uniformity Correction: Auto, Manual, External Correction
Hot Track: Yes
Reticle: Yes
Audio Recording: Yes
Recoil-activation Recording: Yes
Recoil: 1,000 g
Power Supply
Battery Type: Two rechargeable Lithium batteries (internal) and one replaceable CR123A (external)
Battery Operating Time: 15 hours continuous running (@25°C, Wi-Fi off)
Battery Capacity Display: Yes
Anti-reverse Battery Connection: Yes
Overvoltage Protection: Yes
Power Supply: 5 V DC/2 A, USB Type-C interface / Supports QC3.0
General
Work Temperature: -30°C to 55°C (-22°F to 131°F)
Protection Level: IP67
Dimension: 407 mm × 78.1 mm × 75.9 mm
Weight: 890 g without eyepiece and CR123A
What's In The Box
HikMicro Stellar SH35 Thermal Image Scope
Quick Start Guide
Battery CR123A x1
Type-C Cable
Dust-free Cloth
Bag