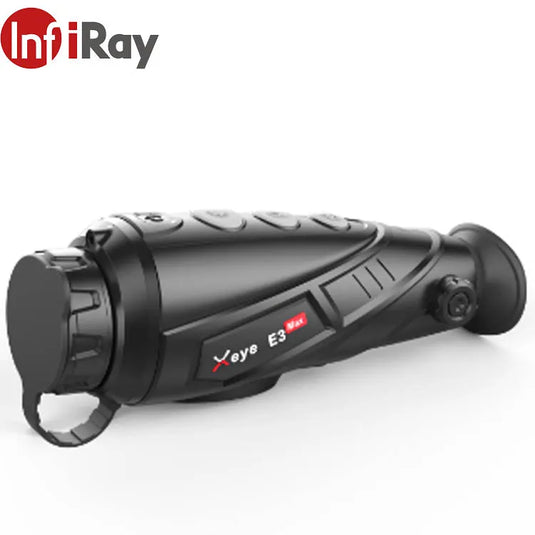 The InfiRay Eye II Series E3 Max V2.0 is a pocket-sized thermal vision monocular for exploring the outdoors at night and in low-light conditions. It reveals your surroundings and helps you see people, objects, and animals over 3280' away. Simple to use and offering still image capture and video recording, the monocular is a suitable companion whether you're in the back country or your own backyard. The built-in battery provides about seven hours of operation.
384 x 288 resolution
12μm ceramic Vox detector
50 Hz refresh rate
35mm manual lens
1280 x 960 display
Built-in Wi-Fi
16GB built-in storage
High Image Quality
Featuring a high-performance InfiRay Vox detector, the E3 Max V2.0 allows you to get highly detailed thermal images that make it easy to search for targets in darkness.
Standby Function
When it is necessary to temporarily stop observation, you can apply the monocular's standby function. It provides the necessary level of camouflage between observation sessions (no light is seen from the eyepiece of the device).
PIP Functions
Picture-in-Picture improves accuracy by providing a 2x magnified image of the reticle area at the top of the display. It helps to zoom in on a target while retaining the rest of the field of view visible.
5 Color Palettes
The E3 Max V2.0 provides more than 5 color palettes for true colorized temperature mapping, including white hot, black hot, red hot, color, and hot target highlight.
Stadiametric Rangefinder
Based on estimated heights of targets, you can quickly get the rough distance from the target with the built-in stadiametric rangefinder.
Hot Target Tracking
Track the hottest spot in the scene automatically and discover the target quickly.