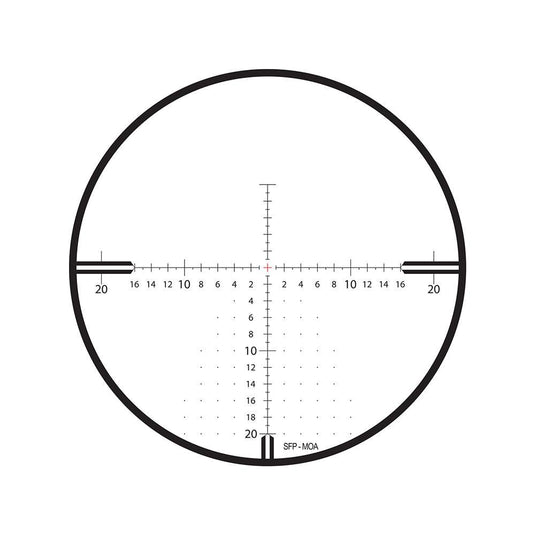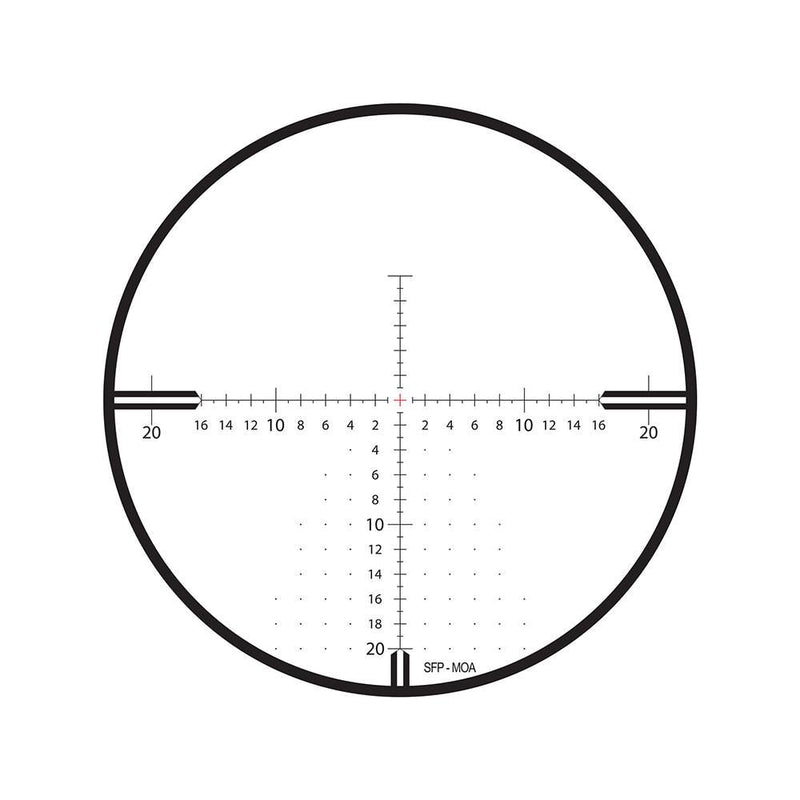 The Conquest V4 family is based on a 4x zoom ratio, incorporates a 30 mm main tube, and consists of the 1-4x24, 3-12x56, 4-16x44, and 6-24x50 models. Each model delivers 90% to the-eye light transmission, offers .25 MOA click values, capped windage adjustment, second focal plane reticle designs, and a large range of total elevation and windage travel adjustment. The 1-4x24 model is available with either capped or external elevation turrets, while the 3-12x56 version comes standard with capped elevation and windage turrets. The 4-16x44 and 6-24x50 models have external elevation turrets. Within the Conquest® V4 product line, all external elevation turrets also include ZEISS' Ballistic Stop feature to ensure an absolute and positive return to zero under any conditions.

There are several reticle options available. These include traditional plex-style reticles, as well as ZEISS' newest ZMOA and ZBR MOA-based smart reticles. The ZQAR reticle, available with the 1-4x24 model, represents an intelligent reticle design, based upon certain 223 Remington and 308 Winchester ammunition ballistics. Illuminated reticles are standard for the 1-4x24 model and optional for the 3-12x56 and 6-24x50 models. A magnification power throw lever is available as an optional accessory.

The Conquest® V4 models are backed by ZEISS' Limited Lifetime Transferable Warranty and Five-Year No-Fault Policy. These riflescopes serve a wide range of hunting and shooting applications, are packed with unique features, perform beyond expectations in their price range, and provide exceptional value.
Zeiss has stepped up their long-range hunting game with the release of the ZMOAi-T20 and ZMOA-T30 reticles. The new ZMOAi-T20 and ZMOA-T30 afford the shooter a faster aiming solution with several user-friendly updates. These new second focal plane reticles meet the ever-demanding needs for long-range shooting as well as long-range hunting while maintaining the Zeiss's lightweight platform.
The thinner lines are distinctive and cover the least amount of target possible, all while remaining highly effective for field shooting and long-range hunting applications. These new MOA reticles with even number labeling make hold over fast and easy. The floating center cross allows for ultra-precise shot placement with minimal target coverage. The floating dots located left and right of the main vertical centerline allow the shooter to validate windage calls and bullet impact without guesswork. This strongly supports fast and precise follow-up shots for corrected windage holdovers. Being a second focal plane scope, the MOA spacing is accrete in the scopes highs magnification.
The designation of "T20" and "T30" on your scope represents the MOA hash marks available below the horizontal centerline of the main reticle. The conquest V4 4-16x44 model hosts the ZMOA-T30 reticle, while the Conquest V4 6-24x50 model uses the ZMOAi-T20 illuminated reticle. With the illuminated ZMOAi-T20, only the center point of aim illuminates for ideal low-light reticle illumination management. Then new ZMOAi-T20 and ZMOA-T30 reticles are another great addition to one of the world's oldest rifle optic company's products.
Features
High definition glass provides 90% light transmission
Proven 4X Zoom
30mm main tube, constructed of aircraft-grade aluminum for ultimate durability
Large and generous eye box and exit pupil provide a fast and easy view of reticle and target
Lotutec Hydrophobic Coating
T* Coating, customized for each lens
Lightweight at 16.6-24.4 oz and Waterproof to 400 mbar
Specifications
Scope Weight: 24.4 oz
Scope Length: 14.5"
Magnification Range: 6-24x
Scope Objective Diameter: 50mm
Scope Tube Size / Mount: 30mm
Scope Turret Adjustment: 1/4 MOA per click
Parallax Adjustment: 50 Yards - infinity
Reticle Position: Second Focal Plane
Reticle Details: ZMOAi-T20 Illum. Reticle
Field of View: 19 - 4.8 feet @ 100 yards 
Exit Pupil Diameter: 7.5 - 2.1 mm
Eye Relief: 3.5"
Twilight Factor: 16.4 - 34.6
Light Transmission: 90%
Illuminated Reticle: Yes