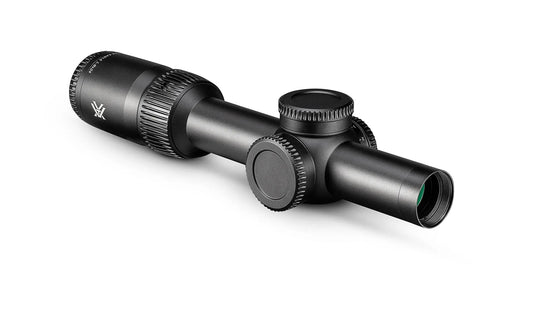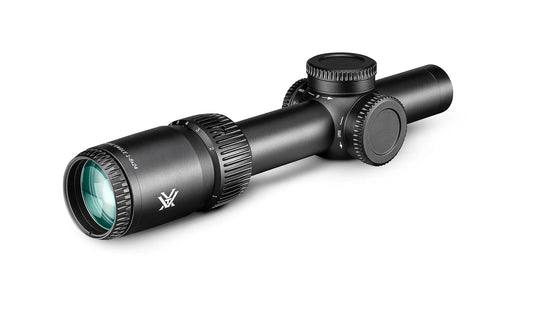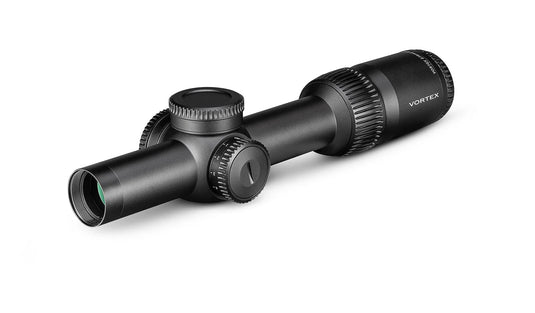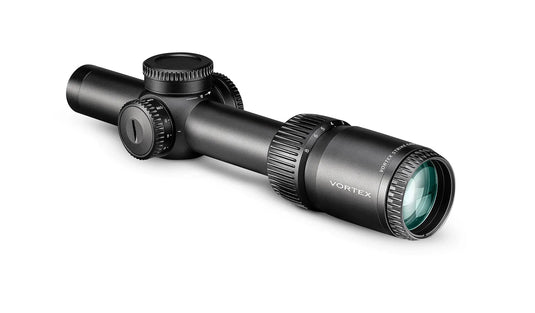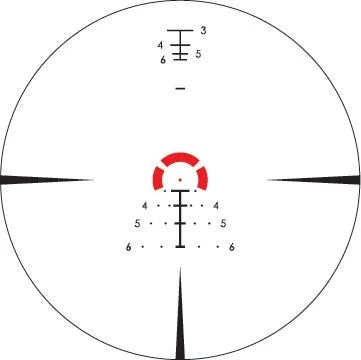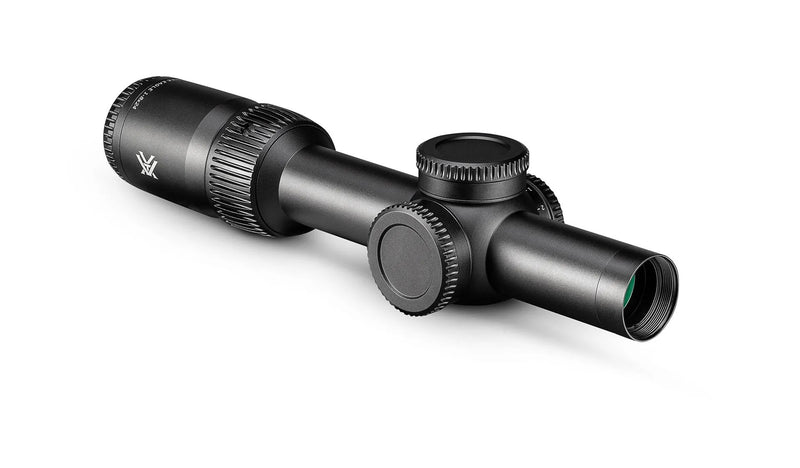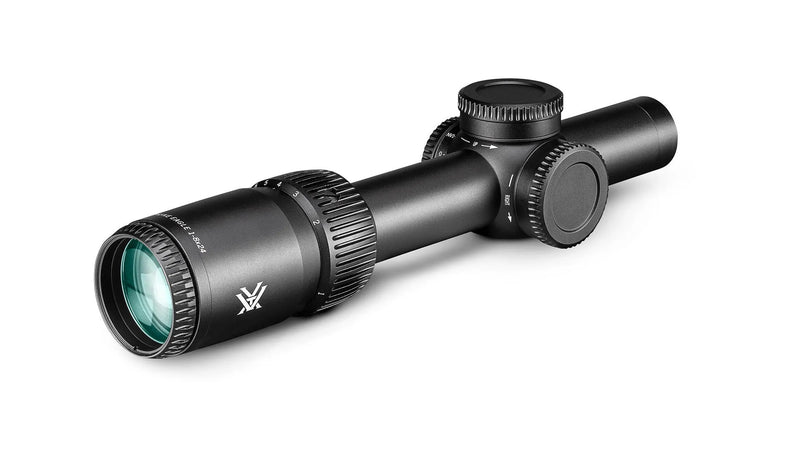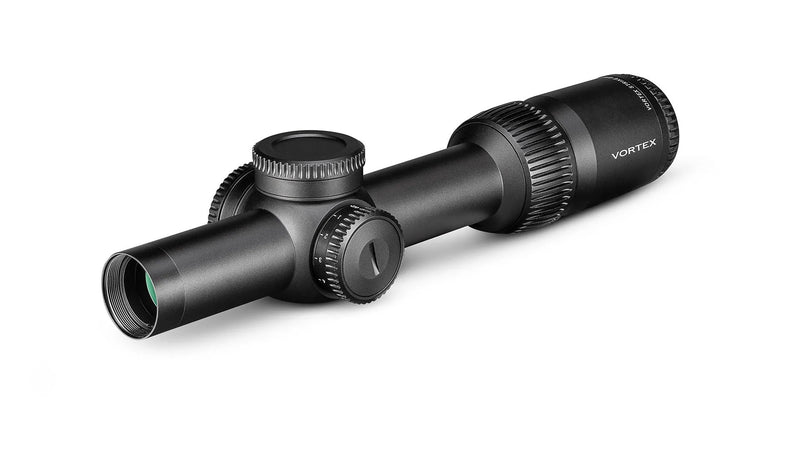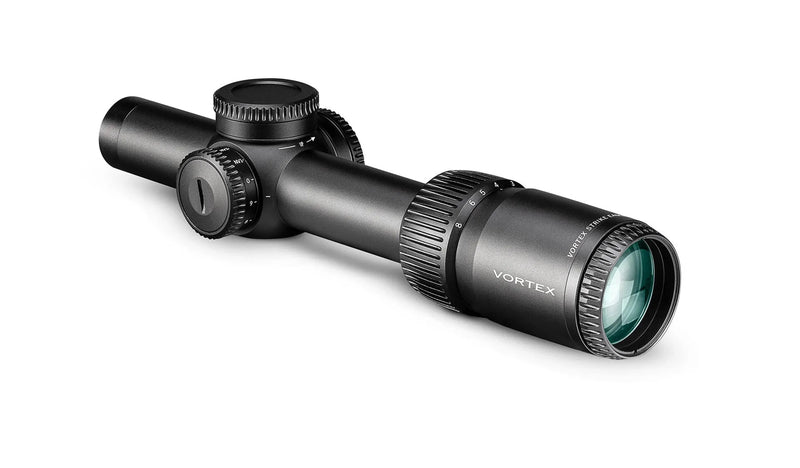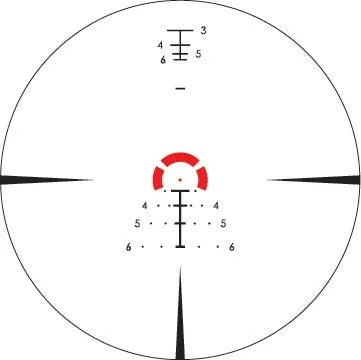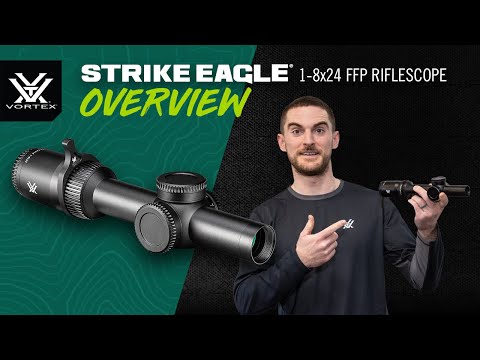 The Strike Eagle® 1-8x24 FFP gives you the accurate holdovers at any magnification you've been looking for in an LPVO, allowing you to dominate close quarters and stretch your effective range.
Strike Eagle 1-8x24 FFP Dimensions (in inches)
Features
Illuminated Reticle - 
Provides precise aiming under low-light conditions
Fully Multi-Coated -
Increase light transmission with multiple anti-reflective coatings on all air-to-glass surfaces.
First Focal Plane - Reticle
Scale of reticle remains in proportion to the zoomed image. Constant subtensions allow accurate holdover and ranging at all magnifications.
Glass-Etched - Reticle
Allows for intricate reticle design. Protected between two layers of glass for optimum durability and reliability.
EBR-8 RETICLE
Our exclusive EBR-8 MOA first focal plane, glass-etched, illuminated reticle facilitates rapid shooting from point blank out to 600 yards with popular .223/5.56mm and .308/7.62mm loads. This reticle also can be used with a wide variety of other calibers and loads using the BDC hashmarks.
CONTRUCTION
ArmorTek ® -
Ultra-hard, scratch-resistant coating protects exterior lenses from scratches, oil and dirt.
Shockproof -
Rugged construction withstands recoil and impact.
Waterproof -
O-ring seals prevent moisture, dust and debris from penetrating the binocular for reliable performance in all environments.
Fogproof -
Nitrogen gas purging prevents internal fogging over a wide range of temperatures.
Low-Glare Matte Black Anodized -
Corrosion and wear resistant anodization provides low-glare matte surface and helps camouflage the shooter's position.
Aircraft-Grade Aluminum -
Constructed from a solid block of aircraft-grade aluminum for strength and rigidity.
Single-Piece Tube -
Maximizes alignment for improved accuracy and optimum visual performance, as well as ensures strength and waterproofness.
Fast Focus Eyepiece -
Allows quick and easy reticle focusing.
Throw Lever -
The included throw lever can be installed for quick and easy magnification adjustments.