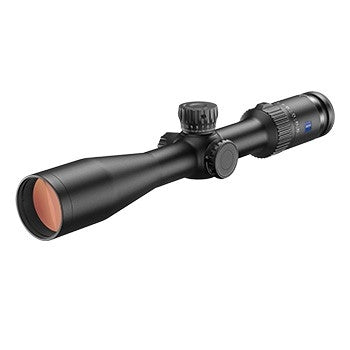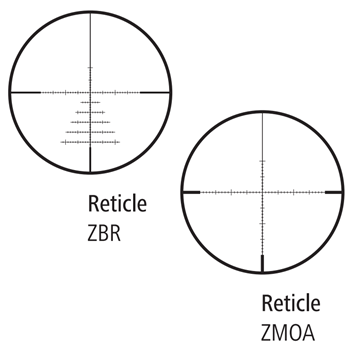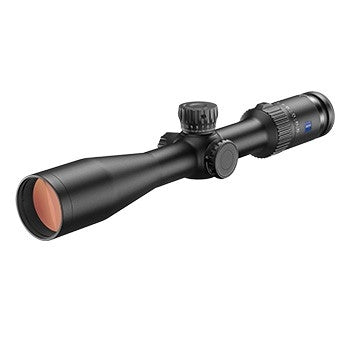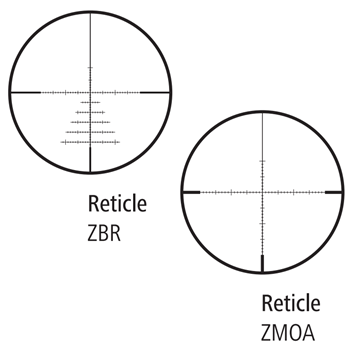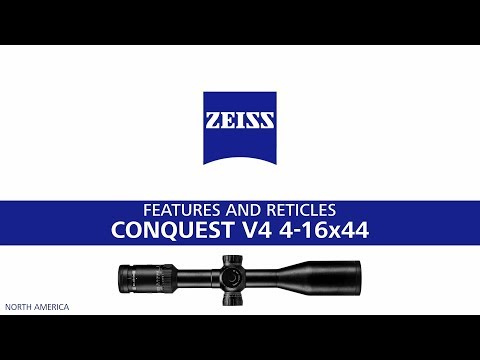 Uncompromising quality and ruggedness – the Conquest V4 line of high-performance riflescopes combines the tried-and-true ZEISS optics concept with a rugged and functional design. Equipped with 4x zoom and functional and fully reliable mechanics, these scopes set a new standard in their class.
Thanks to its well-balanced zoom range, this compact riflescope is the perfect all-rounder for medium-range and long-distance shots.
ZBR and ZMOA
non-illuminated
ZEISS ZBR and ZMOA ballistic reticles feature fixed MOA subtensions. The number followed by the reticle name (e.g ZBR-"1") indicates the distance in MOA between the hashmarks [Distance "A" – e.g. "1" MOA]. The hashmarks on the horizontal and vertical crosshairs can be used for windage and elevation compensation, and for target ranging, when used with the optimum magnification setting stated in the charts.
Technical Data
Magnification
4 x
16 x
Effective lens diameter
33,2 mm
44 mm
Exit pupil diameter
8,5 mm
2,8 mm
Twilight factor
11,5
26,5
Field of view at 100m
9,5 m
2,4 m
Ojective viewing angle
5,4°
1,4°
Diopter adjustment range
-3/+2
 
Eye relief
90 mm
 
Parallax-free
45,7 - ∞ m
 
Adjustment range at 100 m
230 x 175 cm
 
VAdjustment per click at 100 m
0,7 cm
 
Centre tube diameter
30 mm
 
Eyepiece tube diameter
44 mm
 
Objective tube diameter
50 mm
 
LotuTec® / Nitrogen filled
ja / ja
 
Water resistance
400 mbar
 
Operating temperature
-20/+55
 
Length
356 mm
 
Weight without inner rail
640 g
Features
Hunting optics are not a scientific instrument but tools which must function in every hunting scenario. If there is heavy rain when you are hunting, there is only one motto to go by: Persevere! The waterproofness of your optics should be the last thing on your mind.
Shock test with up to 1,500 times
1,500 g corresponds to the shooting load of the .460 Weatherby Magnum calibre.
Precision in the face of stress
When you're out hunting, the optics are exposed to extreme forces whenever shots are fired with the variety of different calibres and weapons often fall over - ZEISS optics confidently brave all this and more during every hunting trip*.
*A test shot is recommended after unintentional blows or shocks to the target optics.
Waterproofing immersion test
Our tests simulate continuous rain and complete immersion of the optics in water, ensuring that all ZEISS optics are fully waterproof.
Washed with all waters
Hours of waiting in the unrelenting pouring rain when out driven hunting, or the necessary cleaning of the optics with a water bottle – ZEISS hunting optics are built to be used and remain waterproof even when things get rough.
Continuous shocks for 90 minutes
Even after one and a half hours of continuous vibration in different directions, the group of the optics remains unchanged.
Tenaciously mobile
Driving along bumpy forest and country lanes with the gun in the boot or navigating rough terrain on foot – bumps and shocks are a normal part of hunting. So it's all the better if the optics are prepared*.
*After unintended bumps or shocks to the riflescope, a test shot is recommended.
Temperature shock
Deep freezing to -40°C and temperature shocks from -25° to 50°C in under 5 minutes. In the climatic chamber, ZEISS optics are tested to the material´s limits.
From the Sahara to the Arctic
From the heat of the hut to the bitter cold of the outdoors, or hours in the blazing sun – ZEISS hunting optics operate reliably in extreme climatic conditions.
24 hours in salt spray
Side by side with metal test strips, ZEISS optics were stored in an aggressive salt water spray for 24 hours. While the test strips were covered in rust, the optics were entirely unfazed.
Hard shell, hard core
When you go hunting, your optics are often exposed to aggressive liquids such as hand sweat and cosmetics. But thanks to a high-quality seal, these don't stand a chance against ZEISS optics.
Brochure
Conquest V4: Download